Why is this Guy Famous on YouTube?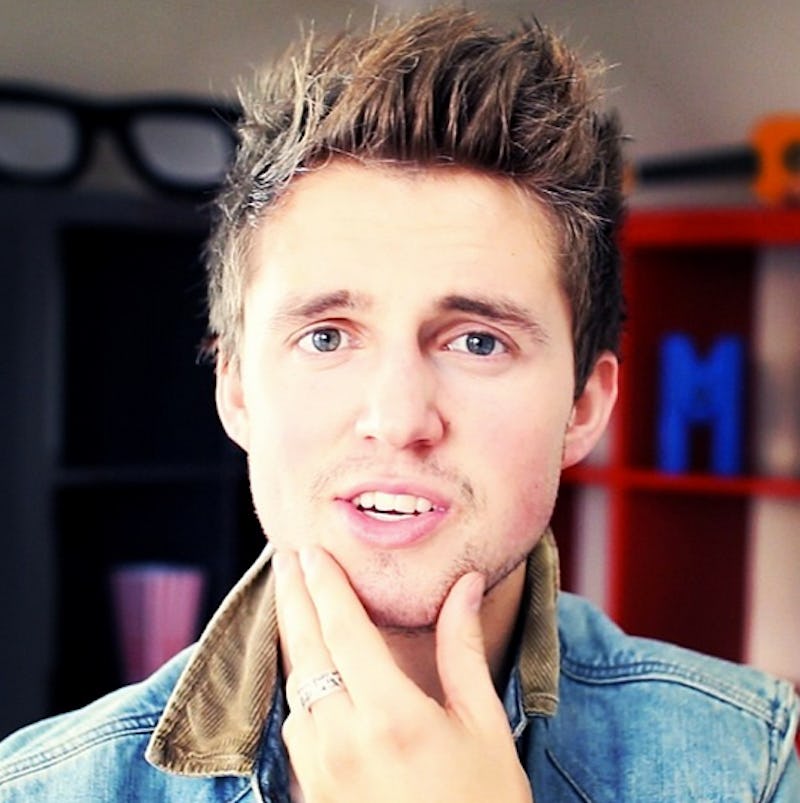 Apparently, if you resemble a famous pop star with a huge fandom, or at least kind of remind people of one, all it takes are some photos or videos to become an Internet celebrity. It's what happened to Benjamin Lasnier on Instagram, a Danish teenager who looks like young Justin Bieber and to Marcus Butler, the YouTuber above.
On his YouTube channel, Marcus Butler TV, Marcus has almost 2 million followers. His most popular video has over 5 million views, and even his least popular tend to break 100,000. In the videos, Marcus doesn't sing or play guitar, he just talks. Sometimes it's about his own life, other times he shares his life observation, often he's joined by a fellow famous YouTuber. The videos tend to be funny, and they always draw thousands of comments from fans.
So what's his secret? At least part of it is pretty obvious: Marcus looks like a forgotten member of One Direction. He's got the hair, the accent, the face and comments on some of his videos compare him to members of the boy band. When he's joined by his famous friends, who tend to have that same look, it's hard not to draw comparisons.
However he can't be the only good-looking British guy on the Internet, so something else about him must be drawing these fans. His channel is so popular that he even made a second one where he posts daily videos, More Marcus, which has over 700,000 subscribers. To see if we can uncover the key to his success, let's look at Marcus's most popular video, titled "Edward Cullen & Bella Swan (DELETED SEX SCENE)!!"
That video has over 5.2 million views, and his second most popular only has 2.5 million, so in this case, the completely misleading title might have something to do with it. But the video itself is a good representative of what Marcus usually posts. He talks about things. In this case, his thoughts on a Twilight movie, his new camera, moths, his cat, and his upcoming trip.
Want another gauge of his online fame? Below is a video of Marcus and Tyler Oakley, a YouTuber famous for his advocacy for gay youth, reading fan fiction written about them. That's right, they have so many passionate fans that there is fan fiction written about them — two real people.
Not only does that have almost 2 million views, but also 27,000 comments from fans reacting and sharing their own personal YouTuber ships. Maybe this immense fanbase grew from the frequency of Marcus' posts. On his main channel, he posts a new video every Friday, and, on his newer channel, there is a post every single day. Of course, he's also very active on Twitter, where he has 918,000 followers.
Twitter is where you can see Marcus's frequent interaction with his fans. He seems to really appreciate them, and uses plenty of smiley faces to keep them obsessed.
He also gives them fuel for more fan fiction, through his interactions with Tyler and other YouTube personalities.
Maybe that's the reason for his fame. Not necessarily the suggestive tweets, but the way Marcus interacts with his fans. His appearance and accent might have first caught their attention, but his appreciation for his fans likely kept them around. Marcus answers fan questions, thanks them in his videos, and gives them what they want to see.
How many celebrities can say the same?
Image: marcusbutlertv/Instagram