Watch The Amazing New Trailer For 'Hail, Caesar!'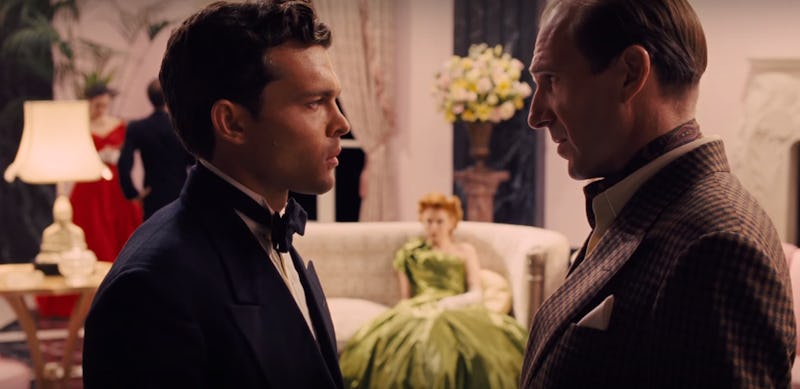 There's a new, utterly ridiculous and gorgeous trailer for Hail, Caesar!, the Coen brothers' next film. The two-minute spot features a hilarious scene where director Laurence Lorenz (Ralph Fiennes) is trying to teach fresh-faced but incompetent actor Tobey (Alden Ehrenreich) how to say a simple line and mask his Southern accent. It doesn't go well. And, as truly funny as the new trailer is, it doesn't scratch the surface of just how delightfully absurd Hail, Caesar! is sure to be.
The last comedy Joel and Ethan Coen directed was Inside Llewyn Davis, which was stark and dark, but did introduce the Internet for the first time to its boyfriend Oscar Isaacs. Hail, Caesar! delightfully hearkens back to that good old-fashioned Coen absurdity exemplified in Fargo, O Brother, Where Art Thou?, and Burn After Reading, to name a few. It's an old Hollywood caper with tons of twists and turns, and plenty of familiar Coen brothers' alumni, including Josh Brolin, Tilda Swinton, George Clooney (playing a dim-witted handsome dolt, as he's wont to do in Coen films), and Frances McDormand, not to mention the full, outrageous bill of other Hollywood stars.
The film will be released on February 5 (and so will be a contender for next year's award season), and the premise sounds amazing. Amidst the glamorous and technicolor world of 1950s Hollywood (which the Coen brothers have visually captured to a tee), Eddie Mannix (Josh Brolin) is a Hollywood fixer, ensuring that scandals among stars never reach the public. He is tasked with rescuing actor Baird Whitlock (George Clooney) after Whitlock is kidnapped by a mysterious group called The Future. And, since it's from the Coen brothers, there will likely be some murder thrown in.
The first trailer for the film debuted in October, and focused on George Clooney's character as the star of the production Hail, Caesar! that looks an awful lot like Spartacus. The Coen brothers are exceptional at satire, and, with such a shining cast, Hail, Caesar! could be one of their best films yet. They join a tradition of ekphrastic films about filmmaking: some of the greats include The Artist (which took home the Academy Award for Best Picture in 2012), Sunset Boulevard, Boogie Nights, and Singin' In The Rain.
To underscore and ramp up the era of ridiculous Hollywood excess, the Coen Brothers have enlisted just about every star you could think of for Hail, Caesar!, and some you never would have imagined. Jonah Hill, Fisher Stevens, David Krumholtz (you'd recognize him as JGL's BFF in 10 Things I Hate About You), Channing Tatum as a dancing sailor (his forte), and even Dolph Lundgren. When the Coen Brothers ask, you must rise to the occasion and serve.
It's a clever trick: the ensemble cast just enhances the bigness and the gilded surrealism of old Hollywood. Yes, it was a glamorous time, but it was also rife with scandals that often went under the radar, thanks to the likes of fixers like Brolin's character. Hail, Caesar!, whether Joel and Ethan Coen intended it to be or not, is already shaping up to be a foil for Hollywood in the digital age, where every move and tweet and Instagram and one-off interview of Hollywood stars is immortalized. But does that mean Hollywood has degenerated, or has the veneer just worn off?
Hail, Caesar! will splash its way onto the big screen on February 5.
Image: UniversalPicturesUK/YouTube (2)