The 'Younger' Season 2 Posters Are Here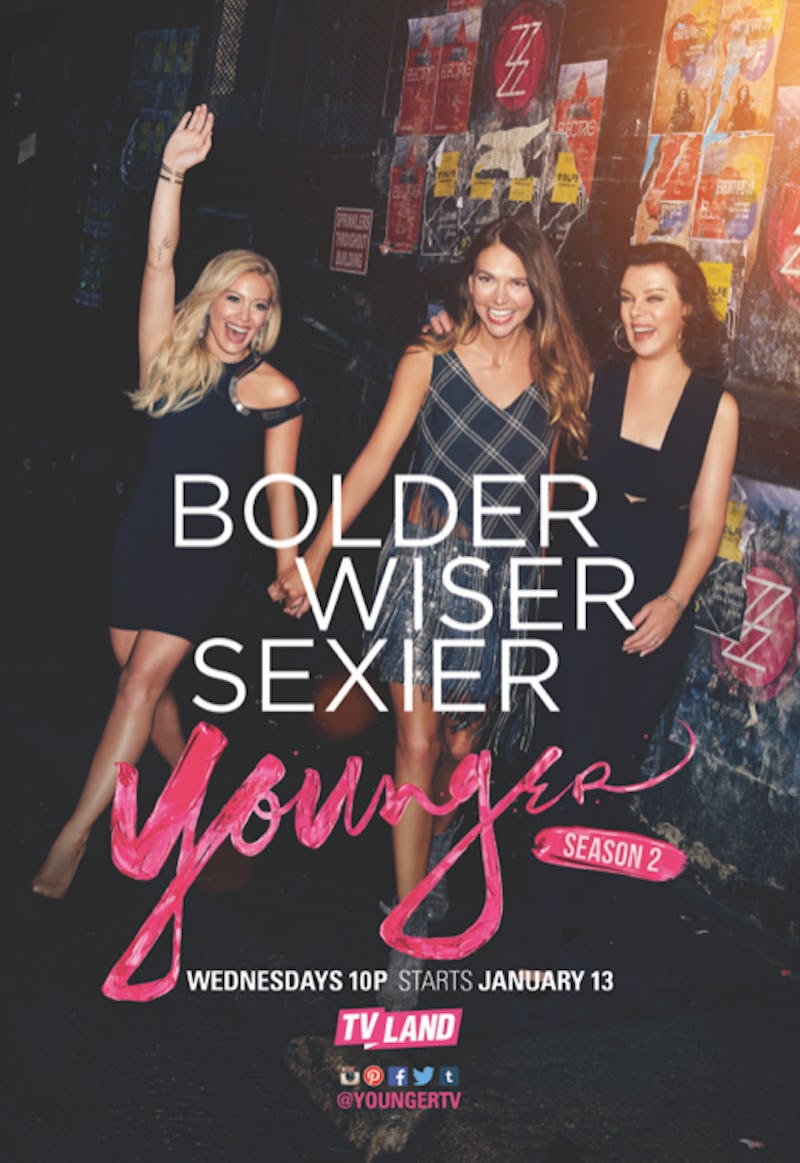 Younger was one of my favorite shows to premiere mid-season in 2015. And Season 2 of Younger is right around the corner, restarting 13 Jan. 2016 on TV Land. And exciting news this Monday — we've got an exclusive first look at the posters for the new season! Created by Darren Star (who only, you know, created Sex and the City too, people), Younger stars Sutton Foster as Liza, a recently divorced 40-year-old single mom, who decides to pretend she's 26 in order to get back into the publishing industry. Her crazy plan works, and Season 1 follows all the hijinks that ensue when she starts dating hot younger man Josh, and hanging out with new bestie Kelsey (played by Hilary Duff).
The show truly understands how difficult it can be to navigate the modern technology-filled, fashion-obsessed world, while also dismantling workplace ageism and never compromising its feminist viewpoint. Which is pretty amazing for a sitcom, right? Not only does Sutton Foster kill in the lead role and need more recognition as an actress, it's ace to see Hilary Duff back on television — especially in a part which explores so many complicated topics, like infidelity, taking responsibility for your actions, and figuring out which relationships are actually good for you.
So now that we've got our hands on the latest artwork promoting the show, what can we figure out about Younger Season 2?
Bolder, Wiser, Sexier
With a total Sex and the City vibe, which is apt as the show is also filmed in New York City, Season 2 continues to play with its age premise. Older becomes bolder in the artwork, because Sutton Foster's character is still undercover about her age to most people at the end of Season 1. But, in telling Josh the truth at the end of the first season, Liza has the chance to move forward in a new way in her love life. She's definitely wiser about a lot of things. And, finally, as a fake 26-year-old, she's getting the chance to explore her sexuality.
Incidentally, I love the outfits the cast are wearing in this shot. Designer Patricia Field, who created almost all of the iconic looks on Sex and the City, has done an amazing job.
#DontJudge
Hilary Duff making out with a guy on what looks like her desk? What a woman! OK, so workplace relations can be hard to navigate, but it's great to see Duff in a position of power here, totally in control of the situation.
One of the things that's so exciting about Younger is that its female characters are truly in control of their sexuality. Whether it's kissing someone they shouldn't, or navigating the tricky road from casual to serious, all of the women on the show make their own choices, even in the face of criticism. This is one of the reasons the show has such a great message — the only opinion that really matters is your own. Being confident in your own decision-making ability is the most important thing, and a true friend will support you no matter what.
These posters have definitely made me even more excited about Season 2 of Younger, and I can't wait for January.
Images: TV Land