18 Comforting And Healthy Soup Recipes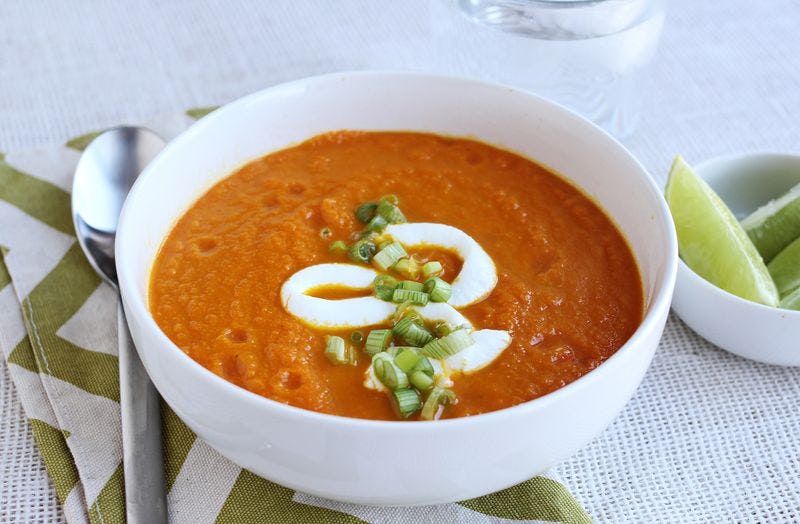 There may be nothing better in the middle of winter than a warm blanket and a hot bath — except for a hot bowl of soup. And with so many healthy soup recipes to choose from, it's impossible to get tired of having soup for dinner, at least while the season lasts. As long as I can pair it with a piece of bread on the side, I'll always be happy.
After all, it's time to try some healthy recipes for 2016. January is the time that everyone gets started on their New Year's resolutions, and if one of your goals of the year is to focus on your wellness, then it's time to start heating up a batch of homemade soup. Plenty of recipes are filled with wholesome vegetables, plus unexpected additions like spices make these soups totally irresistible.
These 18 easy dinner recipes are sure to keep you satisfied all winter long. Whether you're dedicated to good ol' tomato soup, or you want to try something new like a citrusy carrot soup, you're bound to find a new suppertime favorite. You won't be able to resist slurping a little — grab a spoon and enjoy it while it's hot.
1. Vegan Lentil Soup
Lentil soup always satisfies a big appetite. Cookie and Kate makes it even better with plenty of fresh greens.
2. Low-Carb Chicken "Noodle" Soup
You're going to want to get your hands on some daikon for Healthful Pursuit's chicken "noodle" soup. The spiralized veggie makes a perfect noodle substitute.
3. Ginger & Lime Carrot Soup
If you want to get creative with your soups, A Beautiful Mess shows that an immersion blender is a very handy tool to have.
4. Easy Green Minestrone
Potatoes and white beans make The Kitchn's minestrone soup extra hearty, while green beans and chard give it plenty of color.
5. Asparagus, Fennel, And Leek Soup
Green Kitchen Stories' asparagus soup switches thing up a bit. A lentil and pepita topping makes it more filling while cashew cream adds a slightly cheesy (yet vegan) taste.
6. Curried Sweet Potato Soup
A squeeze of lime seriously enlivens Love and Lemons' sweet potato soup while cilantro makes a fragrant topping.
7. Butternut Squash Soup
Apple and celery root add extra vibrance to A Spicy Perspective's butternut squash soup. Top it off with just a dollop of sour cream.
8. Vegan Tortilla Soup
Forget the burrito bowl. Oh She Glows' tortilla soup is full of all your favorites: peppers, tomatoes, onion, beans, and more. Add avocado on top for an extra treat.
9. Spinach And Kale Soup
Skip the salad. Green Kitchen Stories' soup is packed with all the nutrients you need. Plus, tahini-dressed chickpeas make a savory topping.
10. Creamy Corn And Red Pepper Soup
This wholesome soup by Averie Cooks is completely vegan, but a touch of nutritional yeast gives it a cheesy taste.
11. Chinese Chicken Soup
Sometimes, there's nothing better than simplicity. Steamy Kitchen's chicken soup is basic, but ginger and green onion take it to the next level.
12. Quinoa Vegetable Soup
Cookie and Kate knows the easiest way to get in plenty of veggies — a hearty vegetarian soup.
13. Vegan Cream of Broccoli Soup
You don't have to give up your beloved broccoli cheese soup just to get onto the healthy bandwagon. Healthful Pursuit proves that cauliflower and almond milk can work some serious magic.
14. Easy Miso Soup
With just a few simple ingredients, A Beautiful Mess' miso soup is a cinch to make. Plus, miso is a great probiotic.
15. Curried Coconut Carrot Soup
This vegan soup by The Kitchn gets its creaminess from coconut milk, while fresh ginger adds an unexpected zing.
16. Healthy Tomato Bisque
A lot of canned tomato soups are full of sugar, but A Spicy Perspective's tomato bisque is perfectly healthy. Cannellini beans add extra creaminess when blended.
17. Creamy Kale And Apple Soup
This hearty soup gets a dose of sweetness from apple, and Cara's Cravings gives it a kick with some nutmeg.
18. Ginger Miso Soup With Tokyo Turnips
Soba noodles are a wholesome alternative to other carbs in Love and Lemons' Japanese-inspired soup.
For more great food ideas, check out Bustle on YouTube.
Images: A Beautiful Mess (3); Cookie and Kate (2); Healthful Pursuit (2); The Kitchn (2); Green Kitchen Stories (2); Love and Lemons (2); A Spicy Perspective (2); Oh She Glows (2); Averie Cooks; Steamy Kitchen; Cara's Cravings