No One Could Play Severus Snape Like Alan Rickman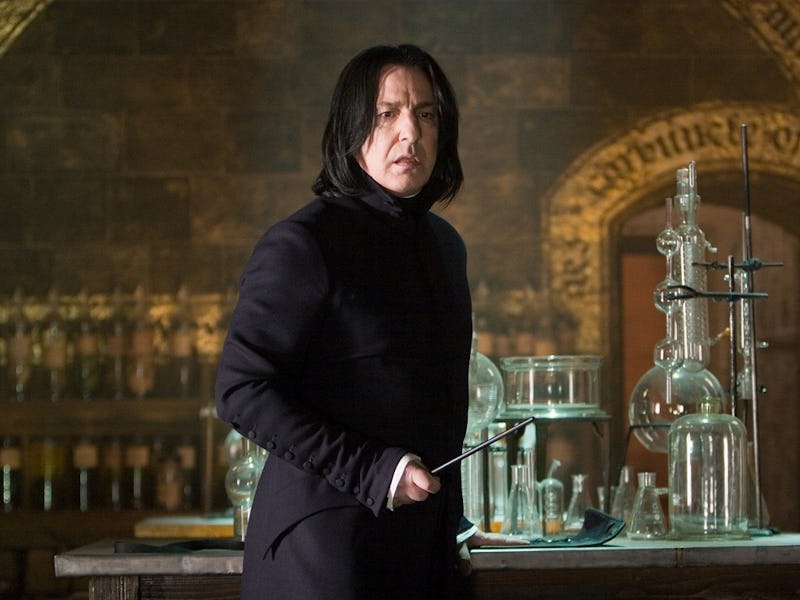 On Thursday, the world was forced to grapple with the unexpected news that one of the most iconic British actors, Alan Rickman, has passed away. He was 69. Not only has Rickman appeared in some of the most popular movies of all time, like Die Hard and Love Actually, the role he will be forever remembered for is as Professor Severus Snape in the Harry Potter series of films. A controversial character, sometimes hated and misunderstood in-universe and out, Rickman brought a depth to the character of Snape that made him both loveable and awful. Alan Rickman was the perfect Snape, and he will be missed greatly because of that by fans who grew up with the Harry Potter series.
The Harry Potter series is adored by, like, everyone, and it's no surprise that Alan Rickman was continually questioned about his role in the movies. In 2011, he gave an interview to HitFix about how much inside info J.K. Rowling had given to him prior to his role in Harry Potter. As he said, "She gave me one tiny, little, left of field piece of information that helped me think that he was more complicated and that the story was not going to be as straight down the line as everybody thought." This advice from Rowling explains Rickman's intense portrayal of Snape, which has split Harry Potter fans right down the middle, some proclaiming that they will never be Team Snape, while others defend him and his actions until their voices (or fingers) are sore.
When the casting of the first Harry Potter movie, Harry Potter and the Sorcerer's Stone, was announced in 2000, BBC News said, "For Rickman, the role of the eminent, but sinister, Snape who teaches Harry all about potions, would seem to be equally fitting. Rickman's height, angular, dark looks and distinctive voice have won him a succession of off-beat character parts." From the start, the Love Actually actor was the perfect choice, and acted as though it was a blessing to be part of such a revolutionary franchise. In fact, in 2011, Rickman wrote a beautiful thank you letter to J.K. Rowling in an issue of Empire Magazine, praising her work on the series.
Of his experience on Harry Potter, he said, "Three children have become adults since a phone call with Jo Rowling, containing one small clue, persuaded me that there was more to Snape than an unchanging costume, and that even though only three of the books were out at that time, she held the entire massive but delicate narrative in the surest of hands." Rowling, after all, persuaded Rickman, that the story of Snape was an important one, which would he would be the perfect fit for. The letter is a total tearjerker, but also evidence of what an amazing human being Rickman was: totally humble, and more than happy to praise others for their hard work.
The Die Hard legend had a love for Harry Potter as big as its fans did, and said, "It is an ancient need to be told stories. But the story needs a great storyteller. Thanks for all of it, Jo." Hearing Rickman call J. K. Rowling "Jo" is so cute, and makes it feel as though I'm intruding on a private moment. And, at the end of the day, isn't that truly the mark of a great actor? That they so allow us to be part of a world that we can't entirely relate to but can at least empathize with?
One of the producers of the Harry Potter movies spoke of Rickman's incredible performance as Snape in the LA Times, and said, "He had a real understanding of the character and now looking back, you can see there was always more going on there — a look, an expression, a sentiment — that hint at what is to come... the shadow that he casts in these films is a huge one and the emotion he conveys is immeasurable." This, as much as any, is a fitting tribute to Alan Rickman, and the amazing job he did as Snape in the Harry Potter movies.
I can't think of another actor who could play the role of Snape as perfectly as Rickman. His immense commitment to the part, and his undying love for the source material, are just two of the very many attributes that made him such an awesome human being. Alan Rickman will be greatly missed, and so will his portrayal of the antiheroic Potions master that people still debate about to this day.
Image: Warner Bros. Pictures (2)