Finally, This Oscars Category Has Female Nominees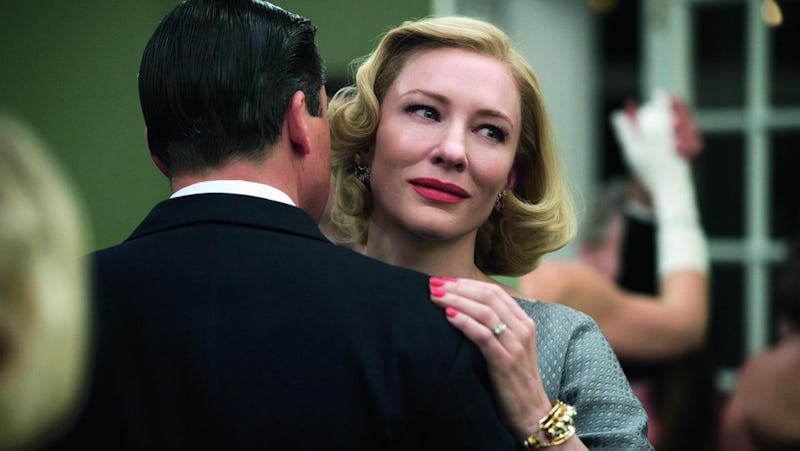 For several years now, the conversation over women in film — or really, the lack thereof — has increased in volume when awards season rolls around. The moment that nominations start getting handed out, the scarcity of female-led films, lead roles for women, and women working behind-the-scenes gets more noticeable than ever. Usually, it's the Oscars' Best Director race that is the most strikingly male-led, and 2016's roster of nominees is no exception. Adam McKay, George Miller, Alejandro G. Inarritu, Lenny Abrahamson, and Tom McCarthy all scored nods, and sadly, there didn't seem to be any female filmmakers even in contention. But surprisingly, there is one significant category that, while usually male-led, found itself full of female nominees this year — the Best Adapted Screenplay race.
Although the roster for 2016's Best Original Screenplay is as male-dominated as always, the Adapted group includes two solo female nominees, Phyllis Nagy (for Carol) and Emma Donoghue (for Room), as well as two women nominated alongside men, Andrea Berloff for Straight Outta Compton and Meg LeFauve for Inside Out. Although four out of 10 might seem like a small number, it's huge when you look at the Oscars' history of nominating female screenwriters. Last year, as in many years, all 10 screenplay nominees were men; in 2014, two were women, but they were partnered with men and shared the nomination. It's a reflection of the bleak reality faced by women screenwriters, a world in which women accounted for just 13% of writers on 2014's top 700 films, according to a study by the Center for the Study of Women in Television and Film.
So while only having four (or two, if you're counting solo) out of this year's 10 screenwriting nominees be female is certainly frustrating, the fact that that many women made it into the race is something to celebrate, considering how few female-written scripts even get made by Hollywood. And the knowledge that there were even more female-led scripts, like the Amy Schumer-written Trainwreck , in contention makes the news even sweeter. It still will likely be a long time before women screenwriters are given the same opportunities as their male counterparts and awards shows reflect that equality, but for now, it's hugely satisfying to see that progress is being made behind-the-scenes and at the Oscars when it comes to female-written scripts.
Images: The Weinstein Company; Giphy