Tape Contouring Is Your Next Makeup Obsession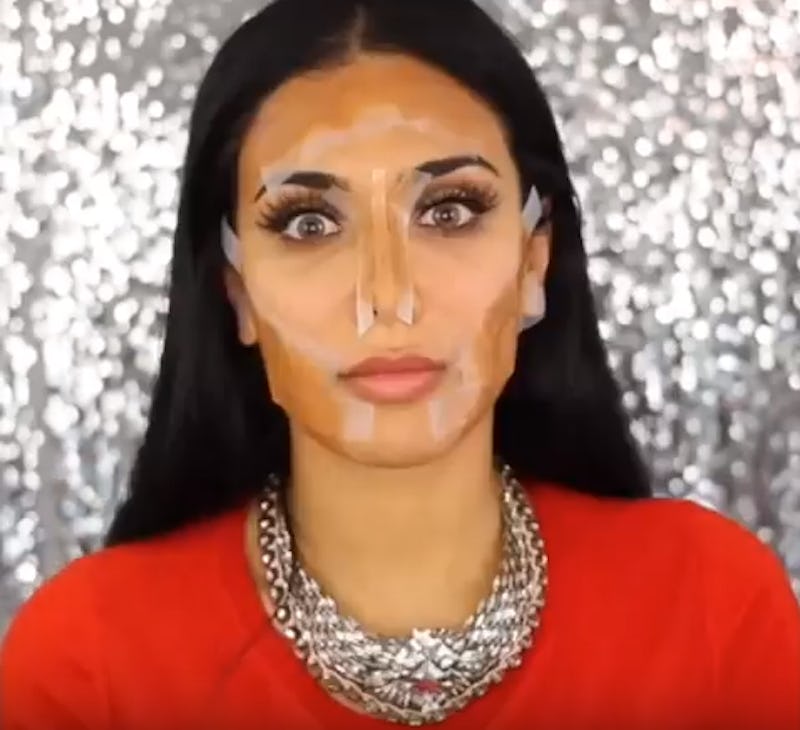 Contouring, the makeup trend made popular most recently by the Kardashian/Jenner clan, has sparked a phenomenon of all kinds of wild makeup fads. First came clown contouring, followed by the highlighting technique strobing, and then it was all about baking your makeup. Can it really get any crazier than that?! The answer is yes. Tape contouring has now arrived to take over the makeup world. Will this be the new It-technique of 2016? Time will tell! You've really got to see it to believe it. It looks like quirky makeup hacks aren't going away anytime soon.
So what exactly is tape contouring? The name pretty much says it all. It involves strategic placement of scotch tape to create precise panels of light and dark shadows around key areas of the face, such as the nose, cheekbones, and forehead. The tape is then removed, and voilà! You are left with super symmetrical contour shapes that you are then free to blend in.
Before you rule this as being way too complicated to accomplish, let me explain how simple it actually is. All you really need is some standard scotch tape that you probably have in your office, your go-to contour stick, a large makeup brush, and beauty guru Huda Kattan's YouTube tutorial. Easy and cheap — there's nothing better than that.
Step 1: Tape
Just like so.
Step 2: Contour
See how easy?
Step 3: Peel & Blend
#Flawless.
Check out the full tutorial.
There is no doubt that tape contouring is one of the wackiest makeup trends yet, but it's not the only one. Let's check out some other crazy contouring fads that swept the makeup world by storm.
1. Clown Contouring
Yes, this was a thing.
2. Skull Contouring
In case clowns weren't really your thing.
3. Cleavage Contouring
This trend has reached new heights.
4. Kim Kardashian Contouring
This takes sculpted cheekbones to a whole new level.
5. Lip Contouring
I think it's safe to say you can contour just about any part of your body.
Images: Screenshots/YouTube (5)