'The Wrong Car' Addresses An Important Issue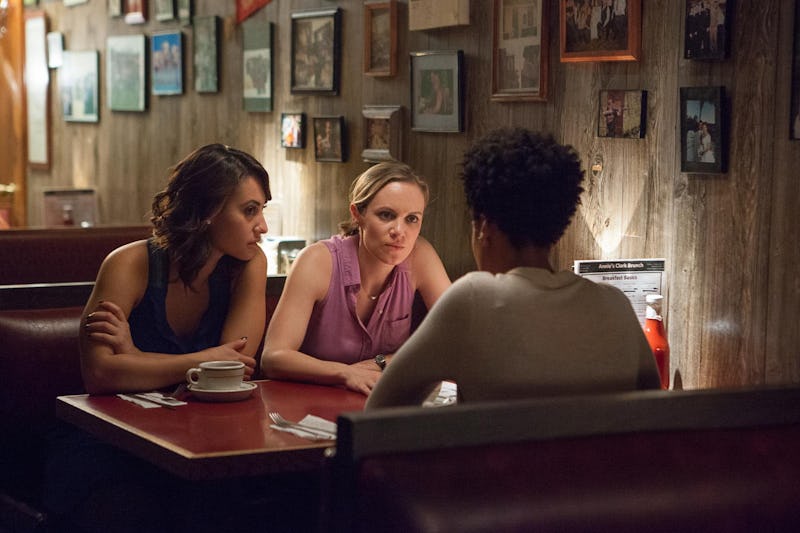 If there's one thing that Lifetime excels at, it's ripping a story from the headlines and then turning it into a cautionary tale, a thriller, or a combination of the two. So naturally when I saw the trailer for the network's latest original movie, I immediately wondered if The Wrong Car is based on a true story. Its initial premise looks depressingly familiar and realistic — a young woman is drugged and sexually assaulted. But, after that, it veers into a less common scenario when the victim takes it upon herself to go undercover and catch her attacker.
Here's the movie's full synopsis from its production company, MarVista Entertainment:
The morning after Trudy, a law school student, unsuspectingly steps into what she believes to be a "NetCar" black sedan, she wakes up confused and alone in a seedy motel—the victim of a roofie and sexual assault. Frustrated by the slow pace of the justice system, she takes matters into her own hands. Becoming NetCar driver herself, Trudy goes on a crusade to find and stop the serial rapist to whom she fell victim.
The Wrong Car isn't based on a true story — Lifetime typically notes when one of its movies is directly inspired by a specific event. And, a Boston Globe article about the filmmaker clarifies that the premise simply "feels ripped from the headlines." It also doesn't sound like it qualifies as part of the controversial "rape revenge" genre, which focuses on victims who use violent tactics to exact revenge on their attackers. Rather, it appears that the protagonist in The Wrong Car will seek to find the perpetrator and then turn him over to the authorities.
If you're looking for a movie that is based on a true story and focuses on the how the justice system treats survivors, The Accused is a must-see.
Inspired by true events, The Accused is about bringing rapists and their accomplices to justice in a court of law. It was released nearly two decades ago, but it shows a very real problem that persists to this day — victim-blaming. Jodie Foster's character, the victim of a brutal gang rape at a bar, faces harsh judgment due to her "immodest" clothing, the amount of alcohol she's consumed, and her "flirtatious" demeanor on the night of her assault. She refuses to back down from pursuing the justice she deserves, even when law enforcement and lawyers are reluctant to pursue the case. The film packed a punch at the time of its release, and Roger Ebert put it best in his glowing review:
I wonder who will find the film more uncomfortable - men or women? Both will recoil from the brutality of the scenes of the assault. But for some men, the movie will reveal a truth that most women already know. It is that verbal sexual harassment, whether crudely in a saloon back room or subtly in an everyday situation, is a form of violence - one that leaves no visible marks but can make its victims feel unable to move freely and casually in society. It is a form of imprisonment.
The Accused is still such an important movie due to its depiction of a harsh reality that we need to acknowledge. But, it's also inspiring and it ends on a hopeful note — because we need to remember that justice is attainable and we all have the power to be compassionate, educated individuals who actively work to eliminate victim-blaming from our culture.
Image: Lifetime