How To Pull Off Leggings At Work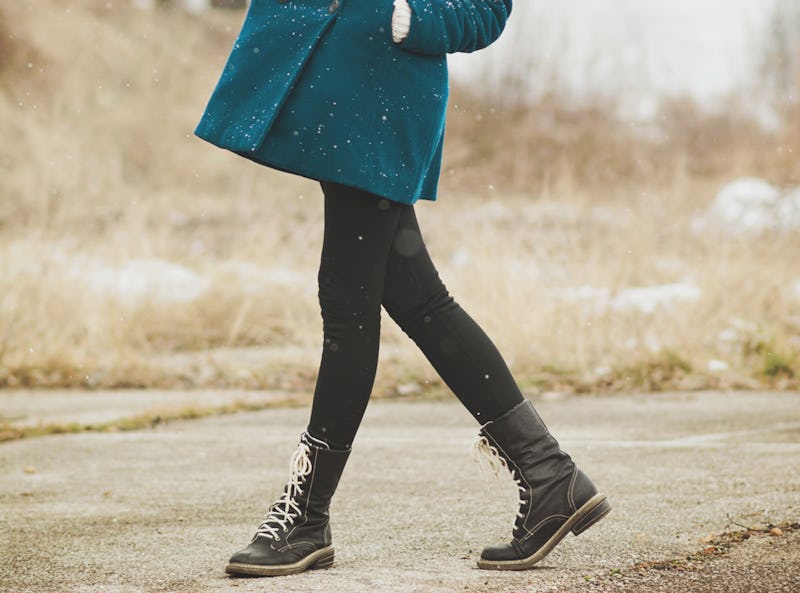 Unless you're a yoga instructor, choreographer, or a Jenner, society tends to tell us there's no room for legging in the workplace. But because we all have days where we just can't even with pants, it's important to know that there actually are ways to wear leggings to work. These tricks are so good, your boss and coworkers might not even notice you're actually wearing leggings underneath the conference table. It's really all about the length of your shirt and having the best accessories.
In case you've missed it, the "are leggings pants" debate is a hot one. Some bloggers state the tight pants catch the wrong kind of attention. Schools have changed dress code policies to not include leggings, in an effort to "protect students" (from what? Spandex allergies?). I am not here to take a side on the issue, but I can state the obvious: leggings are comfortable and convenient. And there are some days where we can't even imagine putting on skinny jeans or working an 8-hour day in slacks again.
So when you have to say no to pants — whether it's due to sleeping through your alarm or because you just don't feel like it — these 10 outfits can serve as comfy inspiration.
1. Take The Athleisure Route
With athleisure becoming the mainstream, gym clothes are looking more office-appropriate than ever. Try pairing your leggings with a long sweatshirt that covers your butt and crotch. I went with a full beauty look, because I did have a meeting on this particular Friday, and made sure my bright shoes were the eye-catching piece of this outfit.
2. Add A Blanket Cardigan
Your leggings are totally hidden in this getup. This is my go-to when the weather suddenly drops a million degrees in the winter. I felt like I was wearing a blanket all day (because I practically was) and my knee-high boots hid a pair of fuzzy socks. But best part? My favorite running tights with wool on the inside are completely disguised by everything else going on in this outfit. And I stayed warm all day.
3. Pop A Blazer On Top
For those of you who work in a v corporate office with v strict, important corporate office rules, I bring you good news of great joy: You, too, can wear leggings to work (unless your dress code specifically bans it, in which case, I'm very sorry). For a corporate office event, I paired the leggings with a longer, printed button-up shirt. I put a blazer on top to show true professionalism, and matched a statement necklace to my lipstick. And, of course, I wore spike-heeled booties.
4. Layer With A Long Cardigan
When you have a shirt that looks amazing with leggings and booties, but don't feel comfortable wearing it to work, I have two words for you: long cardigan. With that one purchase, suddenly all life's problem are solved.
5. Pair Leggings With Dresses
Leggings are basically just better tights, you know? Last summer, I started noticing this dress was getting a little too small for me to wear in public. Though it doesn't look too short while I'm standing, it tends to ride up a bit when I sit down. But because I love the print and the simplicity of the dress, I decided pairing it with leggings made it much more comfortable and fashionable. Bye-bye former summer frock — hello winter work dress.
6. Stock Up On Plaids
If you work in an office that leans more toward the casual side (you are clearly so, so #blessed) pairing leggings with a long, plaid shirt in the winter is always a good idea. Throw on a scarf and some chic booties for a comfortable outfit turned a little more chic.
7. Create A Faux Jumpsuit
A couple weeks ago, the other magazine I work for had a large company meeting. We have branches in other areas of the country and everyone joined together. I was meeting these people for the first time, so looking like I had my life somewhat together was a must. But I also was training for a mini-marathon, so I had to go from meetings right to a run before the sun came down. I pulled off the look my making my running tights look like a faux jumpsuit, pairing them with a black tank and throwing on a printed blazer. For extra professional points, I sprung for the real heels.
8. Utilize Your Pullovers
This outfit is all sorts of perfect. Leggings and this dressed-up sweatshirt make for a comfortable, yet chic, 8-hour work day. I had to throw on a statement necklace, just in cause people couldn't tell if I was heading for the office or for bed.
9. And Your Oversized Sweaters
Because, duh. Oversized sweaters are my favorite thing to happen in the world since Ben & Jerry's started putting brownie bits in their ice cream. Pair with simple booties, and you're out the door.
10. Go All Out Casual
Because casual Fridays mean casual Fridays. And by Friday, sometimes this is all you've got left.
Images: BigLike Images/Fotolia; Hayli Goode