These 9 Looks Prove Leggings Can Be Worn As Pants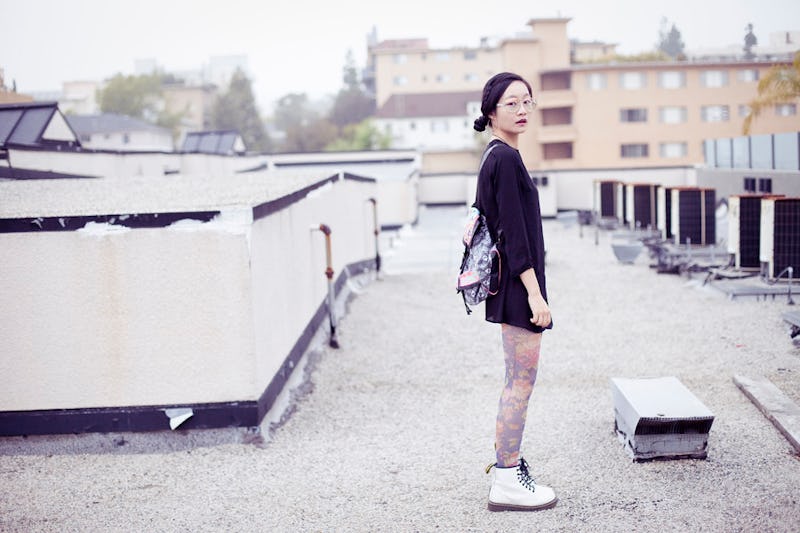 Here's my definition of leggings — the strange, beautiful piece of clothing that's appropriate at both yoga class and on a first date. If you've been shy about wearing your favorite pair beyond the gym, I say it's time to liberate them because there are ways to wear leggings as pants and I am going to prove it! Internet's best fashionistas prove once and for all leggings deserve the same fashion rights as pants.
Admittedly, you need to take the planned location of leggings-as-pants into account. If your workplace or school has a strict anti-legging policy, then don't let this article be the reason you get in trouble. Or heck, be a revolutionary and wear them anyway following in the spirit of the free the nipple movement.
Cosmopolitan's style editor, Charles Manning backs me up here. Asked if leggings would ever be appropriate as pants, he said, "A couple of years ago I would have said 'no, never outside the gym or only as a layering piece under a skirt.' But over the last few years, the line between what is a pant and what is a legging has been so blurred (hello, jeggings!) that it feels wrong to write off all leggings as being gym- or innerwear-exclusive." That's what's up!
Whether you are definitely pro-leggings as pants or staunchly on the other side of the fence, you can't deny the outfits below are pretty dang nifty. I'm having serious legging FOMO just staring at all of them.
1. With A Tunic Shirt & Lace Up Boots
Love the edgy, yet casual vibe she gives off.
2. With A Long Sweater & Booties
Cozy cuteness to the max.
3. With A Matching Cardigan & Heels
Who says you can't dress up your favorite bold-printed gym spandex?
4. With A Giant Cargo Jacket
Cargo hipster perfection.
5. With A Blazer & Fresh Sneakers
The perfect casual, yet dressy work outfit.
6. With A Fuzzy Coat & Platforms
This is '90s perfection.
7. With A Crop Top & Sneakers
Back to basics.
8. Layered Under A Short Dress & Coat
This is a genius way to wear some of your favorite summer dresses in the fall.
9. With A Printed Jacket & Casual Kicks
Hip, comfortable, warm — what more could you want?
Image Credit: Ren Rong/Flickr (2)