8 Iconic Grease Dances You Should Know By Heart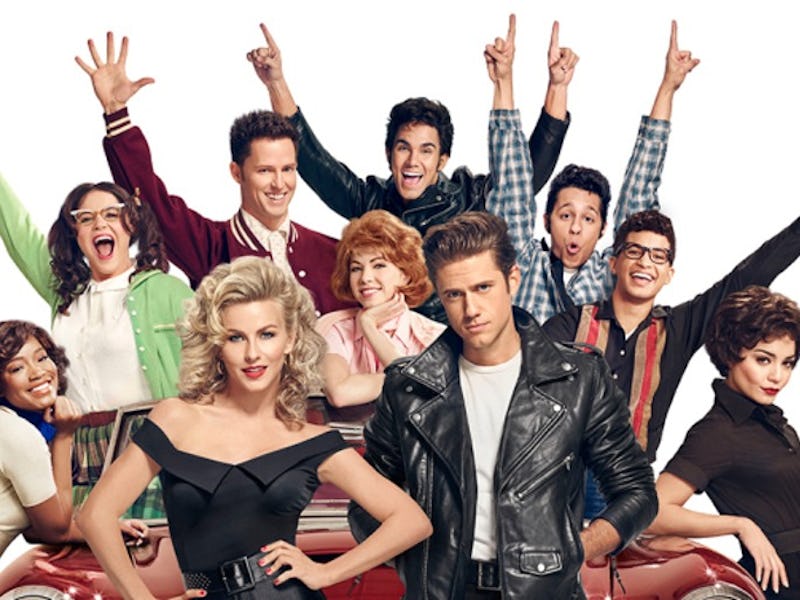 Attention, Grease fanatics — the wait is nearly over! Grease: Live, the much-anticipated live remake of America's favorite musical, premieres on Jan. 31 on FOX. In addition to belting along to its iconic soundtrack, we're seriously looking forward to busting out all our favorite Grease dance moves.
Whether you're trying out the hand jive or the greased lightning, you're gonna want to mimic all the choreography from the comfort of your living room. Plus, the all-star cast just makes it all look so darn easy. With Julianne Hough as Sandy, Aaron Tveit as Danny Zuko, Vanessa Hudgens as Rizzo, Keke Palmer as Marty, and Carly Rae Jepsen as Frenchy, we're looking at a seriously talented new crop of Rydell High students. Consider the act of resisting the urge to dance pretty much the squarest thing you can do.
If you feel like your brain's a little fuzzy, never fear! We've teamed up with Grease: Live to bring you a refresher course on all of the musical's classic dance moves. Catch it on Sunday Jan. 31 at 7/6c on FOX, and prepare to dazzle your entire viewing party with your dance skills.
1. The Belt-Loop Side-Step
Before Billy Ray Cyrus did the Achy Breaky Heart shuffle, Danny and Sandy were doing the belt-loop hip-shake down the Rydell High bleachers in "You're The One That I Want." To dance like them, just hook your thumbs into your belt loops, barn dance style, and move your hips side-to-side next to whatever song you may be listening to. Presto! You're instantly hip!
2. The Advanced Shimmy
As Rizzo, Vanesa Hudgens shimmies like she means it. In order to mimic this Pink Lady's torso-shaking game, put your arms in a low V. Then shake your shoulders one at a time. Check you out — you're the shimmy queen!
3. The Twist
As the prototype of sock-hop dance moves, the twist is obviously a fixture in Grease. Carly Rae Jepsen as Frenchy demonstrates how to do it above. Just swivel your hips, pretend to wash a couple of windows with your arms, and voila! You're a teen in the '50s.
4. "How Low Can You Go?"
Long before Lil' Jon, this classic musical asked the question "How low can you go?" To go low like the T-Birds and Pink Ladies, all you need to do is twist while bending your knees. Gradually lower yourself until you can go no lower.
5. T-Bird Strut
Don't let the idea of walking like a T-Bird intimidate you. The signature groove-walk of the greasers is basically just a side step, with a light "walk like an Egyptian" neck thrust. The rest is in the attitude.
6. The Windmill Snap
Anyone can do this funky, rhythmic snap. Just step from side-to-side, and snap on the beat. Far out!
7. Greased Lightning
A little bit "Bye, Bye, Bye," a little bit chicken dance, the "Greased Lightning" choreography is the dance equivalent of an ear worm. To do it, take your right arm and wave it out in front of you for four beats. Then, shoot it up, to the side, up again, to the side, and then repeat with your other arm. See? Being a T-Bird isn't that hard.
8. The Hand Jive
Everybody knows that the faster you hand jive, the cooler you are. This rapid-fire hand game may look complicated, but it's actually pretty simple: slap your knees twice, clap your hands twice, shuffle your hands twice, bump your fists twice, and hitchhike over the shoulder with each hand. Rinse and repeat.
Now, ask yourself, do you feel like a hip youth or what?
This post was sponsored by Grease: Live. Make sure to catch the premiere on Jan. 31 at 7/6c on FOX.
Images: FOX (8)