'Grease: Live' Is Going To Be Amazing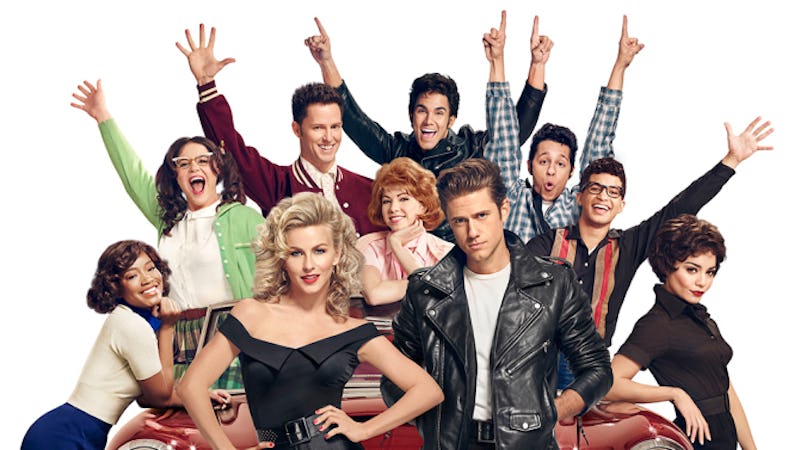 Despite the fact that the original film came out in 1978 and I wasn't even born until 1984, Grease was a massive part of my childhood. I sang along to "Hopelessly Devoted To You," coveted Sandy's, well, everything, and thought Danny Zuko was pretty cute, too. For some reason, it seemed as though Grease was always on our TV, whether because it was actually airing on TV or because one of us had popped the VHS in yet again. In middle school, we even had a Grease-themed dance, complete with poodle skirts and chiffon scarves tied around our necks. In other words, Grease really was the word of part of my youth, hence the reason I was simultaneously scared and excited when I heard about the upcoming live TV musical version. Thankfully, the new behind-the-scenes trailer for Grease: Live has assuaged my fears slightly, as it looks like they'll be paying some serious homage to the movie.
Of course, it's hard to tell exactly what scenes will end up in the live show, given that, you know, it's live and all, but getting a sneak peak into the cast's rehearsals shows some pretty familiar scenes that are easy to pick out. From the number on the benches to the infamous hand jive, I'm thinking Grease: Live is going to bring all of our favorite moments to life on the stage, and I can't wait. Here are just a few of those easy-to-pinpoint scenes:
Grease Lightning
Of course, no version of Grease would be complete without a rendition of "Grease Lightning". To be honest, I was never a massive fan of the guy-heavy moments of the movie because cars are boring (whatever, they so are!) but I have to admit, I'd have been seriously disappointed if this wasn't part of the final product.
After all, who could forget this?
You're The One That I Want
When Danny finally gets his act together and Sandy comes out being all hot and sexy and leather-clad, they do the infamous "You're The One That I Want" number that we all know and love. It's another scene that could never have been left out of the original or it basically wouldn't be Grease. Of course, trying to recreate something so cinematically iconic is a tall order. I mean, look at these two:
Tell Me About It, Stud
When a made over Sandy turned up and uttered those iconic words — "Tell me about it, stud!" — it was legendary. Not only did she look amazing, but she'd had a complete change of attitude and was suddenly completely badass. Julianne Hough seems to have the 'tude down, which is a relief. It's pretty hard to match Olivia Newton John's original!
The Frosty Palace
Remember how everyone in Grease used to hang out at the Frosty Palace? They had amazing sundaes, delicious-looking fries, and it was basically the place where you went if you were, well, anyone in high school. Danny took Sandy there on a date, though the whole thing did turn into a bit of a mess. It's so awesome that the new version is keeping something so iconic from the original, though!
Big Dance Numbers
Any good musical needs plenty of musical numbers, sure, but it's not all about the singing — the dancing is a major part of things. Thankfully, Grease has some amazing dance numbers, from the one at the school dance to the one at the carnival at the end. In my dream life, I'm a great dancer, but in the real world, I'm terrible, so I'm going to really love watching people with actual coordination pull this off.
You can watch the full behind-the-scenes preview for Grease: Live! below, but make sure to tune into the actual event on Sunday, January 31 on Fox.