I Got A Haircut I Thought I "Couldn't Pull Off"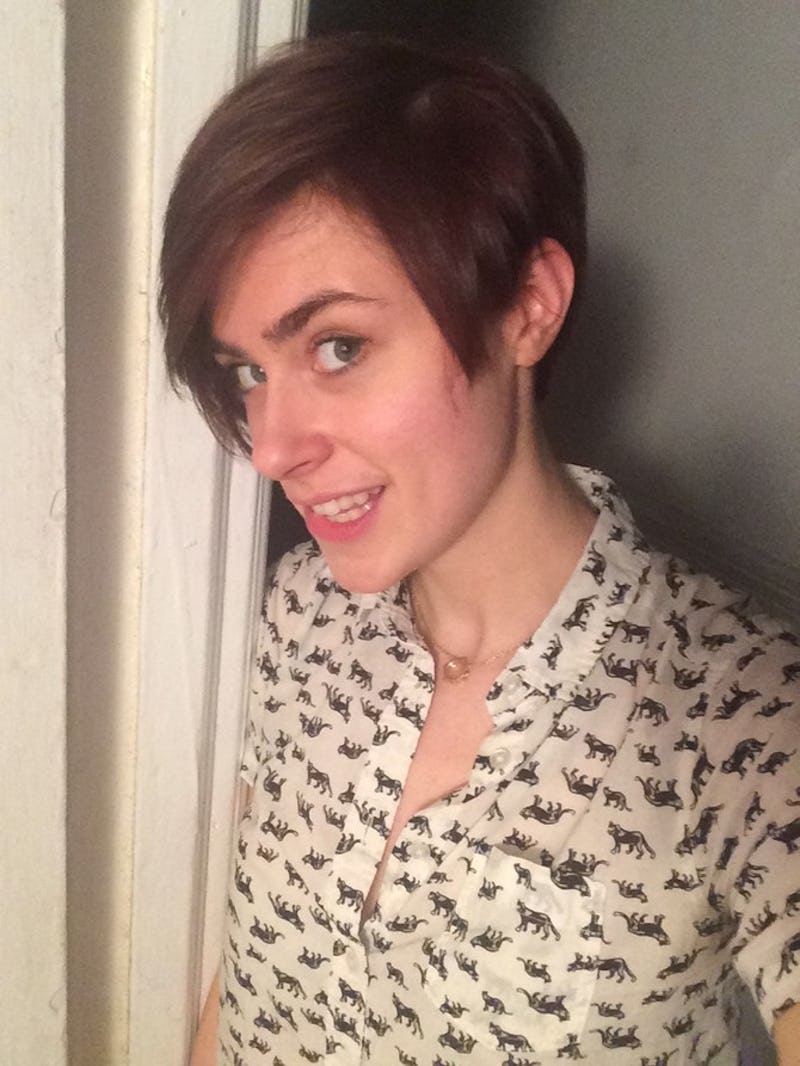 Have you ever daydreamed about taking the plunge to go all in on one fashion or beauty look you love, but are too scared to try it in real life? Well, I tried one beauty look I thought I "couldn't pull off" and it's been pretty life changing. Last Friday, I cut my past-shoulder-length hair into a close-cropped pixie cut and the week has been full of emotions.
I've been wanting to test out the pixie look for years, but always chickened out. I had previously made an appointment to do it a few years ago, but cancelled when my then boyfriend convinced me I would look like an ugly twelve-year-old boy with short hair (emphasis on the then boyfriend). His comments really sunk into my psyche, but I decided to abandon the fears last week.
As a Bustle writer, I'm part of a team that stands for body positivity and knew the only thing that stood between me and fully embracing myself and style was seven inches of hair. After feverishly pinning pixies on Pinterest, I made an appointment with Badlands in Park Slope, Brooklyn (shout out to Addison Martin and her mad skills!) and watched my hair fall to the ground.
Here's how it all went down and how I felt every day for a week after my cut.
Friday: Getting The Haircut
My emotions while sitting in the chair watching Addison doing her thing evolved from excitement to dread to shock and, ultimately, confused acceptance. I didn't immediately love my cut, but I didn't hate it either. What I did know was that I didn't regret it. More important than how the haircut looked was the fact that I felt comfortable enough with myself to get it, and acknowledging that was powerful.
Saturday: Date Night
Saturday night was the first time the person I'd just started dating would see my hair. I could hear my former boyfriend's criticisms in my head while I tried to style it (i.e. "Your face will look so big ... I might not be attracted to you") and was scared my new fella friend would feel the same way. But then I remembered that I got this haircut for myself, shook in a little product, and walked out the door feeling hot, strong, and confident.
Sunday: Moody Morning
Honestly, my face sums up the entirety of how I felt about my hair on Sunday. I was scared to wash it for fear I wouldn't be able to re-style it, and it was a greasy mess. Everyone's allowed to feel a little less than body-pos sometimes, right? I just felt so exposed and naked and nothing was working. Merp.
Monday: Style Success
On Monday, I decided I had to wash my hair. I blow-dryed it and it was super puffy at first, but I learned the bliss of hair wax. This was a good reminder that, when you try a new look, you've got to arm yourself with the right products.
Tuesday: Learning My Angles
I started feeling a little more confident with my pixie and parted it to the other side for fun. I'm happy to report I didn't feel like a twelve-year-old boy.
Wednesday: Confusing Hair Day
OK Wednesday was tricky. Just like any other haircut, sometimes you win and sometimes you don't. I popped on a beanie and called it a day.
Thursday: Job Interview Power
I had an interview for another freelance gig, and was surprised how cutting off my hair made me feel more vulnerable, but also strong. Knowing that others can see my entire face now and I can't sink behind a slew of curls forces me to be more present and direct. I know I never had to play "cute curled hair girl" to be listened to and get attention, but this haircut means I can't even default on that if I wanted to. Instead, you get my face front and center, and I'm learning how to channel that exposure into confidence. It's not easy, but it feels amazing.
Friday: Final Verdict
For those of you that think a haircut is just a haircut, I would beg to differ. This cut is allowing me to feel more liberated, courageous, and authentic than ever before. Yes, somedays the cowlicks suck and I'm learning to deal with them, but I've never felt more like myself and have no regrets.
Want more beauty tips? Check out the video below, and be sure to subscribe to Bustle's YouTube page for more hacks and tricks!
Images: Author's Own