Where Else Can You See These 'GoT' Stars?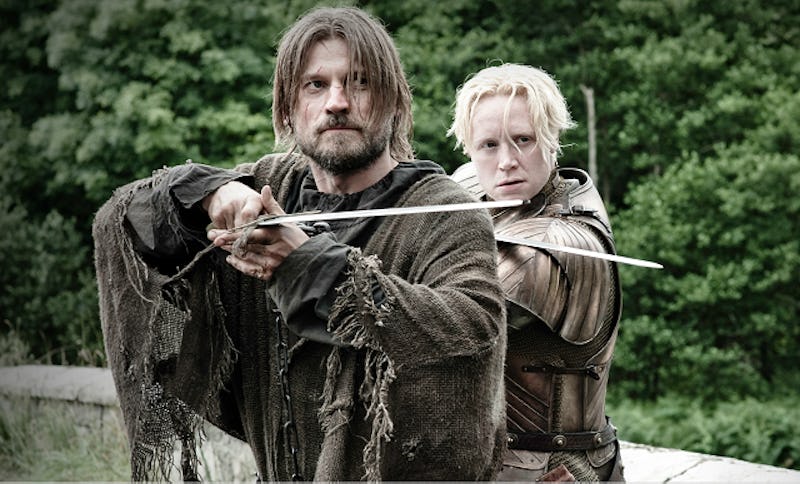 Game of Thrones is one television series that totally rocks my socks off. Whether its Khaleesi being a B.A.M.F. with her dragons or the witty one-liner machine that is Tyrion Lannister, there isn't a single moment of the series that I'm not totally obsessed with. That's why I am struggling with the knowledge that the start of Game of Thrones Season 6 isn't until late April. This means that new Game of Thrones is still over three months away. THREE MONTHS AWAY — that's crazy! That's why I have been searching high and low for ways to watch Game of Thrones actors during the show's hiatus.
Luckily, it would appear that the cast of GoT have been extremely busy beefing up their resumes and dominating Hollywood. From film to TV, you can't swing a Valyrian steel longsword without running into a Game of Thrones cast member. They are everywhere.
And seeing the cast in these roles is sort of like watching a new season of Game of Thrones. I mean, the cast is so awesome and so talented, I'd watch them in a how-to video of how to watch paint dry. (Thankfully these projects are much better than that.) Anyway, here's where you can see your favorite Game of Throne actors:
Gwendoline Christie
One of Game of Thrones' breakout stars, Christie — who plays Brienne of Tarth — is totally killing in Hollywood right now. She appeared as Commander Lyme in Hunger Games: Mockingjay, Part 2 this past fall, and is fighting for the dark side Captain Phasma in the mega-hit Star Wars: Episode VII — The Force Awakens.
Emilia Clarke
Do you feel like you are missing some Khaleesi in your life? You could see Emilia Clarke (aka mother of dragons) in Terminator Genisys as the badass Sarah Connor. She's doesn't have any dragons in the film but she does have a Schwarzenegger. And those two things are practically the same.
Peter Dinklage
We all need more Peter Dinklage in our lives. So until the new season starts, you can see the funniest man in Westeros in the Adam Sandler film Pixels. He's playing an expert Donkey Kong gamer, released from prison to fight aliens.
Kit Harington
Harington just starred in MI-5, an action-thriller about the UK's domestic counter-intelligence unit. In it, he plays a agent who must stop an imminent terrorist attack on London. The film is a spin-off from the BBC One series Spooks , and is available On Demand. I'll be honest here — when anything has Kit Harington is in it, I am extremely interested.
Sophie Turner
Sansa Stark often gets the short end of the stick on Game of Thrones. Turner continues her trend of playing characters having a tough go of things when she appears as Jean Gray in X-Men: Apocalypse this spring.
Maisie Williams
Maisie William has just finished a stint as Ashidir in Doctor Who. Check it out, because Williams is seriously the best — and Williams in Doctor Who is absolutely divine.
Pedro Pascal
I am still crushed that Oberyn Martel died in Season 4 of Game of Thrones. Luckly, I can still get my Pascal fix by watching him in Netflix's Narcos. He plays a DEA agent trying to bring down Pablo Escobar.
Lena Headey
Headey continues her reign as the ultimate snotty aristocrat when she appears in Pride and Prejudice and Zombies this February as Lady Catherine de Bourgh. First, she's related to Joffrey — and then Mr. Darcy? Headey has a thing for playing characters related to total jerkfaces.
Nikolaj Coster-Waldau
Nikolaj Coster-Waldau, who plays Jamie Lannister (aka "the Kingslayer") is starring in Gods of Egypt the latest flick from Alex Proya (The Crow, I, Robot).
Aidan Gillen
We all love to hate Aidan Gillen as Petyr "Littlefinger" Baelish in Game of Thrones — but you'll be happy to know, outside of the role, he plays characters who are just as creepy. Case-in-point: He recently appeared in Maze Runner: The Scorch Trials as the W.I.C.K.E.D. scientist, Janson. And to the delight of Game of Thrones fans, Gillen is incredibly creepy in this Maze Runner role.
Now I just keep asking myself: Why is April is so far away?
Images: HBO (3)