Jax & Lala Don't Seem Close After 'Vanderpump'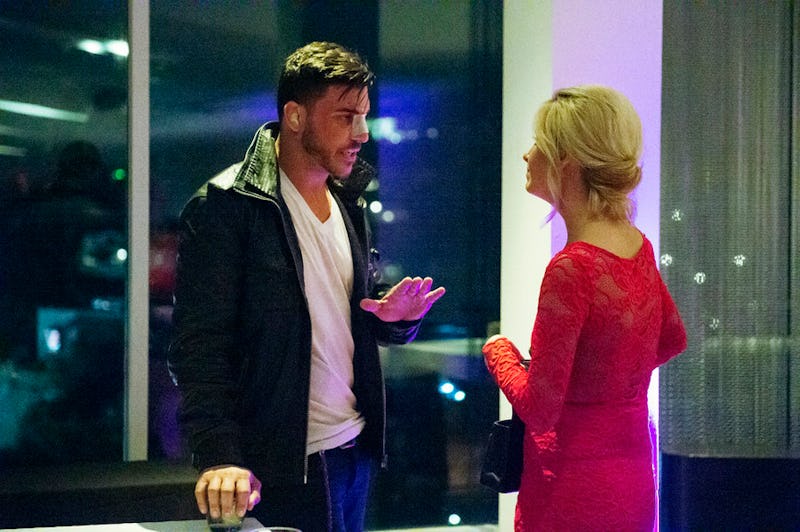 Since the beginning of Vanderpump Rules, Jax Taylor has played with fire. When the show started, he was with Stassi Schroeder. Their relationship was pretty painful to watch — they sniveled and sniped at each other, and Jax was unfaithful to Stassi. He also slept with her then-pal Kristen Doute. Next, we saw him date Carmen Dickman, who told him to "grow up" and "get his life together." Just when it seemed like he had settled down with girlfriend Brittany Cartwright, Jax and SUR newbie Lala Kent were flirting pretty hot and heavy. Come on, Jax. Why do you have to ruin everything? Brittany and Jax are still together, so the flirting must have eased up, but are Jax and Lala still friends? It doesn't seem so.
It's very easy to get swept up in a flirtation, and while Lala was single while she and Jax were whispering veiled sexual invitations to each other, Jax really wasn't. I mean, his girlfriend had just come from Kentucky to live with him, and he was out with Lala. Not cool. Brittany got wind of it all (though Jax padded the conversation so it didn't seem like it was as bad as it actually was) and declared that she had to talk to Lala about it before their trip to Hawaii. Since Brittany and Jax are still together (filming wrapped in the summer of 2015), they seem to be good as gold. But I don't think Lala and Jax's friendship made it through, because they have literally no photos together on their respective social media accounts, which seems to me that they don't hang out at all. Here's what they've been doing instead.
Jax & Brittany Are Going Strong
They spent the holidays together, and pretty much every photo on Jax's Instagram for the past year involves Brittany. I didn't think that Jax would settle down, but he found someone to balance him out and bring him down to Earth.
Lala & James Are Possibly Seeing Each Other
Though on the show Lala basically said she wasn't attracted to James, she is spending an awful lot of time with SUR's resident Brit (you know, besides Lisa Vanderpump) James Kennedy. And though they haven't made it official, in an interview with Bustle, James descirbed their current relationship by saying, "We definitely have love for each other, and we're just having fun."
Jax Is Planning For His Future
Jax is laying tracks for a successful future, as according to Bravo, he has invested in a restaurant in Los Angeles called NOW Ventura. The reviews on Yelp are good, and I'm happy that Jax is finally settling down and making some adult decisions.
Lala Is Throwing Parties
Lala likes to have a good time, so why shouldn't she use her Vanderpump Rules fame to do some serious party promotion? Get that paper. With James by her side, Lala is making appearances from Chicago to Los Angeles. Can I get an invite? I'd love to hang out with Lala.
While Jax and Lala don't seem to be spending much time together, they've both moved on and have full, exciting lives. No more drama for this crew (at least until filming for more Vanderpump Rules starts).
Image: Nicole Weingart/Bravo