12 Tips For Your Reading New Year's Resolution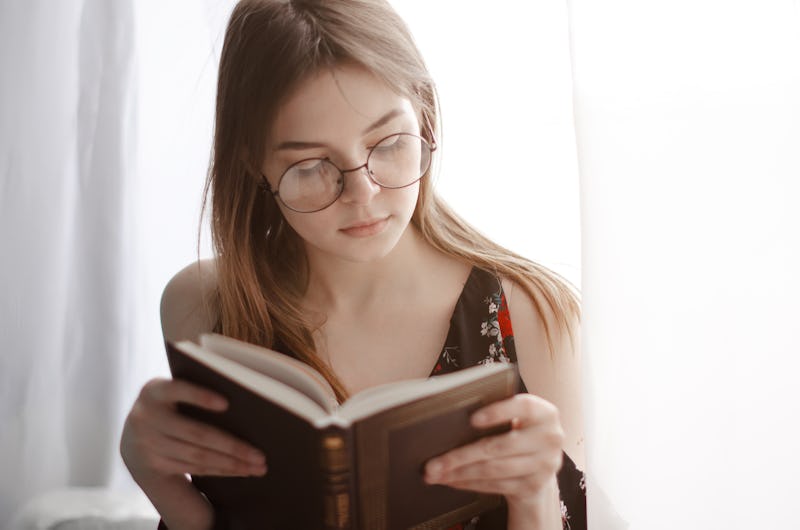 When it comes to making a new year's resolution, the most important part is sticking to it. It's easy to let the excitement of January, when everyone is bettering themselves with new diets and dating apps, wear off as soon as February hits. If your new year's resolution is to read more, you clearly made a great decision. Reading more means you're constantly learning more while also having fun. Could there be anything better?
Though there are endless choices of books to help you fulfill your resolution, keeping up with your goal isn't always easy. Even as a book nerd myself, I'm always trying to read more, but I find life getting in the way of my reading time or getting stuck in temporary reading ruts. By making reading an everyday habit and finding new ways to spice up your TBR list, it'll get easier and easier every day. In 2016, embrace your love for books and don't let anything hold you back.
There are multiple tricks to stick by if you run into a reading rut this year, which is why I've created a list of 12 tips for your resolution to read more. From bringing a book with you everywhere you go (yes, even to parties) and keeping track of every book you read, here are some tips that just about any reader can benefit from.
1. Make A TBR List
This probably seems obvious, but it is often forgotten about or ignored mid-way through the year. If you're going to read more this year, know what you'd like to read and keep it close by at all times because it's easy to draw out the time between books if you haven't picked out what you're going to read next. If you haven't already, start off by listing off any and every book you've always wanted to get to but never have. Include classics and new ones everyone seems to be talking about. Read though some book recommendation articles and ask your family and friends what to read. You can always add new books or take some off, just keep it with you throughout the year so you always have something to look back on when you need it.
2. Keep Track Of What You Read
However you'd like to do this is up to you. Using sites like Goodreads helps when it comes to this, and it also encourages you to share your thoughts on a book with a massive community. You can also keep track the old-fashioned way with a journal. This is important because it'll show you just how much reading you're getting done, and by the end of this year, you'll thank yourself for doing this.
3. Take On A Reading Challenge
If you need a little push on where to start your reading resolution, try out a reading challenge. Definitely take on the #BustleReads challenge that has 20 book tasks to get you going! There are plenty of other reading challenges out there, too, like the 2016 Book Riot Read Harder Challenge and Challies 2016 Reading Challenge. These are set up to help you diversify your reading list, motivate you, and introduce you to authors and genres you otherwise probably wouldn't get to know.
4. Join A Book Club
When it comes to reading, it can seem like a completely solitary act, but it doesn't have to be. Create one or get involved with a book club, especially if you need a little help being reminded to finish a book by a certain date. If a book club seems like too much commitment right now, try to form a bit of a reading group among close friends and keep track of what each other are reading instead.
5. Make Reading A Daily Habit
When it comes to making any resolution for the new year, it's all about establishing a new and healthy habit. So if yours is to read more, find a time during the day — before you get out of bed, on the subway on your way to work, at lunch, or at bedtime — and read for a set amount of time. Before you know it, it'll become a part of your routine you don't want to skip out on.
6. Try Out Different Reading Styles
Have you ever read with an audiobook? What about an e-book? There's more ways than one to read a book, and finding the one that suits you best is important for your new reading goals.
7. Reread An Old Favorite
One thing I love to do is go back and reread a favorite from when I was younger. It's almost like time travel, because the book is still just as amazing as you remembered, and it brings back all those original memories you first had with it.
8. Seek Out Recommendations
Just last night I was in a Lyft and spent 20 minutes talking about books with my driver. It was awesome. Anywhere you go, strike up a conversation with a good book you just read, or ask the people around you if they've read anything good. Chances are, they have, and they'd love to recommend something for you.
9. Spend More Time Exploring Bookstores and Libraries
Surrounding yourself with books is one of the best things you can do when you want to read more. Spending time in local bookstores will keep you updated on recent releases, books to look forward to, and possible author events coming up. Bookstores and libraries are warm and comforting, and act as a second home for most. Make it a goal to visit one or two each month if you can.
10. Switch Up Genres And Styles
If you hit a rut in your reading resolution, switch it up. It's OK to move on from an unfinished book and come back to it later if you need to. Try out a new genre you've hardly touched, or explore an author with a different background from you. Try reading a short story collection or graphic novel in between memoirs and literary fiction. Whatever book grabs your attention, pick it up and dive right in.
11. Bring A Book With You Everywhere You Go
Keep a book on you, always. Even at parties and the grocery store. Keep one in your purse, in your car, in your backpack, and on your phone. You never know when you'll have an extra hour or two while you're out and about that'll be perfect for reading time.
12. Keep Your Reading Goals Realistic
Depending on your lifestyle, keep your reading goals realistic. Do you have multiple jobs and a decent social life? Do you have a family to care for and a hectic schedule? Always make time for reading, but also remember that you don't have to live up to high reading expectations if the demands of your everyday life are too much. Use reading as an escape, a getaway from stressors and long days, and you're sure to successfully complete your 2016 goal of reading more.
Images: Fotolia; Giphy (12)