Meet Mandy, The 'Total Divas' Newbie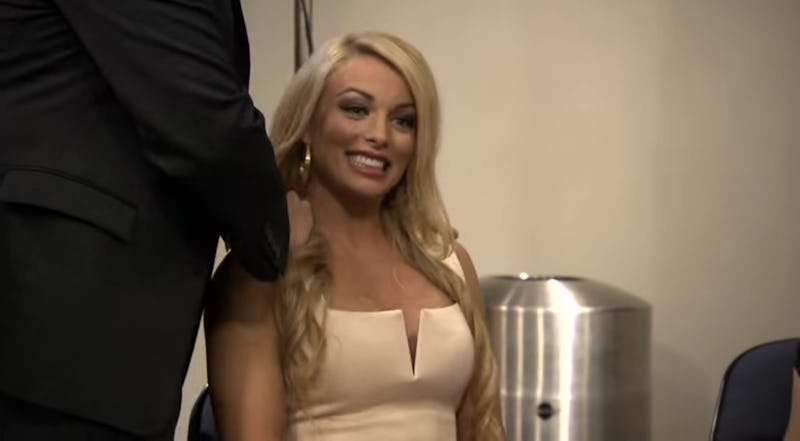 It's not easy being a cast member of the E! reality series Total Divas . You have to be strong, tough, fierce, feminine, and beautiful all at the same time — inside and outside of the ring. Your personal and professional relationships not only become more complicated but are also put under a microscope, as is the case in most reality TV series. However, with all of those challenges can come many rewards, i.e. fame reaching a wider audience than just pro wrestling fans. It's no wonder there's always a new Diva looking for her time to shine in the spotlight. This season, the new WWE Diva is Mandy, but who is she, really, and does she have what it takes to hold her own in this uber-competitive industry?
Well, the WWE probably wouldn't put her on the path to becoming a Diva if they didn't see something special in her. And, fans will also soon see that she has the beauty, brawn, and personality to make her stand out among her Total Divas castmates. It seems she'll know how to bring drama outside the ring, too, and, for that reason (among others), I welcome Mandy with open arms. Here are a few reasons why you should, too.
She Was Almost Tough Enough
As seen in the above clip, Mandy, né Amanda Saccomanno, first competed as a contestant on Tough Enough, ,the USA reality competition in search of the next WWE Superstar and Diva, which aired last summer. About halfway through the competition, Mandy was almost eliminated. However, Tough Enough judge and pro wrestler The Miz used his save on Mandy, which outraged fellow judge and Total Divas star Paige. But clearly, The Miz made the right choice because Mandy would go on to become the runner-up to winner Sara Lee. However, it looks like Mandy is still going to have an uphill battle ahead of her to convince Paige of her merits this season of Total Divas. Good luck with that!
But, She Still Kind Of Won
Sometimes, you don't need to win a reality competition to go on to be a winner in life. Though Mandy wasn't crowned the female winner of Season 6 of Tough Enough, she still signed with WWE NXT, the WWE's development program. Shortly after that, Mandy was then pegged to join the cast of Total Divas . It sounds like she could be a full-fledged WWE Diva in no time.
She's A New Yorker
Though we see the cast members of Total Divas travel the country and the world, Mandy never seems to forget where she comes from. Mandy is a proud native of Yorktown Heights, New York, which is located in Westchester County. Her family also owns a deli in Carmel, New York, as evidenced by the above Instagram caption. However, it now looks like this small-town girl is ready for her big break.
She's Always Been Interested In Fitness
Before she pursued a career in pro wrestling, Mandy was trying to make a name for herself in the world of fitness modeling, and you'll find plenty of evidence of that all over Mandy's Instagram profile. She was also crowned the 2014 WBFF Pro Diva Bikini World Champion. Mandy may be new to the wrestling game, but it looks like she's been developing the skills to be a WWE Diva for a long time.
She Has Brains, Too
Before she showed off her beauty and brawn, Mandy worked her brain power, too. She earned her bachelor's degree in speech pathology from Iona College and, according to her website bio, even plans on returning to school to get her master's degree. But, since her pro wrestling career is now taking off, I feel like that may have to wait.
She Has A Boyfriend
Like many of the Total Divas cast members, Mandy is taken — and it sounds serious. According to the above Instagram caption, she has been with her boyfriend Michael for five years. We'll have to wait and see if her relationship drama — if she has any — makes it onto the show.
You Probably Can't Guess Her Childhood Nickname
Mandy grew up with three big brothers, so naturally, she encountered some teasing from them, such as calling her "Hamburgers." I'm not really sure what that means or why it's offensive, but if it gets on Mandy's nerves, we should probably be prepared for some of her Total Divas castmates to call her that name, too.
She Has A Famous Doppelganger
I think she's actually the spitting image of Australian actress Margot Robbie. Just as Robbie has taken some unexpected acting roles (Harley Quinn, anyone?), I think Mandy is bound to surprise us as well.
Images: E!; Giphy