Jubilee Opens Up To Ben On 'Bach' & She's So Brave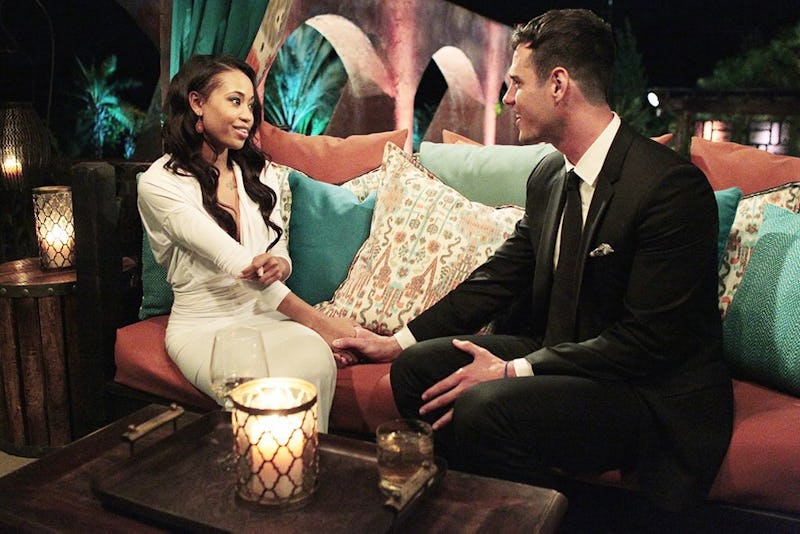 One of the reasons I love The Bachelor so much is because it's a nice break from reality, but then there are those moments where the show gets surprisingly real. Monday night's episode of the show was one of those times, and it was actually a pretty refreshing change of pace. Ben and Jubilee had their first one-on-one date, and although it was off to a rocky start, by the time they got to the dinner portion of the evening, they were really connecting. And, then, Jubilee opened up about her past, and it provided even more proof about what a brave person she is.
After Ben asked Jubilee why she hasn't been back to Haiti — where she was from before she was adopted into an American family — and she ended up telling him about how she's the only remaining member of her family after the rest of them died. Some fans were quick to judge Jubilee for opening up so much so quickly, and her fellow contestants haven't tried to hide that they aren't her biggest fan, either. But, for me, I think it's the opposite. It's awesome that she opened up to him about something so important to who she is, and it definitely seems to have brought them closer together.
It's not easy to talk be vulnerable, especially for someone like Jubilee who seems to keep herself closed off to most people. She deserves major props for having the courage to tell Ben what happened in her past... and on national television, at that. She's survived insurmountable obstacles in her life, things that a lot of us probably could never imagine facing, and she's still standing. That's pretty amazing.
Besides, relationships are accelerated on The Bachelor. Most people typically don't meet and then get engaged weeks later, but they do on this show, which means it's necessary to share more than you would on a first date if you want to find out if you could potentially marry this guy. And even if it was a lot for her to share, Ben asked for the information and she answered. So can we all just give her a break?
I think Jubilee's awesome, even if the rest of the women aren't on her side. And as long as Ben likes her, that's all that matters!
For everything Bachelor Nation, follow our Bachelor fan page on Facebook.
Image: Rick Rowell/ABC