'PLL's Theme Song Has Stood The Test Of Time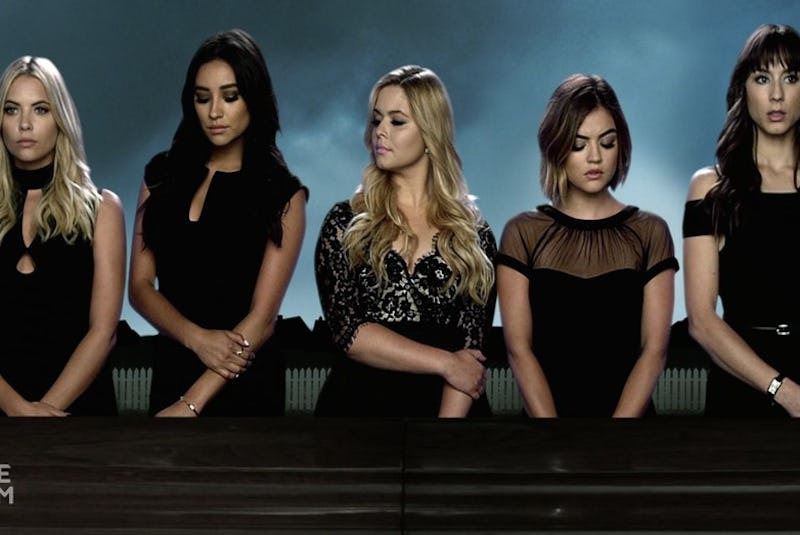 There are few shows out there with a more fitting theme song than Pretty Little Liars — it's so perfect, in fact, that many fans may mistakenly assume that it was actually written for the show. There's actually a fun little history behind how the song ended up on PLL, as during the Five Years Forward special, Troian Bellisario explained that co-star Ashley Benson actually discovered it. She recalled that Benson first showed the song to her castmates while they were filming the pilot, and eventually to I. Marlene King — and the rest is history. So, what is the opening credits song on Pretty Little Liars and where can you listen to it?
The song in question is the aptly-named "Secret," and it was written and performed by The Pierces, a band formed by sisters Allison and Catherine Pierce. Luckily for fans of the show, "Secret" is actually quite easy to track down. First of all, there's iTunes, where you can purchase the song for $0.99. Then again, if you're not feeling like shelling out the big bucks, you can always stream the song on Spotify. Alternatively, you can download the song (as well as the whole album) if you have Amazon Prime, as it's available in their Amazon Music application (you can also find the CD on Amazon, if you're feeling especially old school).
And last but not least? You can always stream the song (and its eerily PLL-compatible music video — seriously, it's got all the wigs, bangs, eyeliners, and glamorously dead girls you could ever ask for from an episode) on YouTube.
If you're a fan of the show, it's likely you've developed a soft spot in your heart for the upbeat-yet-creeptastic opening credits song, and if that's the case, I highly recommend giving the rest of the album a listen. Titled Thirteen Tales of Love and Revenge, The Pierces' 2010 album is filled with tracks just as macabre and quirky as the song that serves so well as PLL's theme song. Heck, their songs "Lies" and "Kill! Kill! Kill!" could serve almost equally well as Pretty Little Liars' theme songs, respectively. Well, almost. "Secret" will always hold a special place in the PLL fandom's collective heart.
For more on everything Pretty Little Liars, check out Bustle's podcast Taking This One To The Grave.
Image: Freeform