'Unbreak My Heart' Gives Lex Scott Davis Her Break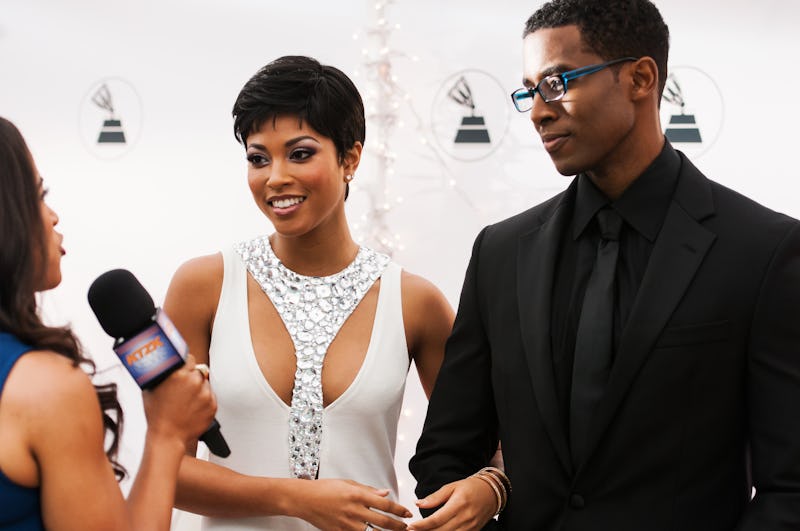 Are you tired of all of the awards show speculation even though we're still more than a month away from the actual Oscars ceremony taking place? Well, why not focus your attention on a movie that will definitely not be featured during the 88th Annual Academy Awards — because it's premiering on TV? The newest Lifetime Original Movie Toni Braxton: Unbreak My Heart premieres Saturday, Jan. 23 at 8 p.m. ET. Other than watching this to see if it's terribly good or awesomely bad, you're also probably going to want to get a glimpse of Lex Scott Davis, the actress who plays Toni.
If this film turns out to be amazing, we could be seeing a lot more of Davis in the future, and right now, that seems pretty likely. This is not another one of those unauthorized biopics. Unbreak My Heart has the real Toni Braxton's endorsement — she actually serves as an executive producer of the project. And not only does Braxton sing all of the music in the film, but she also told Billboard that it features some of the real costumes she wore way back when.
This movie has taken authenticity to a whole new level, which must have put a lot of pressure on Davis to embody Braxton as best she could. We'll have to wait and see if the newcomer can out-Braxton Braxton, but once you get to know the actor for who she is, you might just fall in love with her too.
She Started Performing At A Young Age
Davis did some acting in middle school, according to the Baltimore Sun, with the Arena Players African-American community theater in the city, which isn't too far from where Braxton grew up in Severn, Maryland. However, she actually had stage fright as a kid and decided to instead pursue dance as a dance physical therapy major at Drexel University in Philadelphia, she told the newspaper. Three years later, Davis decided to give acting another go through a year-long program at the New York Film Academy before packing her bags and moving to Los Angeles to pursue a career in acting full time. Clearly, that leap of faith worked out for her.
She Has Appeared In A Wide Variety Of Projects
Davis may be young, but she's already had many different acting gigs. She has appeared in music videos for Trey Songz, Miguel, and Rico Love. She was an extra in Straight Outta Compton and had a bit part in an episode of the TV Land sitcom The Exes . However, her most prominent role before becoming Braxton was probably in a commercial for ShoeDazzle. She certainly convinced me that she loves footwear!
She Knows How To Work It In Front Of A Camera
Not only does Davis know how to move in front of a camera, but she also knows how to vogue. Davis has done some commercial and editorial modeling for companies such as Microsoft, Sperry, and LG and magazines such as Essence and Glamour. I don't think she's ever taken a bad selfie either.
She Has A Lot Of Other Random Skills
Those in the performing arts often list a bunch of special skills at the end of their resumes, and Davis is no exception. If there's ever a role that required improvisational flamenco dancing on a pogo stick while cooking and speaking with a British accent, Davis is your girl.
She Loves Natural Hair
Head over to Davis' Instagram profile, and more often than not, you'll see pics of her proudly rocking her natural hair. But now I'll always just see that iconic scene from Braxton's music video for "Unbreak My Heart" when I look at Davis.
She Has Big Plans For The Future
Once she basks in her glory a bit after Toni Braxton: Unbreak My Heart premieres on Lifetime, Davis will get back to work on a couple of other upcoming projects, she said in her interview with the Baltimore Sun. However, Davis is also busy putting together a seminar for young women and one for young men in the future. "I'm doing my research and I am working with mom and [god-mother] to start putting it together," she told The Baltimore Sun. "I want to encourage [young Baltimoreans] to tap into something better than what our environment gives us and help them overcome boundaries, and I want the first seminar to be in Baltimore."
Pretty soon it sounds like there will be another Maryland native kids can look up to.
Image: Kailey Schwerman/Lifetime