9 Body Positive Bloggers To Watch Out For In 2016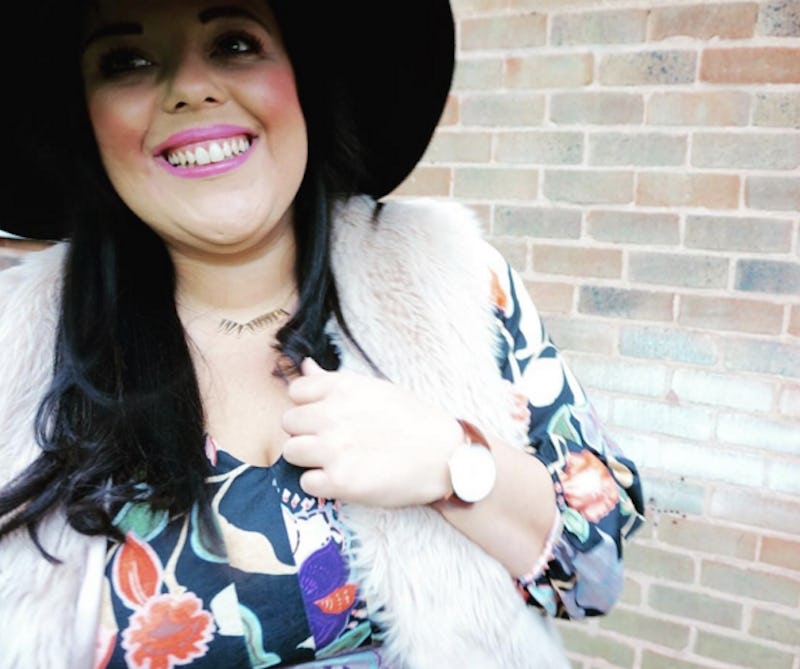 Although I don't have a blog, reading and keeping up to date with plus size fashion and body positive-focused ones is a huge part of my Internet life. Discovering new bloggers is definitely part of the fun, and the body positive bloggers to watch in 2016 prove why. I am rejoicing in seeing the community grow, not to mention at encountering all those impeccable plus size styling tips and outfit ideas along the way.
With the mainstream world starting to catch up with notions of body positivity in 2015, I feel as though 2016 is definitely the time to recognize the up and coming talent in this community. It's the time to open ourselves up to new ideas, new self love campaigns, and new body positive brands to support. And as the movement grows, so too does the amount of bloggers dedicating their online presence to the cause.
Although some of these bloggers have been around since before 2015, it feels as though 2016 is going to be their year to shine. IMO, they're all worth subscribing to just to see the amazing outfits and trends to follow. But especially for their grander contributions to the body positive movement. Given the rampant body shaming still prevalent in our world, putting yourself out there as a plus size or BoPo blogger is a massive act of self love and strength, and one worthy of celebration.
1. Nikki Free Style
Already smashing it in a feature for Redbook Magazine this year, Nikki Frenney is the curvy blogger fighting against plus size fashion rules by wearing (and totally rocking) any clothing that takes her fancy. This 40-something is proving that body positive blogging isn't just for Millennials.
2. Fab Four Fashion
What's better than one body positive blogger? Four body positive bloggers collaborating together on one blog and promoting their individual styles in different sizes. Not to mention taking the time to support other women outside of their Toronto girl gang (aka Fab Four Fashion). Between Judy, Gail, Leslie, and Nancy, we're all invited to an effortlessly diverse blogging experience.
3. Curvy Mood
It's totally worth Google translating this blog into English (or whatever your first language is). Sawsan is the Parisian plus size blogger behind Curvy Mood, where she tackles body positivity through in-depth blog posts that explore the politics behind fat fashion and plus size brands.
4. How Kate Does Fashion
British-based Kate London-James has an award-nominated blog that shows us how plus size fashion doesn't have to be all about the tight-fitting pinup styles. Her posts don't just focus on her (admittedly awesome) personal style, but also shed light on body positive campaigns like Love Thy Bust.
5. Diamonds 'N' Pearls
Naomi Griffiths is a plus size British babe who's been blogging since 2010. Her lovely site is more of a day-to-day adventure of a plus size woman rather than just outfit posts. The lifestyle element of blog helps keep it real.
6. Flight Of The Fat Girl
I've admired Cynthia Ramsay Noel from afar for the longest time. Her fearless fat fashion choices are always bursting with unique style and more than a bit of fun. Her own tagline summarizes the blog way better than I ever could: "Soaring to new heights in body acceptance, and taking back the word FAT one outfit at a time."
7. Suits, Heels, & Curves
Darlene Lopez is a wife, mom, and an all-around awesome person. The native New Yorker blogs about fashion, travel, and her career while utilizing the "Memoirs Of A Fat Girl" tag. Lopez is the fat woman trying to have it all, and helping you have it all, too.
8. Chloe Elliott
Chloe Elliott already has her foot in the door fashion-wise, considering she works as a professional fashion buyer. Outside of that, I'm impressed by her dedication to running a style blog in her spare time. Her outfits are as sophisticated and beautiful as she is, and she's definitely pulling out every stop to remind us that "fashion is not defined by size." Elliott also keeps a totally handy plus size store index on her blog so you can not only cop her style, but discover and rediscover plus size stores that might've passed you by.
9. Just Me Leah
The Leah behind Just Me Leah is a self-proclaimed "body posi badass" and her blog proves it. She covers everything from mental health to feminist art to makeup reviews. With an active focus on body positivity, her blog will help you through everything you could possibly face as a plus size person.
This group of bloggers is hopefully diverse enough that you can find the right one for your reading pleasures. But IMO, it's more than worth it to check them all out. How else will you get a consistent and varied feed of active body positivity and pretty damn cool outfits in your life?
Image: Courtesy Naomi Griffiths/Diamonds 'N' Pearls (1)