What 'The X-Files' Means To This Female Sci-Fi Fan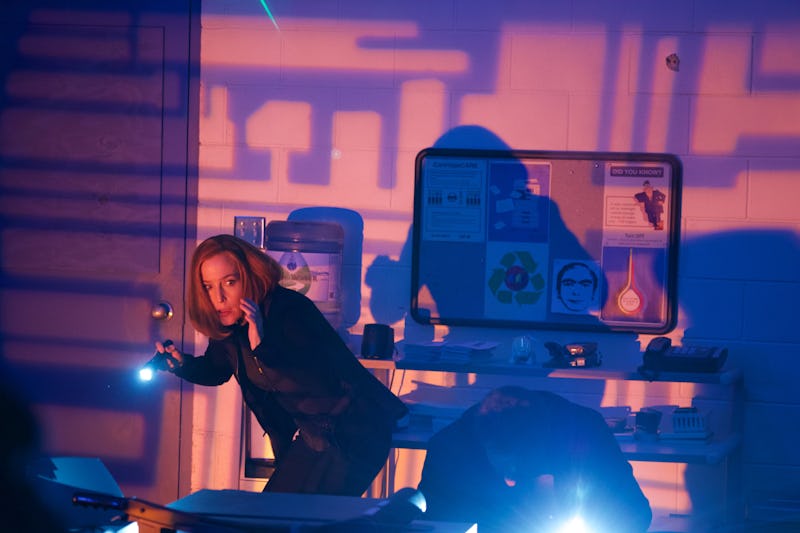 FOX/FOX Image Collection/Getty Images
When it was announced last year that The X-Files was returning for a six-episode miniseries, I can't tell you how wildly excited I became. As a female fan of science-fiction, The X-Files is one of those TV shows that will always live in my heart — and I'm sure in the hearts of many other women for similar reasons. For me, it became the show, heck, the definitive piece of art that defined my teenage years. As a geeky, theater-loving, alien-imagining outcast, the show became a cultural phenomenon that seemed about and for people just like me.
I always had a fascination with outer space and aliens. As a kid, I scoured through elementary-level books about the planets and wondered who, if anyone, lived on each of them. When I saw E.T., my interest in aliens was transformed from a simple hobby into a yearning to explore different forms of science within consumable art forms. Lucky for me, Star Trek: The Next Generation was in syndication, all of the first three Star Wars films had been released, and the Choose Your Own Adventure books had an entire line devoted to aliens. But none of that could compare to how I'd feel about The X-Files.
I was 10 years old when The X-Files premiered in 1993. I remember sitting down to watch the show one Friday night with my dad, whom I think had heard about the series from Art Bell's Coast to Coast AM late-night radio talk show that discussed paranormal activity and regularly featured callers who claimed to be alien abductees. I was hooked from the start. As FBI agents Fox Mulder and Dana Scully explored unexplained phenomena or unsolvable cases, I was inspired to dive deeper into not only science fiction, but science as a result. In addition to watching The X-Files, I happily drank in episodes of NOVA and reruns of Carl Sagan's Cosmos on PBS.
Soon, I became a card-carrying X-Files nerd. I had an "I Want to Believe" poster on my bedroom wall. I bought X-Files books, magazines, and video games. On a class field trip to Washington, D.C. I stood in awe at the J. Edgar Hoover building, knowing it housed the FBI Headquarters where my beloved fictional agents worked. When my family adopted a black kitten, I named him Fox Mulder, nicknaming him "Spooky" as he skulked through the shadowy streets at night. I choreographed an interpretive movement piece for a drama class and used a song from the X-Files movie soundtrack. I wrote fan fiction (And no you can't read it, I have no idea where it is anyway).
On a recent trip back to my childhood home, I dug out a few artifacts from my teenage obsession. Even my grandmother had saved me a copy of an Italian magazine she frequently bought because Mulder and Scully were on the cover. The X-Files fever was traveling around the world, and I knew I was not alone in my fandom.
The X-Files became a cultural phenomenon, and though it appealed to a wide audience, it was especially significant to me as a young woman. I think one of the reasons why geeky women like myself gravitated to the show was because of Agent Dana Scully, played by the brilliant Gillian Anderson. Here she was, a woman whose very job it was to try and prove her male partner wrong at every turn and to doubt his every theory. As the skeptical scientist to Mulder's doe-eyed believer, Scully rarely doubted her own abilities or backed down on her conclusions. Though at times she was wrong, the subversive nature of the female of the team being the more logical, level-headed of the two was a welcome aspect of the show. We also got to see The X-Files tackle feminist issues in suspenseful and gripping episodes.
The X-Files didn't only leave a huge impact on young, geeky women like me, but it also helped change the course of television. Before the era of the millennium's "Golden Age of Television" or today's "Peak TV," The X-Files helped usher in a new wave of respectable sci-fi drama. Without its success, we probably wouldn't have had Lost, Battlestar Galactica, Firefly, or Fringe. Its own writers even went on to create shows like Breaking Bad and Homeland. Sure, The X-Files had its missteps and some bad episodes, just like any other show. But nothing can negate the excitement that fans are feeling upon its return. On Sunday night when the miniseries premieres, I will be glued to my seat, just like when I was a teen, wanting to believe.
Images: FOX; Giphy; Casey Cipriani/Bustle