Pieces Of Jewelry For Each Stage Of Your Love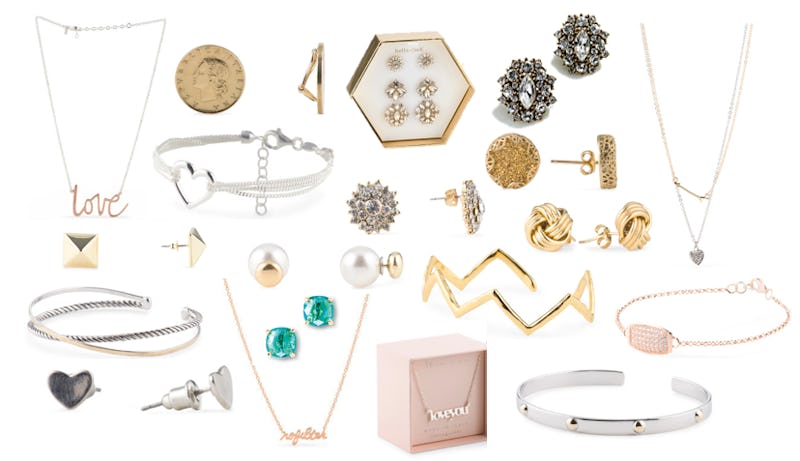 It's Valentine's Day and you're not only not single, but you're in the market for some jewelry. And not just any jewelry. The perfect piece of jewelry for this stage of your relationship. Heck yes. Not that relationships define us, (shout out, all the single ladies... and gentlemen, and all folks along the gender spectrum) but being in them, especially on this day of hearts and roses, can lead to all the happy, squishy feels. Woot woot!
And you're buying jewelry! That's just so grown up! But what do you get? If you get a ring, is that too serious? Will they think you're proposing? OMG what if they accidentally think you're proposing? Is a necklace too impersonal? Or a bracelet? I've never heard of anyone gifting a bracelet. It's always rings, right? Or those Dr. Quinn Medicine Woman open heart necklaces, right? What if they hate it? Gah!
Breathe. No need for anxiety.
There is a perfect piece of jewelry for each stage of your relationship, And lucky for you, TJ Maxx and Marshall's style expert, Lilliana Vazquez, weighed in on what jewelry is appropriate for your special someone this Valentine's Day, so you don't have to have a melt down in the mall and stress-buy shoes. Or a puppy. For yourself, of course. And you'll probably save money, while you're at it. Because, well, those stores have great prices. On to the jewels!
1. You're Just Kind Of Chill
In you're in one of those situations where you're not exactly changing your Facebook Status to "in a relationship," but you're totally a thing, you don't want to complicate things with something too fancy. Something that says "I have a lot of feels and I'm expressing them with expensive jewelry" is probably too much, and your partner might feel guilty for not also having done the same. You're not there yet. You also don't want to make your date mad by getting a gift that's the wrong birthstone or size. It's an amateur move that screams "I don't know you very well." Best to get something simple and classic, according to Vasquez, such as stud earrings or a pendant necklace.
Sterling Silver Half Ball Earrings, $20, TJ Maxx
Made In Italy Gold Plated Sterling Silver Bow And Button Earrings, $20, TJ Maxx
DB Designs Sterling Silver Diamond Stud Earrings, $28,Overstock
kate spade new york 12k Gold-Plated Initials Pendant Necklace, $58.00, M acy's
2. You're Social Media Official
If you're all-the-way in a relationship, like social media official and everything, then you're in the best phase for romantic gestures. The newness has worn off, and you know your partner better, but the honeymoon stage isn't quite over yet, so everything is still exciting. The jewelry you get them in this phase is likely to remain really sentimental. Go with something flirty and cute, like heart earrings, and XOXO pattern bracelet or something that you know she loves, like a pendant of her favorite design or flower. It's also a good idea, according to Vazquez, to get something that she can wear regularly with her other jewelry.
Made In USA 14k White And Rose Gold Diamond XO Necklace, $240, TJ Maxx
Sterling Essentials 14K Gold over Silver 7-inch Heart Station Bracelet, $16, Overstock
Enduring Jewels Genuine Gemstone & Diamond Accent XO Bracelet, $18, Choxi
3. You're Shopping For Apartments
So, I guess you could say things are getting pretty serious. You appreciate each other's skills. You've both sent full body shots. You've shared some delicious ham. (OK, sorry, enough of the Napoleon Dynamite references.) This is the year where you show them how much you love them and how happy you are to be building a life together. Vasquez recommends something nice, an investment piece that she can rock on special occasions, like a fancy cuff bracelet or some stunner chandelier earrings. And if you're spending all your money on trying to move in together or pay for a wedding, fear not. There are affordable options out there.
Gold Plated Sterling Silver Chandelier Front To Back Earrings, $25, TJ Maxx
De Buman 14k Goldplated Hammered Cuff Bracelet, $94, Overstock
BCBGMAXAZRIA Chain Bib Necklace, $78, Lord and Taylor
4. You've Made It Legal
Congratulations! And if you've been married for years, I still say congratulations! That's absolutely something to celebrate. You've been through the relationship gauntlet. You've see each other throw up, dominate at work, look like royalty, and ugly cry for no reason. Maybe you've even seen childbirth, war, or serious illness, which means you really know each other. That's the time to go for their favorites, like their favorite gemstone, or their favorite type and metal (ie: she loves silver bracelets more than life itself). The personal touch will make her feel special, like you pay attention to her favorites.
Sterling Silver Crystal Quartz Mother Of Pearl Doublet Ring, $149, TJ Maxx
Finesque 14k Gold Overlay Diamond Accent Heart Charm Bracelet with Red Bow Gift Box, $24, Overstock
Double Baguette Bypass Ring, $109, Jewlr
And before you check out, Vasquez recommends making your gift extra special by slipping it into another gift, like a handbag or surprising them with some designer cologne or perfume. Why? Because two presents are always better than one, and nothing is too good for the love of your life. Or your love-of-right-now. Amirite?