14 Daytime Date Ideas For Valentine's Day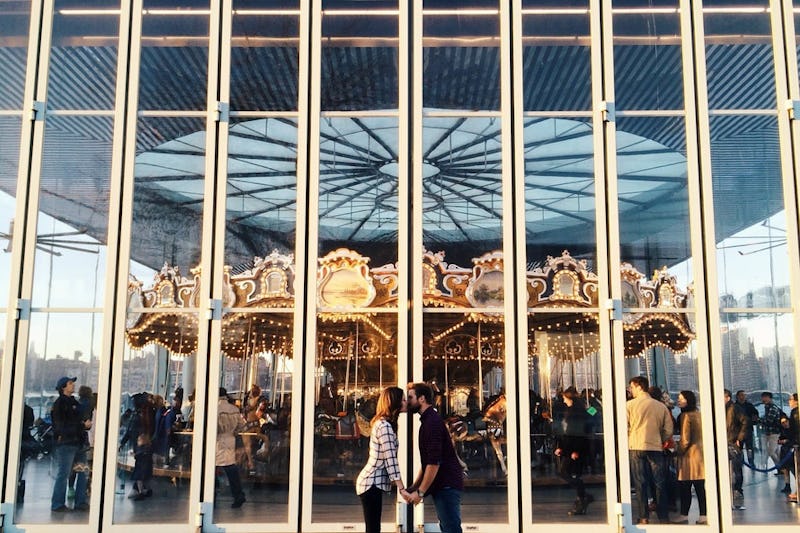 For the next four years, Valentine's Day will fall on a weekday, meaning this is your last chance for a while to enjoy the lover's holiday during daylight. To make the most of Feb. 14 falling on the weekend, here are 14 Valentine's Day daytime date ideas to get the romance going before the sun goes down.
Sure, you probably have dinner reservations or a romantic outing planned for the evening, but that shouldn't stop you from having an amorous adventure-for-two during the day. Make a day of Valentine's Day with an out-of-town getaway or an international cheese-tasting tour from the comforts of your own bed. Play dress-up as tourists exploring your own city, or stay indoors with an indulgent spa day and some pampering before the big night. Instead of waiting until nightfall for holiday romance to kick in, make the whole day memorable with an extra special daytime activity with that special someone. Whether you and your Valentine have a penchant for plays or for playing with puppies, are partial to sipping afternoon cocktails or taking it easy with a cup of coffee and a good book, there's something on this list for you both to enjoy this Valentine's Day.
1. Take a day trip out of the city
Pack your day bag and hop in a car, on a bus, or aboard the next train. Venture out to a nearby town to explore offerings beyond the city limits. You'll experience new shops, restaurants, and bars in a quaint town setting that will feel like a real escape. Just an hour or two away, you'll get to satisfy your wanderlust with a mini vacation and still make it back in time for dinner.
2. Tour a local brewery or winery
If the two of you want to cheers to your love early, make an event of it and tour a local brewery or winery. You'll get a firsthand look at how your favorite booze is made, and will get to enjoy a few tastings along the way.
3. Art gallery hop
Spend the day gallery hopping with your loved one and take in your city's local art. Stroll from piece to piece, hand in hand, whispering your reactions and opinions to one another while taking it all in. The activity is free so no one will be stressing about being out of pocket before the night's events.
4. Volunteer
Give a little love this Valentine's Day by signing up with your significant other to spend a few hours at a local animal shelter. What could warm your heart more than playing with puppies?
5. Play tourists for the day
Don your fanny pack and and get out your camera, because it's time to play tourists for the day. Explore sites you would never dream of going to unless an out-of-town relative was visiting, and see your city through the eyes of the rest of the world. Shamelessly entertain the most played out of tourist attractions and snap a couple pics in front of all of your city's most famous sites.
6. Attend a matinee
Buy tickets to a matinee performance or a movie, and make it your first stop after brunch. If you book in advance, you'll save big bucks by attending the ballet or theater during the day, and are less likely to face crowds. If you decide to go to the cinema, you two will likely be one of the only couples there, making it feel like a private screening.
7. Learn a new activity
Better yourselves this Valentine's Day by expanding your skill set with a class. Get your Ghost on with a pottery class, or prepare for a night of dancing with a few new moves from a tango class for two. Whether you're learning the ins and outs of making homemade pasta or crafting your own succulent terrarium, you'll be improving yourselves as an unstoppable duo.
8. Visit a museum
Spend this special day together taking in the artwork of the masters. Finally get out to that exhibition you've been meaning to see, or just casually explore one of your city's museums. The highbrow pastime never fails to please, and taking it in together makes it even better.
9. Have an indoor picnic
Enjoy a beautiful picnic spread of exotic cheeses from around the world, marmalades and dried fruit, and other finger food favorites from the cozy comforts of your own home. Set down a picnic blanket on the bed, and prepare a feast for two worth drooling over without having to worry about the weather.
10. Get physical
For the more adventurous, break a sweat with some physical activity. Suit up for a few laps at a local iceskating rink, or head out to a hilly park for some serious sledding. Buy a day pass to an indoor rock climbing gym and take your love to new heights — nothing's more romantic than trusting your life in your partner's hands while they're belaying you.
11. Indulge in a spa day
Take the day to treat yo self and your partner with a spa package, or make for a more intimate time with a plan for uninhibited indulgence at home. Light candles, put on some slow jams, pour some wine, and take turns giving each other massages before enjoying a bath for two.
12. Bake some Valentine's Day treats
Fill your home with the sweet smells of something delicious by whipping up a batch of your favorite treats. Get messy in the kitchen with extra frosting and edible hearts to the tune of Valentine's Day.
13. Cozy up in bed
Make Valentine's Day a lazy day, as Sunday is meant to be enjoyed. Make the only daytime goal to stay in bed for as long as possible, and curl up together with some hot coffee and a couple of good books. Take a break from reading by streaming your favorite TV show, and when it comes time for lunch, order takeout and then play rock paper scissors to see who has to leave the bed to answer the door.
14. Make a memory book
Buy a scrapbook and commit to spending the day filling it with things that celebrate your love. Revisit old date spots and snap pictures of them, and maybe even enjoy a drink or two along the way. Go through your old knick knacks to find ticket stubs and love notes, and then immortalize them in your book of memories to relive again whenever you want.
Want more of Bustle's Sex and Relationships coverage? Check out our new podcast,I Want It That Way, which delves into the difficult and downright dirty parts of a relationship, and find more on our Soundcloud page.
Images: Pexels (10); Dacy Knight; Unsplash (4)