A Timeline Leading To Blac Chyna & Rob's Instagram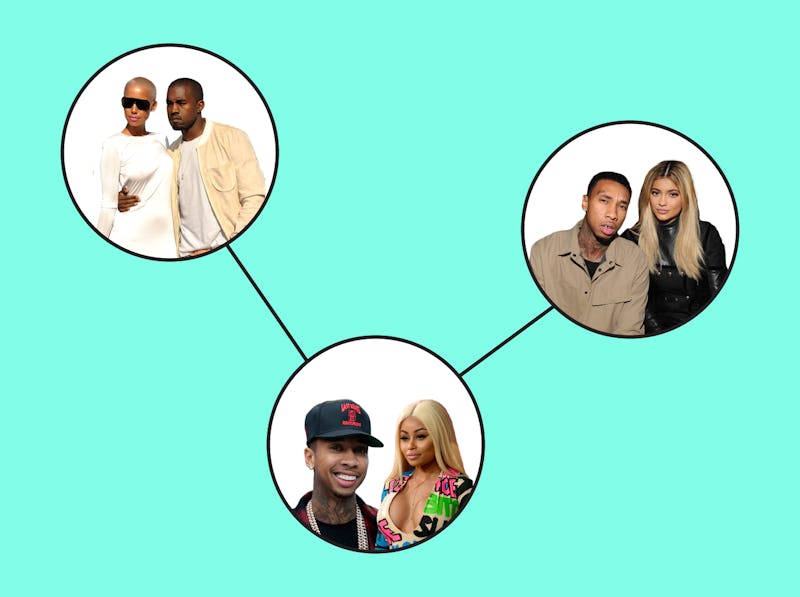 Oh, what a tangled web the Kardashian-Jenners weave. Now that E! News sources are confirming that Rob Kardashian and Blac Chyna are dating (a giant "wut" in itself), the entire Internet is freaking out that Rob and half-sister Kylie Jenner could potentially share a stepson, considering that Kylie is with Tyga, Blac Chyna's ex-fiancé and father of her son. If this familial situation isn't weird enough, there have been literal years of drama involving Blac Chyna and her BFF Amber Rose with the Kardashian-Jenner family. So much so that the only way to get everything straight with their history is to create a nice little timeline of events.
First of all, there's the whole backstory of Amber Rose/Kim Kardashian/Kanye West. (After Rose and West broke up, Rose later claimed that he was cheating on her and alleged that Kim sent the rapper photos while they were still in a relationship. Much later, West had some choice words for Rose.) There's also the whole Twitter feud that Rose and Khloé Kardashian engaged in after Rose called out Tyga for dating "baby" Kylie Jenner. And then there's another wrench thrown into the works after you realize that at one point in time, Kim and Blac Chyna were kind of BFFs. What?!
Get the scoop on everything you ever (or never) wanted to know about the events leading up to the Instagram heard 'round the world — the one that seemingly confirmed Rob and Chyna's relationship.