12 Breakup Songs With Biting & Clever Lyrics
That Bieber reign just won't let up: Justin Bieber currently has both the No. 1 song and the No. 2 song in the country. Billboard announced Monday that the 21-year-old superstar's smash hit "Sorry" is still holding down the top spot on the latest Hot 100 chart (for the third consecutive week), while his next single, "Love Yourself," is eagerly waiting in the wings. At this point, it seems inevitable that "Love Yourself" will become the singer's third No. 1 from his new album, Purpose — and that's seriously impressive. Though breakup anthems tend to be crowd-pleasers, the biting and clever Justin Bieber "Love Yourself" lyrics really seem to have struck a chord with the general public.
For example, the line "My momma don't like you, and she likes everyone" is absolutely vicious. And the tune's refrain — "You should go and love yourself" — can be interpreted in two different ways (both of them devastating): Bieber is either angrily dismissing his self-absorbed ex, or he's haughtily advising her to take a good, hard look at herself before she ventures into another relationship. No matter how you look at it, it's cold.
If you recently went through a breakup (or just dig this sort of thing), I've rounded up 11 songs that are just as biting and clever as "Love Yourself" for your listening pleasure below:
Kesha — "Thinking Of You"
I love the twist in the second half of the "Thinking of You" chorus:
"I heard our song on the radio / And I see your face everywhere I go / I thought I'd call just to let you know / I've been thinking of you, thinking of you-hoo-hoo / But now my song's on the radio / And you see my face everywhere you go / I thought I'd call just to let you know / I've been thinking of you, thinking of you-hoo-hoo..."
Yes, this is Kesha at her best.
Brandyn Burnette — "Thanks For Nothing"
The "Thanks for Nothing" hook is brutal (and oh-so-catchy):
"I have nothing, nothing without you / But a lot of sex, a little more money, no more stress, and a whole lot of fun / Nothing, nothing without you / But somebody else who loves me for myself / Feeling like me and I owe it to you / Thanks for nothing..."
Ouch.
Rihanna — "Take A Bow"
Rih shows no mercy and straight up obliterates her cheating ex right out the gate:
"You look so dumb right now / Standing outside my house / Trying to apologize / You're so ugly when you cry / Please, just cut it out..."
Ruthless.
Kelly Clarkson — "Never Again"
"Never Again" is intense (in a good way):
"I hope the ring you gave to her turns her finger green / I hope when you're in bed with her, you think of me / I would never wish bad things, but I don't wish you well / Could you tell..."
Yup, we can all tell.
GRL — "Ugly Heart"
Oop:
"OK, you're pretty, your face is a work of art / Your smile could probably light up New York after dark / OK, you're "cover boy" pretty, stamped with a beauty mark / But it's such a pity a boy so pretty / With an ugly heart..."
The truth hurts.
Sia — "My Arena"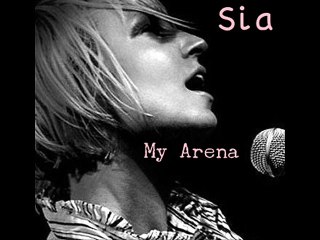 Tell 'em, Sia:
"You broke my heart and now / This is my arena, and I'm sold out / You tried to keep me down, but you're hearing this now and your heart is beating / See, I'm doing fine, better than fine / And now I see that your melody was lost on me..."
Why "My Arena" isn't on the tracklist for her new album, This Is Acting (due out Fri., Jan. 29), I have no idea.
Basement Jaxx — "Good Luck"
The "Good Luck" lyrics go in:
"Good luck, good luck / Good luck in your new bed / Enjoy your nightmares, honey / While you're resting your head..."
Bye!
Katy Perry — "Ghost"
You're not even ready for the last two lines of the chorus:
"And now you're just a ghost / When I look back, never would've known that / You could be so cold / Like a stranger, vanish like a vapor / There's just an echo where you're heart used to be / Now I see it clearly / And there's just a pillow where you're head used to sleep / My vision's 20/20 / I see through you now..."
Welp.
Mariah Carey — "Up Out My Face"
The "Up Out My Face" lyrics are so ridiculous, they're kinda brilliant:
"When I break, I break, I break / And no super glue can fix this shit / When I break, I break, I break / Not even a welder and a builder could rebuild this shit / When I break, I break, I break / Not even a nail technician with a whole lot of gel and acrylic can fix this / When I break, I break / If we were two Lego blocks, even the Harvard University graduating class of 2010 couldn't put us back together again..."
So, basically she's saying they're not getting back together. Basically.
David Guetta — "Repeat" (Feat. Jessie J)
Go off, Jessie:
"I wanna know, was I the one? / Or just the chick on the side? / I gave it all, broke down my walls / Don't you dare say I didn't try / But you won't stop, stop telling me what you think I want to know / I'm rejecting the sight of you, deleting the thought of you / Record this, and watch me go..."
Damn.
Priscilla Renea — "Dollhouse"
I mean:
"If you can't understand, loving the way I am / Then you're no good for me, so glad I kept my receipt..."
What else is there to say?