Dascha Polanco Teases Bennett & Daya's Future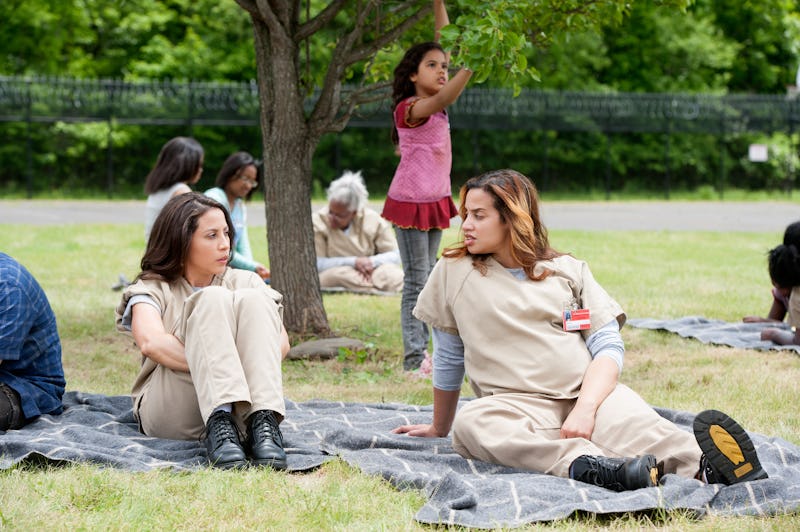 With Netflix's recent announcement that Orange Is The New Black will return, minds are buzzing about all things Litchfield. What happened to Alex, how is everyone gonna deal with all of those new inmates, and will Bennett return to Daya on Orange Is The New Black Season 4? The one true pairing of the Netflix series ended horribly last year.
In the middle of Season 3, Daya's family situation spooked Bennett and he bolted, leaving his fiancé devastated and his child in an increasingly precarious situation. With Bennett gone and Aleida's boyfriend Caesar arrested, Daya and Bennett's baby has no guardian. Now would be the time for Bennett to come back, either on a fiery steed or with his head hanging — I'll take either at this point.
Plus, I like this couple, and I just want them to make up and be happy together. It's television, can't we have nice things? The actors sure like to find each other at events and catch up, so I'm hoping that Matt McGorry will be back on OITNB eventually. Here's what actress Dascha Polanco said in an interview with Bustle about the prospect of a reunion in Season 4.
"Bennett coming back? Who knows! When a man leaves you, can we ever tell if they're coming back or not? We never know."
Whoa, that's a little too real. This is way more serious than a boy ghosting you; plus, Daya can't even stalk Bennett's social media from jail (which would be totally normal and acceptable especially in these circumstances). Now I'm not only sad for one of my favorite TV 'ships, but for myself and all of us as well.
I mean, good on Orange Is The New Black for not giving them the fairy tale ending that we 'shippers think they deserve. This show may be a comedy, but they've always been so good at playing the reality of the situation with their many characters. Stuff like this is heartbreaking. I supposed you could read optimism in "we never know," but I'm not so sure that it's wise to cling to that. This is all part of Daya's journey, and whether Bennett comes back on Orange Is The New Black or not, I'm looking forward to seeing where it goes.
Images: JoJo Whilden/Netflix; Giphy