Stassi Is Back On 'Pump Rules'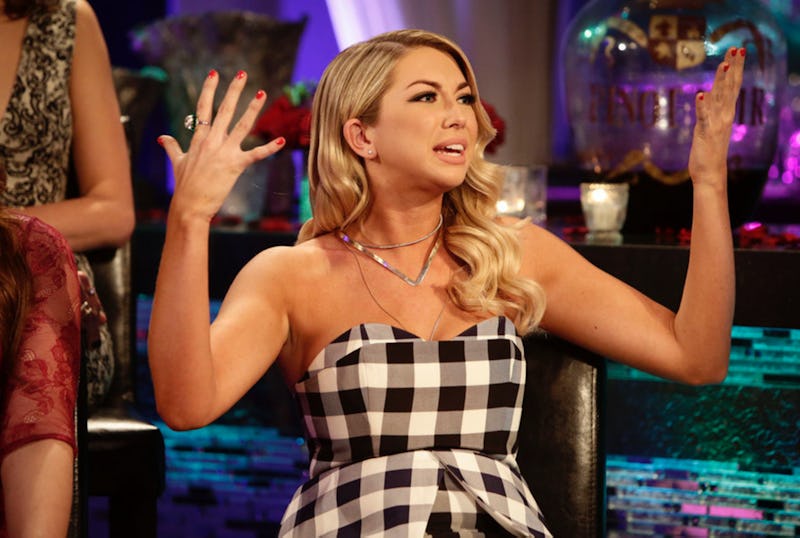 It happened. IT HAPPENED. IT HAAAAAAAPPENED. It was the moment that her fans have been waiting for. The moment that her non-fans have been dreading. The moment Lisa Vanderpump and the SUR staff had buckled up for. The moment that I couldn't believe was actually going to happen. But it happened. On Monday night's episode, the indomitable Stassi returned to Vanderpump Rules for the first time since the Season 3 reunion. The timing couldn't have been more fitting; If there was ever an episode for Stassi "It's my birthday, what I say goes" Schroeder to breeze back onto the show like Santa Ana winds, it was during The Jax and Tom Sandoval Hawaii Birthday Extravaganza. Because what is a birthday vaycay episode of Pump Rules without Stassi, am I right?
No, Stassi was not a part of the b-day shenanigans, but she did deliver some wonderful Pump Rules shenanigans back on the mainland. The ex SURver and bestie-turned-enemy-turned-bestie Kristen broke wine, spilled gossip, shared Facebook stalking session results, and discussed the Sex Tape Incident that capsized Stassi's friendships with Scheana and Katie.
But the moment that meant the most to me? It was when Kristen opened her apartment door, welcomed Stassi into her home, and enveloped the vino-toting guest in her arms. When Kristen hugged Stassi, it was like a hug from all of us. I might've teared up? This show means a lot to me?
Yeah, Season 4 has been an unstoppable season of television, and yeah, I've been having the best time ever, BUT! I'd be lying if I said it didn't feel weird without Stassi hissing about daggers, waxing poetic about her wine-hiding days at SUR, concocting schemes with cast mates, or confronting anyone who dares to use the retweet button against her.
Welcome home, Schroeds.
Images: Nicole Wilder/Bravo; Bravo (2)