6 Things To Do At Night For Softer Skin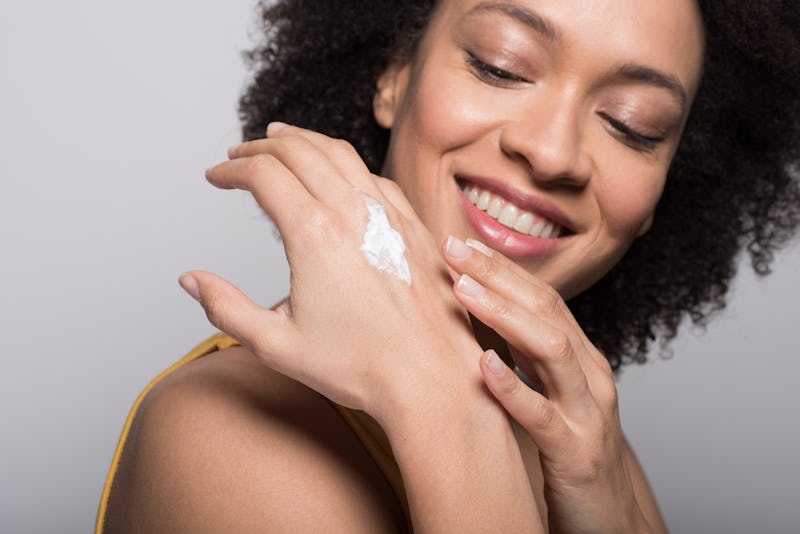 RgStudio/E+/Getty Images
The dry air and biting wind of winter really does your skin no favors. In fact, it dries it right out, leaving you with an epidermis that's itchy, tight, and flaky. It can get so bad that plain old moisturizer does nothing, and you start to wonder if there is a way to get softer skin.
But it's not just the winds outside that rob you of comfy, moisturized skin. It's also the blasting heat indoors, and the constant changing of temperatures. Really, any kind of dry air is to blame. According to Health.com, "Dry air takes away the thin layer of oil that traps moisture in the skin, flaring itchy and painful conditions such as eczema, psoriasis, and severe dry skin."
It seems dry skin is pretty unavoidable, and so we all keep going about our daily business with chapped faces and ashy legs. But we don't have to close ourselves inside a sauna 'til spring, and we don't have to live with the itchiness, either. In fact, dry skin can be fixed overnight. All it takes is a few tweaks to your nighttime routine. And then all you have to do is kick back and sleep while your treatments work their magic.
Here are some rituals to adopt that can help you get softer, more moisturized skin by morning:
1. Skip Your Nightly Shower
It may sound gross to some, but not showering helps your skin hang on to its natural oils, which are stripped away by hot water. As Jessica Booth notes on Gurl.com, "Too much hot water will quickly dry out your skin, leaving it irritated, flakey, and painful ... Even if you moisturize, you're still going to be more dry if you shower every single day." Don't make a habit out of nightly showering, and go to bed marinating in our own oils. Then, rinse off with lukewarm water in the morning.
2. Cover Yourself In Lotion
This one seems like a given, but in the same way you "forget" to wash your face at night, it's also easy to "forget" to moisturize. So spend a few minutes before bed slathering on some lotion — especially one that's made for nighttime. According to Dana Oliver for the Huffington Post, "The biggest difference between daytime and nighttime moisturizers is that the former are lighter in consistency and often contain sunscreen. The consistency of nighttime moisturizers may not feel or look aesthetically pleasing to the user, but they make skin soft and supple."
OGX Nourishing Coconut Milk Body Lotion, $6.99, Amazon
Burt's Bees Radiance Night Cream, $15, Amazon
3. Try The Old Socks And Vaseline Trick
My grandma taught me this trick for fixing my cracked heels. All you do is smear petroleum jelly (or coconut oil) on your feet and cover them in socks for the night. In the morning, you'll have smooth baby feet. It's amazingly effective.
Vaseline 100% Pure Petroleum Jelly, $7.79, Amazon
Trader Joe's Organic Virgin Coconut Oil, $16.69, Amazon
4. Get Yourself Some Essential Oils
There's something wonderful about pampering yourself with essential oils right before bed. I just got into lavender oil, and I gotta say it's pretty nice falling asleep with some lovely scents wafting around. But essential oils aren't just for aromatherapy. As long as you're OK with potentially oiling up your sheets, they also make a great nighttime moisturizer. I recommend avocado oil, which is "a rich emollient, ... ideal for those with dry, itchy, or aging skin," according to Everyday Health.
Woolzies 100% Pure Lavender Oil, $7.85, Amazon
Beauty Aura 100% Pure Avocado, $11.99, Amazon
5. Sleep Next To A Humidifier
Humidifiers can relieve all types of ailments, such as nose bleeds and sinusitis. But turns out they can also make your skin look and feel pretty great, too. According to Lizzie Fuhr for POPSUGAR, "Soothe dry skin by sleeping with a humidifier on through the night. In the morning, you'll notice not only that your face looks more supple but also that your hands and lips don't feel dry and dehydrated."
Ultrasonic Cool Mist Premium Humidifier, $49.99, Amazon
6. Buy Some Silky Nighttime Gear
Silky pajamas and pillow cases are kind of expensive (pillow cases start at about $20), but they may be well worth the price since the payoff is softer skin. As Elizabeth Shimer Bowers notes on Everyday Health, "The tightly-woven, smooth fibers of silk help keep moisture close to the skin ... When you wake up after sleeping on a silk pillowcase, your face will be better hydrated than if you slept on cotton. This is a great beauty tip for those with dry, flaky skin."
Alaska Bear Natural Silk Pillowcase, $19.99, Amazon
It is possible to have soft, moisturized skin — even in the dead of winter. Do a few nighttime rituals, like making yourself some Vaseline socks, and you're likely to have softer skin by morning.
Images: RgStudio/E+/Getty Images; Giphy (5)