17 Looks From 'Lizzie McGuire' That I Used To Love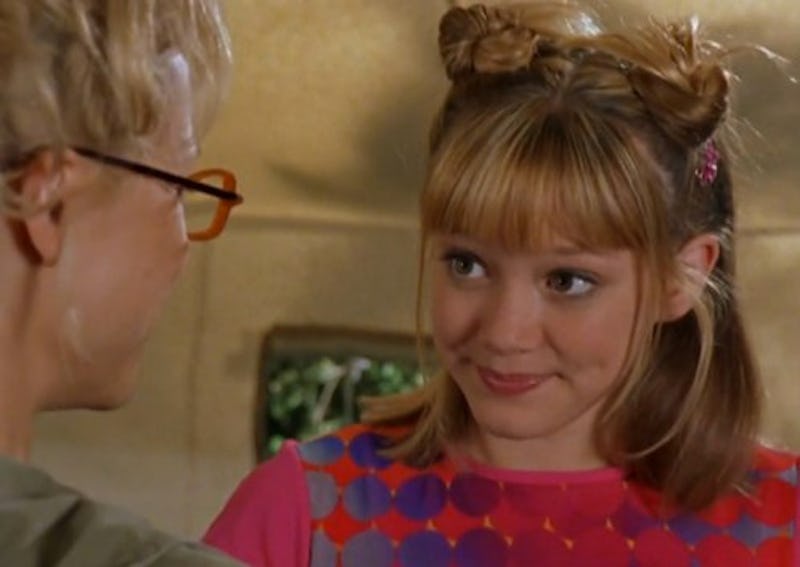 For many Millennials, watching Lizzie McGuire was a major part of the day throughout several of our childhood years. Regardless of whether the episode on the TV was a rerun or not, I watched the show religiously. My favorite part? Lizzie McGuire's outfits, which perfectly encapsulated early 2000s style in a way we can look back on with a mixture of nostalgia and humor. Although the looks Lizzie (and Miranda and Kate) served back then were all kinds of perfect for the era, now they're kind of lame. Well, without nostalgia-tinted glasses on, they're totally lame.
Just imagine rocking up to a high school in any Lizzie McGuire look — blue camo print cargo pants, paired with a diamante finish crop top, loads of lip gloss, and crimped hair. The amount of Snapchat stories you'd end up starring in by the end of the day are uncountable. Although throwbacks to '90s styles might still be in full swing, the noughties have yet to be sartorially revived. That means most of Lizzie McGuire's signature looks are so embarrassingly outdated that it hurts.
Luckily — because I'm simply looking back on a TV show and not old pictures of myself — it's super easy (and fun) to chuckle at the fashion of Lizzie McGuire. Here are 17 looks I used to love, and truly don't understand why.
1. Miranda's Braids
The rest of this outfit — a cute flannel, a white T-shirt, and pink shorts — is actually a pretty sweet, casual look. But those braids? With different color hair bobbles? I'm pretty sure even I stopped rocking this look at age 4. Get it together, Miranda.
2. Miranda's Braids, Again
I vividly remember pre-teen me thinking Miranda had the best outfits and hair out there. At least she color coordinated her scrunchies to her outfit!
3. Colored Pants
If I saw someone wear this much color today, I'd be in a state of shock. Most of my friends stick to an all-black palette for their wardrobes, and now I can see why.
4. A Knitted Hairband
Sorry to focus on hair so much, but look at it. This is PE, Lizzie. You don't need to overdo it with ugly hair accessories.
5. Camouflage Crazy
I was so ready to rip on Kate for those brown, oval sunglasses. But then I took a look at her outfit. Consisting on entirely different shades and colors of camouflage, it's one of the most early 2000s looks I can think of, TBH. And not in a good way.
6. Lizzie's Hair
I don't even know what this style could be called, which proves how awful it is.
7. This Patchwork Tank
You can't see the rest of this outfit because Lizzie's behind a counter for the entire scene, and she basically changes outfits every two minutes (which I totally love). But seriously, that tank top is bad enough without us having to gaze upon whatever hideous pants she probably paired it with.
8. Lizzie's Opening Credits Outfit
To be honest, I hated this then. But it's so damn iconic that I never admitted it. Navy tie dye with orange patterned capris and random curled chunks amongst straight hair have and never will look good.
9. The Worst Hairstyle
I take it all back: This is the worst hairstyle to ever appear on Lizzie McGuire.
10. Miranda's Homage To The '60s
This is a far cry from all the amazing '60s revival styles seen in 2015. Plus, the baby buns are paired with red, wide legged pants and a leopard print platform — both of which would be great singularly, but not together. And certainly not with that top.
11. A See-Through, Metallic Bandana
Did diamante ever look good or were we just lying to ourselves? Plus, a bandana in and of itself would be a crime, let alone a metallic-edged, transparent one.
12. A Crown T-Shirt
Here's another bandana. That top might make it into my cute sleepwear pile, but it should never be seen in the public eye.
13. Best Dressed Day
These are the jeans that the whole friend squad chipped in for so that Lizzie could win best dressed in the yearbook. But, like, look at how ugly they are. They're fraying! And she's sporting the butterfly print that nobody should ever wear. Meanwhile, Miranda looks cool as hell.
14. The Embellished Jean
Is there anything more early 2000s than embellished jeans?
15. Over-Accessorizing
From the oversized flower to the chunky heart necklace to the multiple hairbands, someone needs to tell Lizzie McGuire that less is more.
16. Mismatching
It's a shame, because that top and choker combo and that skirt could look so good paired with other garments.
17. A Ruffled Blouse
Ignore the monkey for a second (that's a sentence I never thought I would type) and check out Lizzie's ruffled blouse. Upsettingly, it sports a print that would've looked perfect on an unruffled blouse.
Most of the outfits in Lizzie McGuire have aged so badly that they're just the funny kind of embarrassing circa 2016. But I'm glad that Lizzie McGuire still exists to remind me of my own poor style decisions in the early 2000s. I hate to admit it, but mine were definitely worse.
Images: Disney Channel Original Series (18)