Will You Accept ... 'The Bachelor' Reading Recs?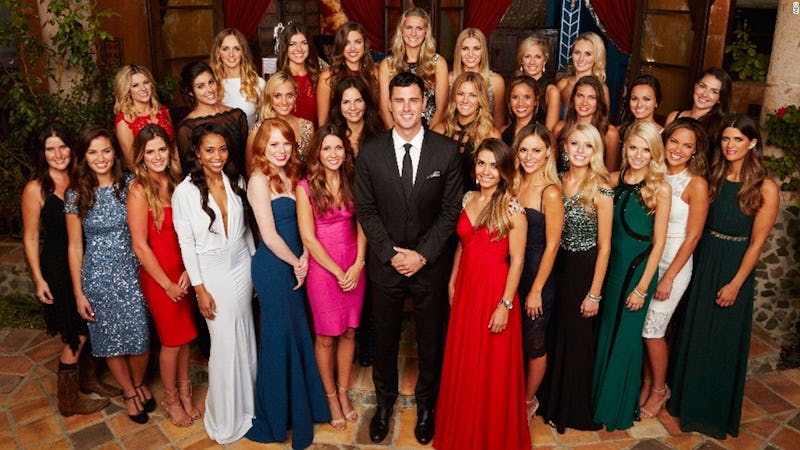 There's no denying that every self-respecting woman indulges in some "guilty pleasures" from time to time — and sure, some of these pleasures may be a tad guiltier than others. So with that said, I'm going to get my own guiltiest of guilty pleasures out in the open right now: I'm kind of obsessed with ABC's The Bachelor . Yes, even though the show does little else but enable women and men to commit silly, embarrassing, and sometimes completely self-effacing performances in front of a television audience numbering in the millions, I still tune in every week. I call myself a feminist, and yet I cannot tear my eyes away from the weekly, utterly compelling drama of women and men competing for other women and men. The facts just don't add up sometimes, OK? Forgive me this one.
Luckily, my other obsession is books, which makes me uniquely qualified to share this list of books to read if you're totally obsessed with The Bachelor — some of which were even written by former Bachelor and Bachelorette contestants themselves. I know, I know: they just can't help but bring the talent.
Here are eight books to read if you're obsessed with The Bachelor . Indulge away.
Featuring the greatest love triangle in the history of literature, IMO, Emily Brontë's Wuthering Heights makes all the cannot-miss drama of The Bachelor look kinda like a walk in the park. I'm sure you already know the story — moody Heathcliff's obsession with the spirited Catherine Earnshaw, and his elaborate revenge plot against her marriage to Edgar Linton. Plus this book's got a mansion, tons of unrequited passion, and features a cast of some really unlikable characters. It's the perfect indulgence for the Bachelor-obsessed.
The only Bachelor-related thing I'm obsessed with more than The Bachelor itself is the spot-on hilarity of author Jennifer Weiner's live-tweeting of the show. (If I'm going to be honest, sometimes it's even better than the show.) The good news is if you love Weiner as much as I do, you don't have to stop at her tweets. Her latest novel, Who Do You Love , tells the story of Rachel Blum and Andy Landis, who meet as children and will cross paths time and time again throughout their lives, until they finally must decide if their happily-ever-after is ultimately with each other. Weiner is a must-read for Bachelor lovers everywhere.
Written by the original Bachelorette herself, Trista Sutter's part-memoir/part-self-help book, Happily Ever After: The Life-Changing Power of a Grateful Heart , she shares her secrets to her and her husband Ryan being one of the few reality star couples to actually uphold their vows long after the television cameras went away. Grappling with everything from fertility challenges to family losses, Sutter's hope has always been to maintain a grateful heart.
Mr. Darcy (the proud) and Elizabeth Bennett (the prejudiced) play romantic cat-and-mouse better than ANY of The Bachelor contestants — that's my story and I'm sticking to it. Plus, while Pride and Prejudice 's 18th-century observed manners, social politics, and false modesty are certainly different than those of to-be-wedded hopefuls today (although really, not all that much) they're just as hilariously entertaining as those enacted on TV.
Interesting fact: Boris Pasternak's novel, Doctor Zhivago , was refused publication in the USSR for decades after he wrote the book, and ultimately published it for the first time in Italy. Although the novel's main characters — the poet: Yury Zhivago, the revolutionary: Pavel Pavlovich Antipov, and the love interest: Lara Fyodorovna Guishar Antipova — are all grappling with war, revolution, art, and politics, if you're reading this to prep for you next Bachelor viewing party, you're definitely here for the love triangle. Plus, the Russian names are about as easy to keep track of as The Bachelor 's recurring Laurens.
Jen Schefft is definitely a member of The Bachelor hall of fame — in 2003 she received her season's final rose, only to end her engagement less than a year later. Then, as the leading lady on The Bachelorette, she got engaged to NEITHER of her remaining gentleman. This gal's got chops. Her book, Better Single Than Sorry: A No-Regrets Guide to Loving Yourself and Never Settling , tells her story, alongside all sorts of helpful tidbits about how to rock single life for yourself.
Who knew Chris Harrison was a novelist as well as unforgettable host of The Bachelor and The Bachelorette? Furthermore, who thinks his subsequent novels will be "the most dramatic yet"? I'm betting there's a pretty good chance. In Harrison's debut novel, The Perfect Letter , is filled with all sorts of love-triangle goodness when NYC success story Leigh returns to her Texas hometown to contemplate her recent engagement, when she runs into her former lover, Jake.
Some of the leading ladies in Dangerous Girls make the "crazy" contestants on The Bachelor look pretty tame. After all, no one on the show has ever been accused of murder (to my knowledge, anyway.) There's a dark love triangle at play here, when Anna, her boyfriend Tate, and her best friend Elise take a spring break trip to Aruba that ends in the murder of Elise, and everyone believing that Anna is both guilty and very, very dangerous.
Image: ABC