Workouts Studios In NYC That You Should Try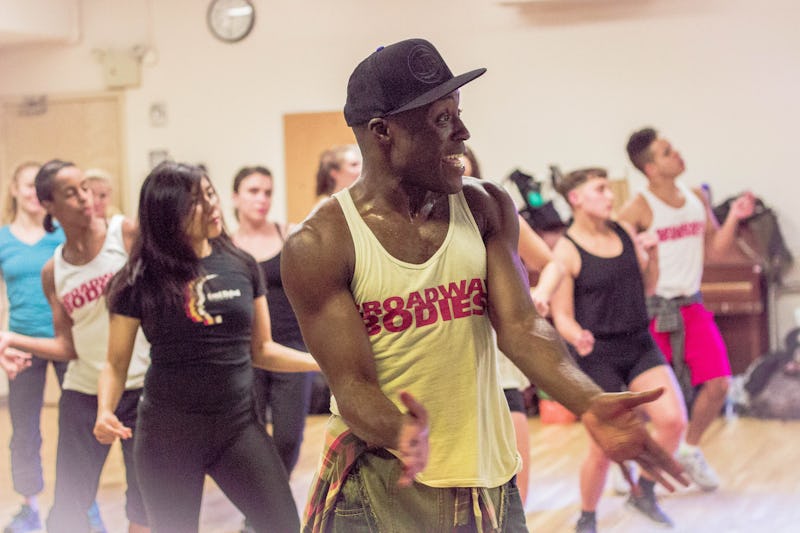 My gym is so boring, but I feel this way because I make it boring. I do the same workouts every day, and then complain that I'm not intrigued. This year, I promised myself that I'd expand my horizons, so I learned about a few unique workout options in New York City that are definitely worth trying for those who live or work in the Big Apple. All of the unique classes I came across seem both fun and challenging — a great mix for the mind and body. What's more, they come highly recommended.
These days there is really no excuse to coop yourself up in the gym and do the elliptical every day for an hour, especially with the growing popularly of boutique fitness studios. While I'm sure that elliptical allows for an easier way to watch Sex and the City re-runs while working out, there are so many other cool and fun ways to get your body right. Some of the classes discussed in this article are so unique, I couldn't believe they actually even exist (ahem — a light saber choreography class), but I'm so glad they do. The classes I've highlighted here are based on personal recommendations by fellow Bustlers, friends, and family members, or are places I've personally tried and loved. I hope you like them as much as we have.
Here are nine workout studios you should definitely visit if you live or work in New York City (or even for those who are passing through!):
1. Shadowbox NYC
Website: www.shadowboxnyc.com
Location: Flatiron
I keep finding myself looking at Khloé Kardashian's crazy body transformation and thinking, "That's totally unfair!" It actually is completely fair, though — girl busts her butt to have that shape. I follow her on social media and have many times seen her in boxing gloves and workout gear, giving me instant motivation to try a boxing class like those offered at Shadowbox NYC.
The beauty of their classes is that they take away that intimidation factor found by many beginners like me who are scared off by expert boxers huddled in the ring at the gym. Shadowbox takes on a group class format and instructs the students on hanging punching bags (rather than having to hit each other, which also scares me to death). They offer personal training in a ring as well for those who prefer, but for those of us who enjoy the group-class format, their traditional classes are perfect for a full-body workout.
2. WundaBar Pilates
Website: www.wundabar.com
Location: SoHo
I recall first hearing about the wonders of WundaBar Pilates years ago when E! Online did a story about Ashley Tisdale's preferred workout routine (it's also a favorite class of the super-fit Vanessa Hudgens, according to People). Now, the studio is present in NYC, and from what I've heard, it's definitely a place worth checking out. The class is a 45-minute Pilates-based workout with a twist. The class includes what founder Amy Jordan refers to as the "Swiss Army Knife of Pilates machines" — the WundaFormer machine, which combines the reformer, the WundaChair, the ballet bar, and the jump board all into one.
3. Orangetheory Fitness
Website: http://chelsea.orangetheoryfitness.com
Location: Chelsea
I have multiple people in my life who swear by the power of the Orange Theory classes. Why do they love it so much? According to each of them, they leave feeling like they've just gotten the greatest workout ever… every single time. The group classes are made up of three parts: treadmill interval training blocks, indoor rowing, and weight room or resistance training blocks, according to their website. The workouts are consistently changing so that those working out never get bored (boredom at the gym is a major problem for me, so I love this already!). Orange Theory locations are currently popping up all over the country, so if you're not in NYC, don't fret. Check out their full list of studio locations here.
4. Modo Yoga NYC
Website: http://nyc.modoyoga.com
Locations: West Village; Williamsburg
My personal favorite workout is hot yoga, so for those who are on the same page as me, I highly recommend trying Modo Yoga NYC. First, the atmosphere is incredibly peaceful and calming, which I'm sure any yogi can appreciate. The classes are held in a heated room (around 98 degrees), and the postures combine therapeutic and traditional yoga. Never tried yoga? No problem! All levels are welcome. (Trust me, the heat feels amazing!)
5. Warrior Fitness Boot Camp
Website: www.warriorfitnessbootcamp.com
Locations: Herald Square; Williamsburg
If you're on the hunt for a total body workout that will leave you feeling fit as a Marine, look no further than Warrior Fitness Boot Camp. In fact, the classes are actually taught by former Marines, so you know you're going to be getting the ultimate training regimen. The one-hour classes incorporate obstacle courses, calisthenics, free weights, circuit training, running, and more. Try it once, and it's likely you'll be jumping over walls — literally — to get back again.
6. SURFSET New York City
Website: www.surfsetnyc.com
Location: East Village
Lifetime surfer who's now trapped in the city? Great news for you, my friend. You can still get your surf on indoors with the classes SURFSET New York City offers. The group classes find participants using the SURFSET Board, a surf trainer designed to mimic the movement of a surfboard on water. The classes are 45-minutes long, and challenge your body by helping you burn fat, build lean muscle build, and master you sense of balance. It's also great for core training as well.
7. Broadway Bodies
Website: www.broadwaybodies.com
Location: Chelsea
I've said this before in an article, and I'll say it again — if you love dancing you need to try a class at Broadway Bodies. In fact, get there ASAP! The classes are designed to teach you choreography to popular songs, like Beyonce's "7/11" and Justin Bieber's "Sorry," just to name a couple. If you even have the slightest doubt about how fun these classes are, check out some of the videos they've posted online (under the class descriptions click "Watch Clip"). I honestly can't get enough.
8. Aqua Studio
Website: www.aquastudiony.com
Location: TriBeCa
If spin is your go-to workout, the classes at Aqua Studio might be just up your ally. The idea is similar to traditional spin where you're riding a stationary bike, but with one major difference… you do so submerged in 4 feet of water. The workout challenges the body with high-intensity cardio and full-body toning. There are various classes you can choose from, depending on your experience level and what you're looking to achieve.
9. New York Jedi
Website: www.newyorkjedi.com
Location: Midtown West
OK, OK, I've admittedly have never seen a single Star Wars movie. However, when I came across this class I couldn't stop feeling intrigued. I mean, check out their website and see how cool it looks — the students are using light sabers as part of their workout. If you're looking for something totally outside of the box, grab a friend and try these light saber choreography classes. Really, think of how many Stars Wars-loving men you'll be able to impress with your newfound skills (maybe this is why I'm currently still single — too few light saber skills!).
For those of you who live in New York City, the next time you find yourself bored with your regular workouts at the gym try mixing it up with one of these classes. Not only might it serve to peak a new interest — like surfing or light sabering — it will leave your body feeling great as well.
Images: Broadway Bodies, SURFSET NYC, Warrior Fitness Boot Camp, Moda Yoga NYC, OrangeTheory