19 Gluten-Free Super Bowl Recipes For Game Day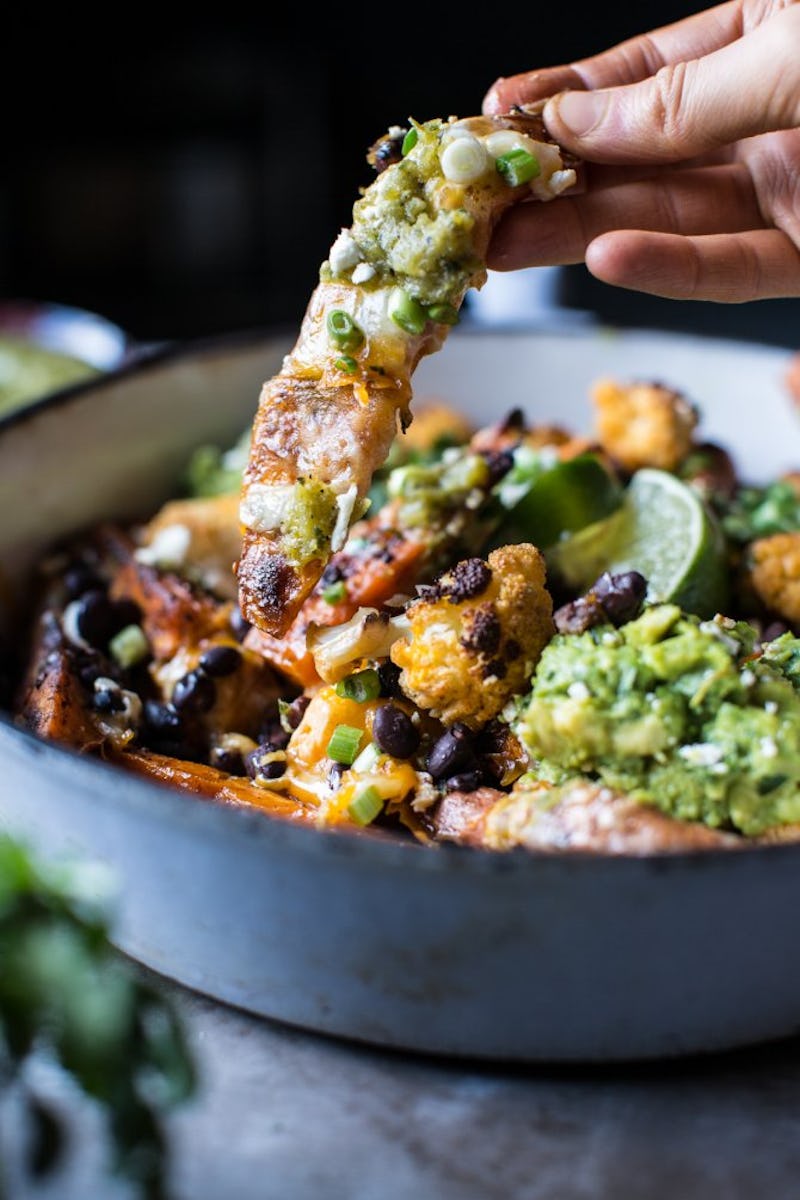 The Super Bowl is quickly approaching, meaning one thing and one thing only: finger food. Well, I guess it means football, too. And since Game Day is all about having a good time, the festivities aren't complete without awesome gluten-free Super Bowl recipes to make sure everyone's stomach is happy and full. After all, we can't forget about our gluten-free peeps out there.
Whether or not you are into football, the Super Bowl can be fun for anyone. Unsurprisingly, food is the star player. It's so good that everyone at your party will back it, no matter which team they're rooting for. I'm talking about everything from snacks, appetizers, and everything in between. The key is to make sure you go for easy Super Bowl recipes that can be divvied up in between your guests. This way, the arguing can be left for the actual football. Crisis averted.
While you're planning out your Game Day menu, check out this beautifully long list of 19 gluten-free options. These recipes prove that eating gluten-free doesn't have to be difficult, boring, or complicated. They show that simply switching out a traditional ingredient can work wonders. Even your non-gluten-free guests will love these dishes. Win!
1. Crispy Buffalo Cheddar Potato Nachos
A Super Bowl party wouldn't be complete without some kind of dish smothered in Buffalo sauce. And while wings are usually the ones to claim this role, Half Baked Harvest gave these potato nachos a fighting chance. Score.
2. Chipotle Black Bean Burgers
Burgers are awesome because they're easy to divvy up and share with your party guests. For an option that is vegan and gluten-free, try this black bean recipe from Ari's Menu. Pair it with your favorite gluten-free rolls and you're good to go.
3. Homemade Spicy Ketchup
With some help from Joy the Baker, you can whip up an addicting condiment that is gluten-free friendly and delicious. I bet this would be amazing on those burgers.
4. Flourless Chocolate Cookies
Because every party needs cookies. The Crepes of Wrath demonstrates how to make a flourless chocolate version.
5. One-Pan Tuscan Quinoa Bake
My favorite type of comfort food is the healthy kind. Half Baked Harvest describes this quinoa bake as just that. Prep time also only takes 10 minutes, making it a useful dish to whip up right before the game starts.
6. Rustic Corn Tortillas
Try pairing up these corn tortillas by The Crepes of Wrath with your favorite gluten-free chili or taco recipe. If all else fails, don't forget that nothing beats a simple cheese quesadilla.
7. Mango and Jalapeño Guacamole
This sweet and spicy concoction by Joy the Baker can be used to top off your favorite Super Bowl dish... or with tortilla chips... or by itself. I totally support that life choice.
8. Chicken Tinga Tacos with Smoky Chipotle
Tacos are another one of those finger foods that are so easy to make in batches and split up. Thanks to The Crepes of Wrath, sharing has never been easier.
9. Gluten-Free Hawaiian Sweet Rolls
Cutie dinner rolls are an excellent addition to any party. This gluten-free recipe by Mel's Kitchen Cafe would pair up perfectly with chili or mini versions of your favorite gluten-free burger.
10. Refried Beans
Whether you're making a nacho dip or burritos, this refried bean recipe by Mel's Kitchen Cafe will beat anything you'll find in a can. It even involves the juice from jalapenos or banana peppers. Hello, delicious flavors.
11. Sweet Potato and Black Bean Nachos with Green Chile Salsa
Sweet potatoes are wonderful for adding major flavor to any dish. These unconventional nachos by Half Baked Harvest are no exception. To ensure that this meal is gluten-free, I'd recommend using a homemade or store-bought gluten-free taco seasoning mix.
12. Peanut Butter Banana Bonbons
These effortless treats by Joy the Baker feature so much deliciousness in one bite. They're ideal for adding a sweet treat to your table of grub. Have a peanut allergy? Simply swap out the peanut butter for the sunflower kind.
13. Cauliflower Rice Burrito Bowl
Here's another healthy comfort food that I can totally get behind. Joy the Baker has figured out how to make all of my burrito bowl dreams come true.
14. Sausage Cheddar Grits Crust-less Quiche
Between the sausage and cheddar, no one will even notice that this quiche by Joy the Baker is crust-less. Don't forget to save some for the next morning!
15. Gluten-Free Cobb Salad
Whether you serve this as a main dish or side salad, Big Girls Small Kitchen's Cobb salad will easily compliment the rest of your menu.
16. Chili Con Carne
A big ol' pot of chili is another one of those must-haves at a Super Bowl party. And while most chili con carne recipes use beer or whiskey, Big Girls Small Kitchen figured out a way to make this beloved dish friendly for gluten-free eaters.
17. Gluten-Free Cannoli Bars
Cannoli bars. That's right... BARS. Ari's Menu is a genius. This is another recipe that is ideal for splitting up at a get together.
18. Cornbread Waffle Tacos
Tacos make the world go round, especially when they feature cornbread waffles like this recipe by Ari's Menu. It doesn't get any more Game Day-savvy than this.
19. Cornbread Sausage Stuffing
It might not be Thanksgiving, but who says we can't enjoy a helping of amazing stuffing? This cornbread version by Ari's Menu is gluten-free, hearty, and everything Super Bowl foodie dreams are made of.
For more inspiration, check out Bustle on YouTube.
Images: Half Baked Harvest; Ari's Menu; Joy the Baker; The Crepes of Wrath; Half Baked Harvest; The Crepes of Wrath; Joy the Baker; The Crepes of Wrath; Mel's Kitchen Cafe; Mel's Kitchen Cafe; Half Baked Harvest; Joy the Baker; Joy the Baker; Joy the Baker; Big Girls Small Kitchen; Big Girls Small Kitchen; Ari's Menu; Ari's Menu; Ari's Menu