One Decision May Prevent #OscarsSoWhite 2017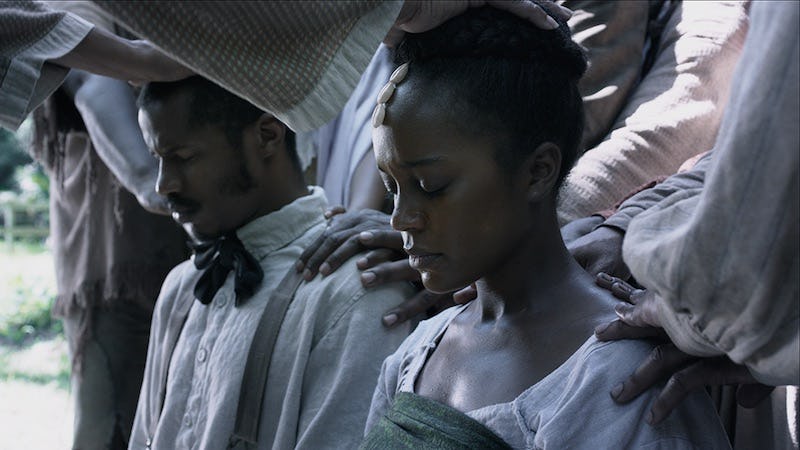 One of the most talked about films at this year's Sundance Film Festival, Nate Parker's The Birth of a Nation, just landed the biggest distribution deal in the festival's history. After a bidding war that, according to Variety, included The Weinstein Company, Sony, Netflix, and Paramount, The Birth of a Nation was sold to Fox Searchlight for a record-breaking $17.5 million. Apparently, in an interesting move, the film's sales team turned down a $20 million offer from Netflix and opted instead to go with Searchlight. So why did they opt to lose out on an extra $2.5 million? Considering the critical and awards buzz already surrounding the well-reviewed indie film, this sale is a choice that might help the film's Oscar chances in the long run — after all, Netflix doesn't quite have Oscars clout, as we saw from Beasts of No Nation's snub this year. Taking the lower payout in favor of a more Oscar-friendly studio might ensure that this film gets Academy attention and — as a possible side effect — help prevent #OscarsSoWhite round three in 2017.
The film, which became a passion project for Parker, who wrote, directed, and stars in the piece, chronicles the 1831 slave revolt led by Nat Turner. Parker put his own acting career on hold to develop and raise money for the project, which also stars Armie Hammer, Aja Naomi King, Jackie Earle Haley, Penelope Ann Miller, and Gabrielle Union. It received a standing ovation when it premiered on Jan. 25 at Sundance and critical response has been overwhelmingly positive. Though it's incredibly, incredibly early (we haven't even gotten through this year's Oscars yet) many critics at Sundance have assured readers that The Birth of a Nation deserves awards recognition this time next year.
Earlier this month, when the Oscar nominations were announced and the entirety of the acting categories consisted of white actors, the hashtag #OscarsSoWhite, which was born of last year's all-white nominations, resurfaced. Many high-profile celebrities, including Will Smith and Jada Pinkett Smith and Spike Lee, who was given an honorary Oscar at last fall's Governor's Awards, said they would be boycotting this year's ceremony. And while the Academy of Motion Picture Arts and Sciences is in the midst of some drastic and necessary changes to diversify its membership, that might not be enough to affect the sort of immediate change many film fans are hoping for in 2017.
First, the Academy will begin an intense membership recruitment process with the goal of, "doubling the number of women and diverse members of the Academy by 2020." They are also revamping the Oscar voting process, by reevaluating the voting candidacy of members who may have either left the business years ago or aren't as active in motion pictures as they could be. The Academy's changes will not only help increase diversity among its members and awards recipients, but hopefully will also encourage studios to make more films that tell diverse stories, feature diverse casts, and are led by diverse directors. But it could take years to affect that change and see it reflected in nominations — even four years seems like a meager amount of time to get the work done. That's why it's so critical that a well-reviewed, critically beloved film like Birth Of A Nation takes no risks when it comes to its Oscar chances, however unfair it is to place that pressure on a single film.
After all, Fox Searchlight already has experience taking such a film through a demanding awards season to a Best Picture win with 12 Years a Slave. As The Wrap noted, "Having successfully released 12 Years a Slave and taken the film all the way to Best Picture, the studio led by Nancy Utley and Stephen Gilula believed they knew how to handle Parker's slavery revolt drama, and help it win critical and awards recognition as well as significant box office."
Which might explain why Birth went with Fox Searchlight over Netflix, despite the streaming site's higher offer. While Netflix is surely breaking new ground with its model and earning accolades through its TV projects, its film division still has to catch up. Beast of No Nation, Netflix's first narrative feature, earned a Golden Globe nomination for Idris Elba and a SAG nomination for Best Ensemble, but was notoriously shut out of the Oscar nominations. Netflix earned two nominations in the documentary category, for What Happened Miss Simone? and Winter on Fire, but pundits have noted that Academy voters outside of the documentary branch might be reluctant to look to Netflix for narrative work. Variety theorized, "It's also possible some industryites were turned off by Netflix's business model — that it was somehow a movie less worthy of recognition because it hit the Internet-streaming service as it was playing in cinemas, or that Netflix is perceived as a threat to the long-term health of theatrical distribution."
So despite the larger offer, perhaps it is wise that The Birth of a Nation opted for distribution from Fox Searchlight while Netflix continues to develop its original film prospects. Birth's sales team was also reportedly looking for a big, awards season theatrical release, while Netflix was insisting on a day-and-date streaming/theatrical release, which would have put the film on the streaming service and in theaters simultaneously. But Parker told The Hollywood Reporter, "It just felt like we were speaking the same language," he said of Fox Searchlight. "There were sentences that were being finished on both sides, and the dialogue just flowed."
Searchlight not only has more experience, but with a film like this one, it was probably best that the team didn't risk the possibility of being ignored by the Academy as a result of being available only on a still growing platform. There's no doubt that one day Netflix will have more clout in the movie-making game; they've already practically taken over television. But until it does, The Birth of a Nation and its strategic new home might help make 2017 a year when the #OscarsSoWhite hashtag is laid to rest, hopefully for good. And that itself is worth $2.5 million.
Images: Sundance