Can 'Grease Live!' Do The Pink Ladies Justice?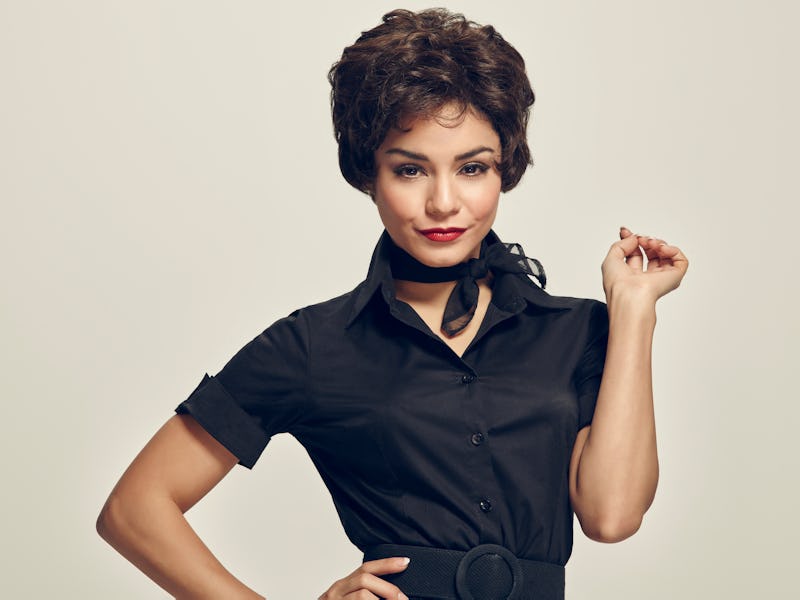 The world is hand-jiving all the way back to Rydell High. Fox is airing a Grease Live! special on Sunday, Jan. 31, and it should please anyone who is a diehard fan of the original musical or the 1978 John Travolta and Olivia Newton-John movie. The brand new TV special isn't merely a filmed version of a staged musical, a la NBC's musicals like The Sound Of Music: instead, the production will take place on various sound stages and set pieces across the Warner Bros. Studio lot, with the cast moving from one location to the other. Among these cast members are the new Pink Ladies of Grease , which include Vanessa Hudgens as tough gal Rizzo, Keke Palmer as lovestruck Marty, and Julianne Hough as the resident good girl and newest member of the group, Sandy.
During a press visit to the set of Grease Live!, Hudgens, Palmer, and Hough revealed why they were stoked to be a part of the new generation of Grease. For Hough, it was like being a teenager all over again, and joining the cast of a high school musical:
"Literally we come in and we feel like we're in high school again, like we're 17 and off having a good time... we get to do what we love, dance, act, the whole thing."
For former Disney darling Hudgens, that feeling was all too familiar:
"It makes me really excited because I did High School Musical 10 years ago and introduced musicals to a whole generation [of kids]... it's a cool thing that it's come full circle."
Of course, the Grease of today isn't the same as the Grease of the '70s. Palmer appreciates the updates on the musical, which includes a far more diverse cast:
"We're doing it in a new fresh way, where it's still the story that you love, but it's with a cast of people who are all different colors, all different kinds [of people] and I think that's really important. I love that they made a big effort to do that because my little brother and sister get to see Grease the way their world looks today," she says.
It's not just the diverse cast that these young actresses can relate to: it's also their characters.
"In the beginning I was kind of worried because I felt like I had nothing to do with Riz, but the more that I'm walking in her shoes I'm like, the more you strip away my bubbliness and my niceness, that's Riz," says Hudgens of taking on the iconic role. "I speak my truth, and if I don't like something you're going to be able to see it on my face, so [we're] very similar, actually."
"I definitely think in the beginning with Marty that I wasn't sure if we were the same, but now as time goes on I think that Tommy [Kaile, the director] knew exactly what he was doing when he casted everybody, because I was that little kid who just thought that they were too grown. That's Marty," says Palmer of the Pink Lady who has a boyfriend overseas.
As for Hough, playing the nice girl who eventually finds her edge hit close to home.
"I've always felt like Sandy, [we were] brought up the same way, I grew up in Utah, very Mormon, religious and conservative, but there's always been a little bit of a sassy side to me. It's a good juxtaposition," says the former Dancing With The Stars darling.
Luckily, we'll have the chance to see the Pink Ladies in action when Grease Live! airs on Jan. 31.
Images: Tommy Garcia/FOX; Fox/YouTube (4)