Can Trent Overcome His Mono On 'Idol?'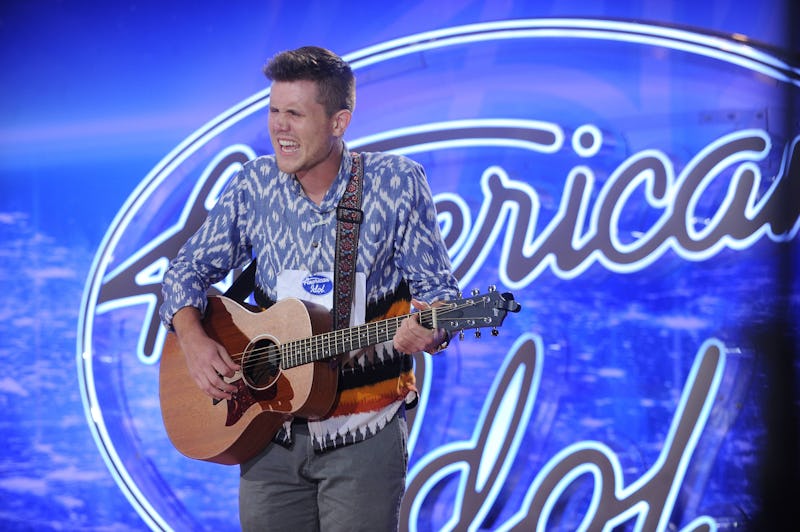 The Hollywood Rounds test even the strongest of singers — especially when they're sick. This has never held more true than with Trent Harmon, who was diagnosed with mono just hours before the American Idol Hollywood Rounds. Thankfully for Harmon, though, he was able to keep his illness at bay and nail his Hollywood audition. He sang a beautiful rendition of Sam Smith's "Lay Me Down" and earned himself a pass through to the next round.
Performing is never an easy feat when you're sick — especially when it's with mono. But Harmon was able to pull it off without showing his sickness at all. The 25-year-old certainly proved why he was on the Hollywood stage to begin with, and why he should stay there. His performance was smooth and powerful — something you would expect from someone in the Top 24. He blew both the judges and America away, despite his illness. Seriously, if Harmon had never admitted that he had mono, the audience would have never known. He performed with the professionalism and skill level of a seasoned artist, which is why he made it through without a hitch.
The big question now is, "Does Harmon have what it takes to make it to Hollywood?" It's still up in the air, but he definitely has potential. The pool of males is pretty shallow this year, which increases his chances. But that doesn't mean that the ladies can't beat him out. Harmon definitely has a shot, as long as he brings it in the next few weeks. His mono will be a big obstacle to overcome but, after tonight, I definitely have faith in him to continue through to the Top 24.
Image: Michael Becker/FOX