Style Risks Everyone Should Try At Least Once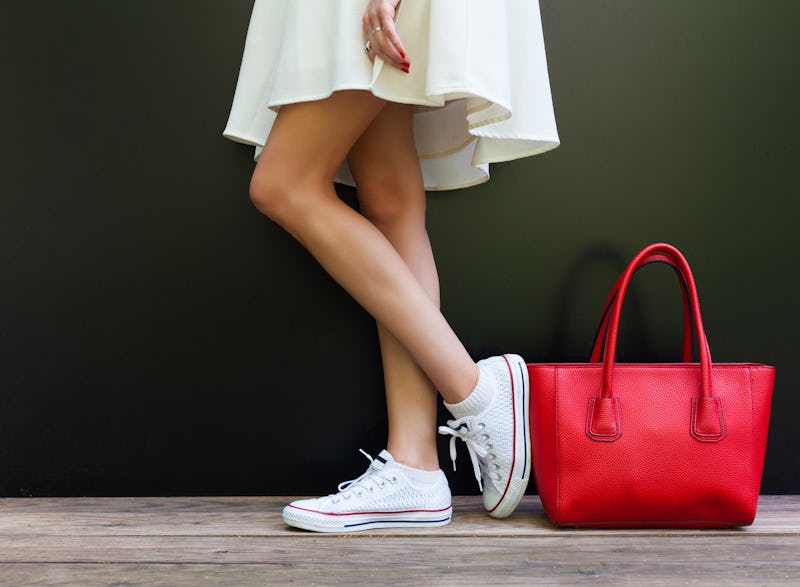 I usually find myself playing it safe when it comes to personal style. I generally feel like I know what works for my tastes and my body, and I'm generally not too eager to deviate from my comfort zone. Yet I firmly believe there are a few beauty risks everyone should take at least once — for no other reason than life is short and it's fun. Plus, there's almost always at least one look or style out there we have always secretly wanted to try.
And I'm not saying your closet needs to be full of costume jewelry or outrageous Carrie Bradshaw-esque ensembles — I even wrote an entire article singing the praises of keeping your wardrobe simple and functional — I'm just saying there's a time and a place for style risks and you should never be too afraid to try something that you've always wanted to wear. Odds are you'll adore how you feel embracing the look and feel a little giddy every time you catch yourself in the mirror.
And if you're afraid that you won't feel confident enough to actually feel good in a super bold look, try making it a group activity with friends. For example, this past New Years my friends and I decided that the theme of the evening would be "style risks you've always been too afraid to try." Needless to say, wigs, jumpsuits, glitter lips, and American Hustle level hair abounded, but we all felt totally confident because we were in it together.
Regardless of whether you opt to go solo or in a group, here are nine style risks I think are well worth trying at least once in life. Because at the end of the day, it's just clothes!
1. Bold Framed Glasses
Versace VE3193 Eyeglasses, $115, EZcontacts.com
In this era of Warby Parker and large-framed styles, now is the perfect time to get a little risky with your eyewear if you've always been on the fence. Michelle Persad, Fashion Editor at the Huffington Post, specifically recommended going for brightly-colored or patterned frames, and my personal tip is to just make sure you keep your basic, blander pair, so you can always opt for a less bold look if you're not in the mood.
2. A Jumpsuit
One/Off Shoulder 3/4 Sleeve Jumpsuit, $54.52, gcgme.com
Persad also recommended wearing a stylish jumpsuit to a fancy evening event instead of a formal dress or gown. Not only do I personally think this always looks super chic and stylish, but you'll also typically feel way more comfortable.
3. Make The Cut
In a piece on her blog about beauty risks you have to take this year, YouTuber and internet star Michelle Phan said to just go out and get that haircut you've always secretly coveted. "There's always that hairstyle in the back of our minds that is nothing like what we'd normally sport," she wrote. "Maybe it's a long bob, a killer set of fringe, or a totally unnatural dye job (hello, pastel locks!). Get it out of your system – that way, you'll never wonder what you'd look like with short hair or pink hair again – and you'll probably have a ton of fun doing it.
4. Wear One Color Head-To-Toe
Ralph Lauren Split-Back Shirt, $22.37, LordandTaylor.com; Women's Plus Size Skinny Jeans, $34.99, Womanwithin.com
In a compilation piece for Cosmo on the top YOLO looks every woman should try, wearing a single, bold color (i.e: not black) from head to toe placed high on the list. Just keep the style sleek and be sure to show off some skin on your arms or legs to break up the color block.
5. Sneakers As Formal Wear
Fashion contributor Rati Agrawal on iDiva suggested rocking cute sneakers with a girly or floral-print dress. And while this might not exactly be quite as bold as a "risk," it's often a super cute juxtaposition that many ladies forget about.
6. An All-White One Piece
Natori Swim Full Coverage, $145, Lyst.com
A compilation piece for Glamour touted a white one-piece bathing suit as a bold style choice for summer. The genius with this one is that it feels fresh and retro all at once, and also gives you the comfort of fuller coverage.
7. Socks With Heels
Glamour also recommended this runway trend as a bold choice for real life. However, they also noted that if it feels like "too much," you can always replace the heel with an ankle booty for a super stylish yet less bold look.
8. Sparkle During The Day
Women's Plus Suze All Over Sequin Woven Tee, $35.98, Target.com
Agrawal also said to try sporting sparkles and sequence during the day, not just at night. Pair a sequened top with some super simple jeans, some cute sneakers or heels, and you've got yourself a unique yet put together ensemble.
9. Try Glitter Lips
Glitter doesn't only have to be reserved for eyes — it looks absolutely amazing if done correctly on the lips. Just start with a bold base color and apply some finely cut glitter with your finger. It's absolutely perfect for a night out.
At the end of the day, fashion should never be taken too seriously and should always be a source of fun — never stress. So if you find yourself drawn to a particular look again and again, just go for it! The stakes are low, and the potential rewards are super high.