The 'Grease Live!' Cast Will Impress You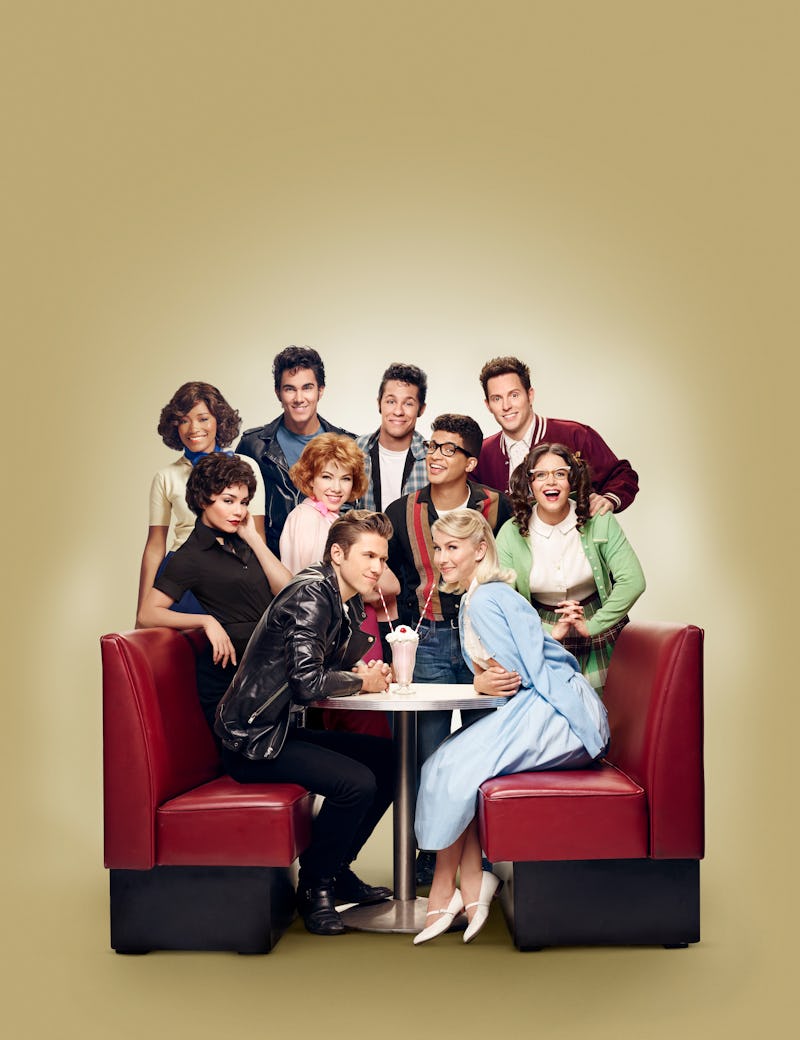 Fans of the original musical or 1978 film starring John Travolta and Olivia Newton-John should probably brush up on their hand-jive, because it is inevitable that Danny, Sandy, Rizzo, and Frenchy are going to want to make you get up and dance when Grease Live! airs on Fox on Jan. 31. The live musical is jam-packed with great songs and even greater stars. If you're not familiar with the Grease Live! cast yet, allow me to enlighten you, because there is no denying that these performers are going to make this one hell of a show.
While no one is judging you if you don't hit all the notes in "Summer Nights" when singing alone in the shower, it's pretty important that the cast of Grease Live! has what it takes to carry such an energetic and vocally-challenging show. Well, don't worry, because Fox couldn't have recruited a better cast for the show. This cast is made up of movie stars, TV actors, beloved-Broadway performers, and even mega-pop stars. There's no denying that this show is going to cause you to have "You're the One That I Want" stuck in your head for the next few months, so here are the talented performers you have to thank for that.
Julianne Hough As Sandy
Julianne Hough is not an unrecognizable name, but let's run through her resume for fun. She is a mirrorball-winning Dancing with the Stars veteran, a country singer with Billboard hits, and has acted in some of the biggest musical films (like Footloose, Rock of Ages, and Burlesque). There's no doubt that Hough is going to be an awesome Sandy.
Aaron Tveit As Danny
You might not be aware of who Aaron Tveit is now, but after Sunday's show you'll want more and more of him. Tveit is mostly known for his impressive Broadway work, having starred in Catch Me If You Can, Next to Normal, Wicked, and Hairspray (just to name a few). This isn't his first time on screen, though. The actor has also starred in Gossip Girl, USA network's Graceland, and the 2012 film adaption of Les Misérables.
Vanessa Hudgens As Rizzo
OK, I feel like this is the TV musical comeback we've all been waiting for from Vanessa Hudgens. While she's been keeping very busy with her career — recent projects include Freaks of Nature, Gimme Shelter, and Spring Breakers — the High School Musical star recently spent time on Broadway as the lead role in Gigi.
Keke Palmer As Marty
I know I'm not the only one who has had a recent obsession with Keke Palmer since her badass role on Scream Queens, right? The 22-year-old actor is no stranger to music, having debuted her first album So Uncool in 2007. Since then, Palmer has been in many films like Joyful Noise, Akeelah and the Bee, and Ice Age: Continental Drift. In addition to Scream Queens, Palmer has also starred in Masters of Sex, CrazySexyCool: The TLC Story, and True Jackson: VP.
Carly Rae Jepsen As Frenchy
Yes, you read that right. Carly Rae Jepsen (the Carly Rae Jepsen of "Call Me, Maybe") is Grease Live!'s Frenchy. According to Toronto paper The Star, Jepsen grew up in stage performances of shows like The Wiz, Annie, and Grease, so there's no doubt the "I Really Like You" singer has what it takes to be Grease Live!'s beauty school dropout.
Kether Donohue As Jan
Attention aca-people, we've got a Pitch Perfect veteran in the house. Donohue played Alice in the smash hit Pitch Perfect and is currently starring in You're the Worst as Lindsey Jillian.
David Del Rio As Putzie
Del Rio is an actor best known for his role in Nickelodeon's The Troop. Like some of his co-stars, the actor comes from a Broadway background, having starred in In the Heights .
Andrew Call As Sonny
Andrew Call is a veteran when it comes to musicals. The actor playing Sonny has been in Altar Boyz, High Fidelity, Glory Days, Rock of Ages, and American Idiot.
Jordan Fisher As Doody
The role of Doody (is it bad I don't remember someone named "Doody" in the original film?) will be played by Jordan Fisher, a very successful actor for only being 21-years-old. According to his IMDB page, Fisher has starred in series like The Secret Life of the American Teenager (as Jacob), Teen Wolf, and Liv and Maddie, as well as TV movies like Teen Beach Movie and Teen Beach 2.
Carlos PenaVega As Kenickie
Finally, we have the bad boy (kind of... maybe Kenickie is just misunderstood). Carlos PenaVega plays Kenickie in Grease Live!, and you might know him from Nickelodeon's Big Time Rushor as a member of the band Big Time Rush. He was on Dancing with the Stars Season 21 (placing in fourth place) and competed against his wife, Spy Kids alum Alexa PenaVega. (The couple combined their last names when they got married in 2014.)
So, I think this Rydell High school roster says all that needs to be said: Grease Live! is filled to the brim with talent, and there is no doubt they're going to crush it.
Images: Tommy Garcia/FOX (11)