25 Amazing Photos Of 'Star Wars' Inspired Hair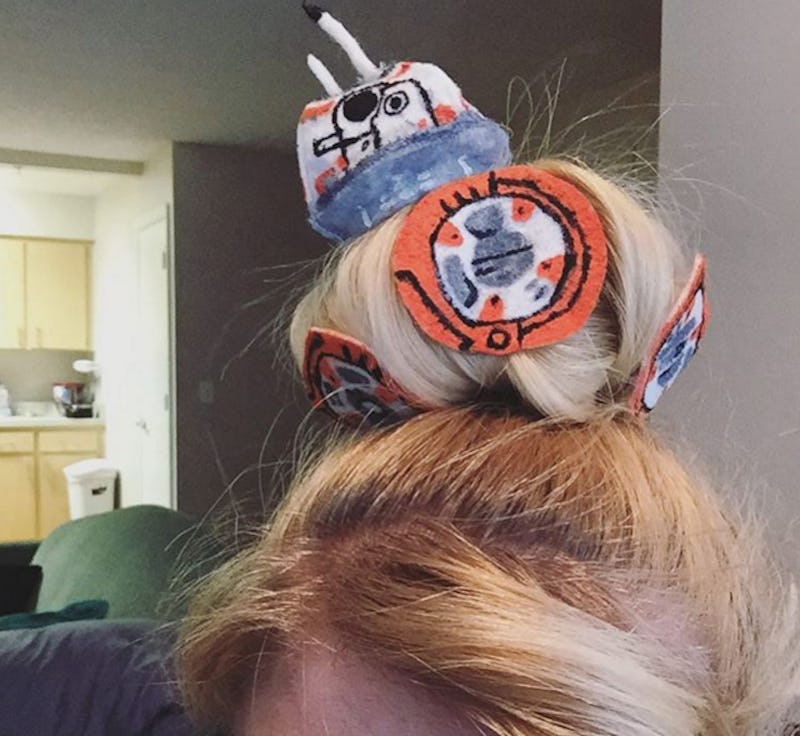 With the incredible popularity of Star Wars: The Force Awakens (and all things related to the Star Wars universe), it's no surprise that people have taken to expressing their fandom through their hair. Many are even creating some really awesome Star Wars inspired hairstyles that are a perfect way to add a little Force to your daily look.
I remember the day I was first introduced to Star Wars. The original films were re-released in 1997, and I became a fan immediately. I was a quiet, chubby child of 11, who loved books, toys, and anything and everything to do with fantasy. When I first saw Star Wars in theaters, I was whisked away into a space fantasy world and fell completely in love with the universe and all its characters.
As someone obsessed with the worlds of beauty and fashion, the hair of Star Wars has always completely enchanted me. When you think about it, Star Wars gave us the original Game Of Thrones hair aesthetic, with long, luscious waves and intricate combos of elaborate braids and buns. This probably explains why I'm so obsessed with the hair from both franchises. And aren't we all?
With the release of The Force Awakens, many people have been coming up with their own hair ideas inspired by the film and incorporating them into their everyday looks. So let's take a look at 25 Star Wars-inspired hairstyles. IMO, the makers of these looks deserve some serious kudos.
1. @cavalyn
This is one of my favorite Leia-inspired hairstyles, if only because it's one I do all the time myself (especially in summer). Leia sports her original version of this hairstyle in both The Empire Strikes Back and Return Of The Jedi. This lovely lady wears it perfectly.
2. @lissycorrea
She's giving us a gorgeous take on the classic Leia-buns from A New Hope.
3. @stasialovescurls
She's serving us her own version of the Rey hairstyle that we all adore from The Force Awakens.
4. @braidsbyjordan
How much do you love this absolutely gorgeous Leia-inspired braid? It's true perfection.
5. @plaititudes
Add a little Cloud-City-Leia flare to transform your everyday sock-bun hairstyle.
6. @magdalinejane
Rey buns with a little edge.
7. @hairandmakeupbyconnyjo
I'm totally digging this beautiful Star Wars galaxy-inspired hair.
8. @alicetrewinnard
These are traditional Princess Leia buns, but blonde.
9. @silvousplaits_hairstyling
The thing I love about this hairstyle is not only its obvious relationship to Leia's Cloud City hoop braids, but that it also looks incredibly similar to a hairstyle Arya Stark wears in the first season of Game Of Thrones (with Sansa Stark's gorgeous red color).
10. @skinnymartini
This is exactly the droid we were looking for.
11. @hollydecastri
This modern take on Princess Leia's braided hairstyle from The Empire Strikes Back is absolutely gorgeous.
12. @daryna_barykina
This one's a Rey-and-Amidala-inspired modern hair masterpiece.
13. @karyssadoeshair
Here's some hair color inspired by our favorite Star Wars droids, the adorable R2-D2 and BB-8. What a beautiful team they make.
14. @skillsthebarber
I have no words other than epic (and mad skills).
15. @acappellasalon
What a beautiful, modern twist on the rebel-Leia hairstyle.
16. @ladyelora
It's a BB-8 bun. What more could you ever need?
17. @hairbunlover
Inspired by Leia's hairdo from the medal ceremony in A New Hope, this hairstyle is not only elegant, but on point.
18. @emmas_parlour
I am absolutely obsessing over this gorgeous hairstyle, which is something of a modern, boho take on Princess Leia's hair (in the Ewok Village) from Return Of The Jedi.
19. @shelleygregoryhair
These are the most beautiful pastel-colored Leia-buns I have ever seen.
20. @maiden.and.pride
I'm absolutely loving this Padme-inspired braid "with a scarf as a modern twist!"
21. @hairbyangelah
Here is a contemporary take on the Princess Leia slave braid from Return Of The Jedi.
22. @hairbykaseyoh
R2-D2-inspired hair color? Yes, please.
23. @haselnussblond
I'm loving this simple, modern take on the classic Princess Leia buns.
24. @esterroses
This one's edgy, modern, and perfectly Rey-inspired.
25. @channelofficial
Here's what looks to be Queen Amidala-inspired Chanel hair couture at its finest. I die.
I don't know about you guys, but I'm definitely going to be trying some of these Star Wars-inspired hairstyles out for myself (at least, some of the easier ones). For those of you who are brave enough to try some of the really gorgeous (yet extremely intricate), patience-testing braids and styles, good luck. And may The Force be with you always.
Want more Star Wars inspo? Check out the video below, and be sure to subscribe to Bustle's YouTube page for more!
Image: ladyelora/Instagram (1)