This Disney-Shaped Sushi Is Too Cute To Eat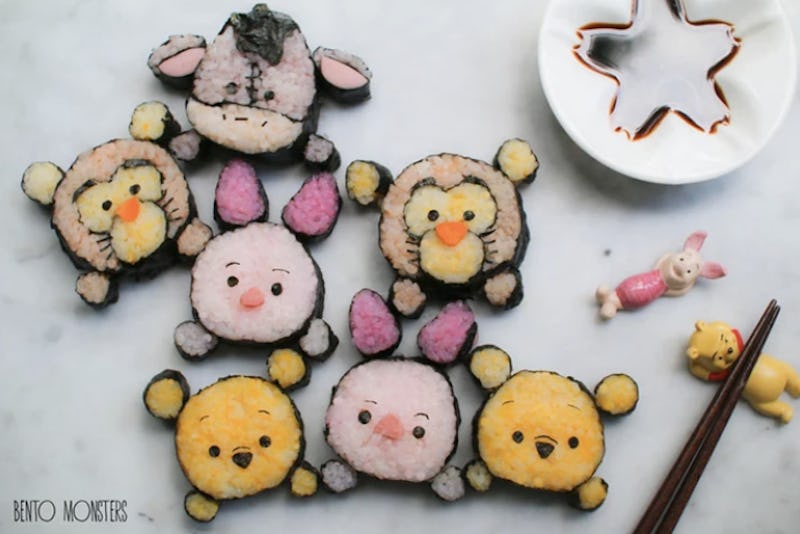 Are your two favorite things in the world Disney and raw fish? Amazing news for you: Disney-themed sushi is a thing, and it's actually pretty incredible. (Right alongside pancakes designed as movie characters and celebrities, this is the most significant merge of interests to hit the Internet, is it not?) The site from which this particular batch of characters comes is called "Bento Monsters," a blog created by Li Ming Lee, who has been "bento-ing" for about seven years.
For those of you not aware, "Bento" is the term for a single-portion takeout or home-packed meal in Japanese cuisine. It is otherwise known as a lacquered or decorated wooden Japanese lunchbox. The traditional meal would contain rice, fish, meat with pickled or cooked vegetables, all packed together neatly for the day. Ming takes a totally different spin on it though, and I'm willing to bet her kids have the most unique (and absolutely incredible) lunches each day.
And with her kids is how it began, back in 2008 when her firstborn began nursery school. She began making charabens (otherwise known as "kyaraben," or the short form of character bento, which involves food decorated to look like people and elaborately crafted characters and arrangements with themes pulled from popular media, animals, and plants) and the blog just took off from there.
In 2011, she'd leave her son charabens and notes in hopes of cheering him up (he was struggling to adjust to school life) and she felt that she could "let him feel [her] presence and love through them." (Aww.) Her younger son then picked up on the little family tradition, and requested them as well. She began packing the boys' lunch each day, and taking photos of it – and that was just the beginning!
As you'll see, she does everyone from Pooh to Piglet, and it should go without saying that it's just the beginning. The little creations are mostly made out of rice and Nori (no — not North West, the seaweed in sushi!). The intricate artistry and design work are what really make the pieces spectacular though: check out the facial expressions on those little Pooh bears. The tiny eyebrows! The little noses! Aside from being adorable, it takes a ton of skill to be able to pull that off so perfectly every single time. (Props.)
Bento Monsters also features all kinds of tutorials and amazing photos – everything from Teenage Mutant Ninja Turtles eating pizza to Jack Sparrow to three monkeys for the Chinese new year. It's seriously amazing, and you can check out the rest by visiting Bento Monsters here. (There are also tips and recipes so you can start making your own!)
Images: Bento Monsters (2)