I Tried The Hangover Beauty Trend IRL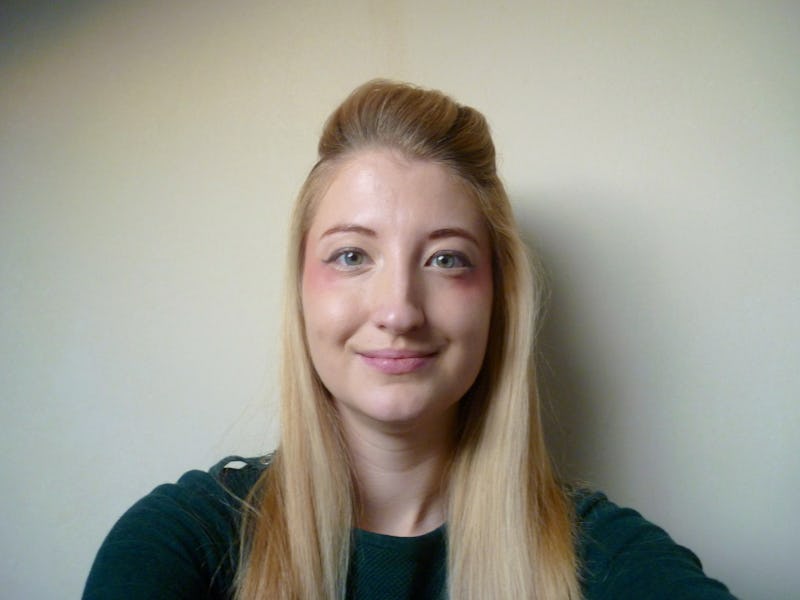 I thought I'd seen it all when it came to wacky beauty trends, but I couldn't have been more wrong. Again, the world of beauty fads managed to surprise me, as women all over the Internet were seen flaunting the hangover beauty trend.
You may think there's more to it than the name suggests, but much like the obviously named glitter roots hair trend, the name practically gives it away. It doesn't actually involve drinking copious amounts of alcohol and partying all night, but rather alluding to the fact that you did. So what's the point? According to The Daily Mail, back in 2014, it was trendy to wear makeup that makes you look sick in Japan, "Known as 'byojaku face', the Asian trend involves making yourself look a bit under the weather, and is hugely popular in Japan."
"According to Japanese school girls, a sickly face consists of pale skin, worried brows, and slightly tinted cheeks and lips," Kanako Kurita wrote. "This look gives off the unapproachable, damsel in distress vibe that makes people want to protect them." It's all about looking vulnerable and girlish.
According to POPSUGAR, the two main components of hangover beauty are aegyo-sal and "sick blush," so I attempted to achieve a byojaku face by wearing the hangover look IRL in England.
Before
The Daily Mail explained how to achieve the sickly "byojaku face" look and what it insinuates, "Rather than sweeping blush diagonally along the cheekbone from mouth, or even dabbing it on the apples of your cheeks, the new place for it to go is directly underneath your eyes. The red around the eyes gives the impression that its wearer is slightly unwell or as if they've been crying, and in need of looking after." They explained a further trend which makes wearers look ill; the puffy eye trend:
Other sickly makeup trends include aegyo sal, which involves women who do not have a natural pouch under their eyes creating one with a bit of crafty shading or tape. The puffy eyebag look is said to make you look a little bit tired, as if you've been having trouble sleeping. The trend is especially popular In Korea.
Therefore my quest was to combine the byojaku face look (red blush under my eyes instead of along my cheekbones) plus aegyo-sal, which would make my eye bags more prominent and make it look like I've been partying all night. I think I would have actually preferred a fun night on the town to this hangover beauty look; at least then I'd have a reason to look knackered and sick.
In the name of beauty experimentation and to discover how an Asian beauty trend would be perceived in the U.K., I began my challenge. As this beauty look is an eye makeup look, I prepped my face in the usual way: I moisturized, applied my foundation, and finished by accentuating my brows a little. My canvas was ready!
In order to make sure I was completing the hangover makeup trend as authentically as possible, I took inspiration from Michelle Phan's "Puffy Eyes (Smiling Eyes)" tutorial to achieve the aegyo-sal look and I utilized Lynette Tee's "Japanese Byojaku Makeup" tutorial to help me achieve my sickly, pink under-eyes.
Step 1: Lightening My Lower Lash Lines
I began by applying a very light eyeshadow all along my bottom lash lines. I used Lime Crime's Venus Palette and the shade "Aura."
Step 2: Creating A Shadow
To create the "puffiness" of my under eye bags, I used a thin brush coated with "Divine" eyeshadow from the aforementioned Lime Crime palette.
After this, I smudged the line to emulate a shadow.
As you can see, it worked really well and I was left with very tired looking eyes.
Step 3: Accentuating My Eyes
Next, I applied the same light eyeshadow around the inner corner of my eyes and swept it upwards onto my eyelid.
This presumably was to draw more attention to my peepers.
Step 4: Tidying Up
In an effort to lighten my dark undereye circles — but not interfere with the puffy areas I had just created — I applied my foundation to my lower eye bags. Phan used concealer but I opted to use my foundation as it is quite thick.
This trick worked in lightening my lower, dark eye bags.
Step 5: Applying Eyeliner And Mascara
I used a kohl eyeliner along my upper lash line to achieve winged flicks like Phan. Unfortunately the writing has rubbed off my eyeliner casing, so I'm not sure where it's from, but I'm sure any eyeliner of your choice would be fine.
After this I applied some Lush "Eyes Right" mascara to my lashes.
Step 6: Creating The Byojaku Blush
Following Tee's advice, I applied some blush to the lower, outer corners of my eyes.
Then I used Laura Geller's Baked Elements Blush Florence.
Ready To Go Out Into The World
I let my hair down as a final addition to my look and I was ready to face the general public. For the most part I really liked this feminine look, as it reminded me of manga and anime characters such as Sailor Moon (whom I love), but I wasn't quite sure how the people of a small seaside town in England would receive it.
Venturing Out
I'm not normally one to be shy of wearing unusual clothes and/or dramatic looks in public, but I was a little concerned about the blush. I believed it looked as if I didn't know how to "properly" apply blush and I felt I looked like a makeup novice. So I was feeling a little nervous.
As I walked into the main shopping area of my town, I passed by a butcher. He smiled at me and I wondered whether he was just being nice and reciprocating my slightly embarrassed, cheesy grin, or whether he was smiling out of pity, because he thought I looked like a clown.
After this I coincidentally bumped into an old friend. We began talking as normal and he didn't mention my makeup until I brought it up, along with my experiment. He said he'd seen a similar look before and informed me that he thought I could pull it off. My next stop was my favorite local coffee shop.
I had a cup of tea in one of my all time favorite spots in my hometown. My friend is the owner and he kindly took this photo of me. Neither he, nor his parents who happened to pop in, brought up my unusual makeup until I did and then they didn't comment much on it when I did. This got me to thinking: Was this really such a dramatic makeup look, or did it just feel larger than life because of the unusual placement of the blush? As you can see from this photo, you could hardly tell I was trialing a beauty trend from a distance.
During my time at the coffee shop, I bumped into an acquaintance. I hadn't seen him for a while and I burst out laughing from embarrassment. I let him know that I wasn't laughing at him, but rather the fact that he must think my makeup looked slightly kooky. He replied by saying, "It is very sparkly." This took me by surprise, as I thought he would have focused on my unnaturally flushed cheeks, but the shimmer in the eyeshadow and blush must have been stronger than I realized.
After this I met my partner at a garage because we were buying a new car. The first thing I said to him was, "I've got crazy makeup on." He replied, "It's not that crazy at all." However, I think he may be somewhat desensitized to my odd makeup looks. The gentleman selling us the car said nothing about my makeup.
After, we stopped by my dad's and my grandparents', and no-one mentioned my makeup. This was quite unusual, as my grandma is very observant when it comes to appearances. Having said that, it was getting dark by this point, so perhaps my makeup was harder to make out.
Returning Home
After being out and about for approximately three to four hours, this was how my hangover makeup held up. My eyeliner had smudged, which I think added to the look and my eyeshadow had faded slightly. My blush however had lasted really well. I was impressed at this because my eyes had been watering, dropping tears down my cheeks, when I had been out and about in the cold air.
Conclusion
The hangover beauty look really surprised me. I was expecting to feel quite self-conscious and a bit silly — which admittedly, I did at the beginning — but I soon got used to it and almost forgot I was wearing it! In conclusion, I wasn't sure if people were being super polite (bless the manners of the British), or if the hangover beauty look really wasn't as crazy-looking as I initially thought. I would definitely try this look again, but I'd probably go a little lighter on the blush or apply the blush along my cheekbones a little more.
Although this trend sounds weird, in reality, I feel it's rather pretty and you could tone it down to suit your taste. It just goes to show that not all beauty fads are ridiculous!
Images: Phoebe Waller