Let's Get Excited For The 'Gilmore Girls' Cast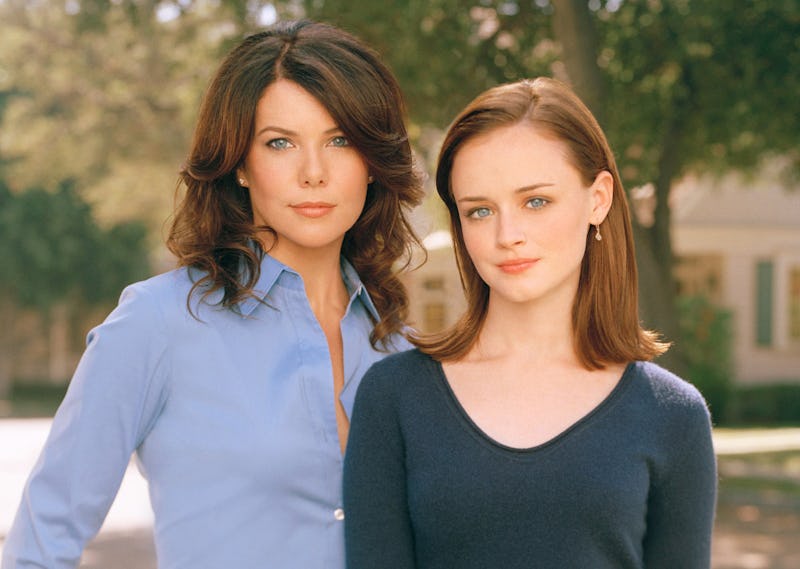 It's all happening! Given that we're all nostalgic like crazy for the amazing TV shows of the past, it's no surprise that reboots and revivals are plentiful these days. Sure, some are better than others, but I can't think of any better news to get on a Friday than to hear not only that the Gilmore Girls Netflix revival is a go, but that the cast for the follow-up movies has been finalized, and it includes six actors from the original series. Ugh, does it get any better than this? I'm pretty sure the answer is no.
It's been a bit touch and go, but finally, Netflix was able to strike deals with the likes of Lauren Graham and Alexis Bledel, who will reprise their roles as Lorelai and Rory Gilmore. Not only that, but Scott Patterson and Kelly Bishop are back as Luke and Emily, while Sean Gunn and Keiko Agena are back as Kirk and Lane. This is pretty much the best thing, ever because not only does it mean that this revival is actually happening, but it means the cast loved the show as much as fans do — so much so that they're willing to come back to it almost a decade later. There may be further casting announcements to come, but it's still unclear when or if that will happen. Bustle reached out to Netflix for comment on further casting but has yet to receive a response.
If you're unfamiliar with how the Netflix series will work, basically the new Gilmore Girls will feature four 90-minute movies that will serve as a bit of a farewell season of the show, which ended in 2007. It's unknown what the title will be — it should probably still bear the Gilmore Girls title, but that's just my opinion — or what the plot will be. Will it pick up where the original series left off? Will it fast-forward as many years as it's been off the air so we can catch up with what they're doing now? No one knows, but the fact that it's happening at all is enough for me.
Another wonderful thing is that Amy Sherman-Palladino is back on board, along with her husband Daniel Palladino. Together, they'll be writing the four episodes, which makes the revival even more special, since she was the creator/executive producer and was sadly missing from the final season of the WB run. This news truly is the gift that keeps on giving.
Sadly, the Gilmore Girls reboot is likely still a while off — it's currently filming, but Netflix will likely torture us by keeping us waiting until at least late 2016 or even early 2017. That's just a guess, and I might be totally wrong. Frankly, I'm just glad it's happening at all. If ever there was a mother/daughter TV duo I really loved, it's gotta be Lorelai and Rory. Getting to see them again is going to be awesome.
Image: The WB