6 Valentine's Day Skype Date Ideas For LDRs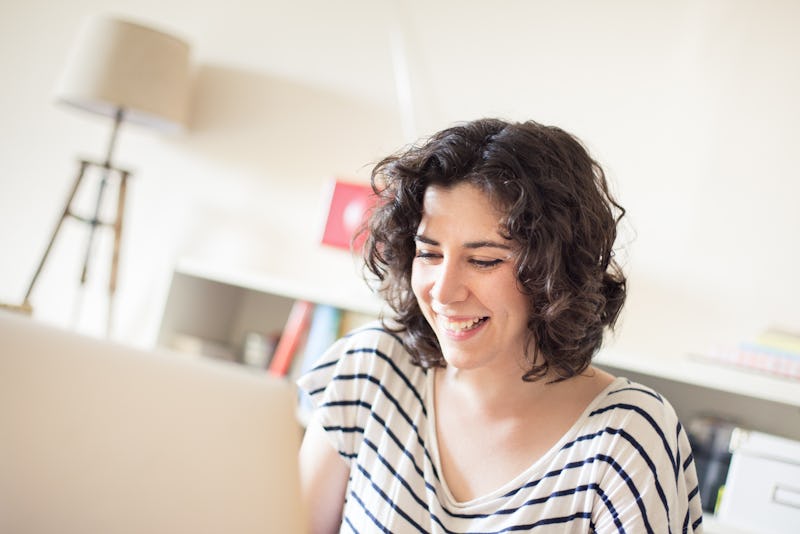 If you won't get the chance to see your partner this February and have to settle for a long-distance Valentine's Day date, you're not alone. According to the Center for the Study of Long-Distance Relationships (yup, that's a thing), 14 percent of relationships are long-distance. But the fact that you and your sweetheart are miles apart doesn't mean you can't enjoy the holiday together.
Fortunately, technology has made long-distance relationships much easier. Even when you can't be in the same room, you can always talk through video chat. In fact, online dating expert Julie Spira tp Bustle she recommends that long-distance couples set Skype dates and treat them like any other date.
But a date on February 14, of course, isn't any other date. So, in case you're looking to take the virtual romance up a notch this Valentine's Day, I spoke with two women in long-distance relationships about the best Skype dates they've been on.
Erin Key was relocated to Texas while her fiancé Tyler stayed in Missouri. Similarly, Dee Doanes lives in Atlanta while her fiancé Gary resides in California. Dee told Bustle that she already has her Valentine's Day Skype-date dress picked out because Gary said he's planning something special.
Here are some virtual activities Erin and Dee recommend to connect with your significant other on Valentine's Day.
1. Sports Games
Erin and Tyler stumbled upon this one by accident. They had planned a Skype date, but Tyler ended up at a baseball game with his friends. He ended up enjoying both activities at once by showing Erin the game on his phone. "It was as if I was sitting there with him and his buddies watching the game!" she tells Bustle.said.
2. Private Concerts
If one of you plays an instrument like Dee's fiancé Gary, you can use a Skype date as an opportunity for a serenade. If not, Gary and Dee also use Skype dates to listen to new songs, even creating playlists for background music. "When Adele's 'Hello' came out, Gary created a listening party over Skype because he knew I loved the song so much. He used screen sharing so we could watch the music video together and afterwards I lip-synced the song and he played it on his guitar!" Dee tells Bustle.
3. Game Nights
You can combine two different apps for these dates. Tyler and Erin like to video chat while playing virtual chess against each other. "This lets us see each other's reactions to the plays and joke around during the game!" Erin says. Next, they plan to try Poker.
4. Movie Marathons
Skype screen-sharing lets Dee and Gary watch their favorite shows and movies together. "Movie marathons are perfect for Skype dates because you get to watch the same thing and then chat afterwards, as if you were watching in the same room the whole time," she says. It's like Neflix and chilling except, well, you're actually watching the movie.
5. Relationship Questionnaires
If you Google "relationship questionnaires," you'll find a ton of questions you can ask your partner to get to know them better. You can also use the famous 36 questions found by psychologist Arthur Aron to make people to fall in love. Another method is to go through the match questions on the dating site where you met. Wherever the questions come from, Erin says they never fail to teach her about her fiancé. "Even for as long as we've been together, I get to know more about his childhood, funny memories, thoughts on the future, etc."
6. Nice (Or Less-Nice) Dinners
"Not only is food scientifically one of the pillars of happiness, but sharing an experience together over Skype together creates a perceived connection of the senses and makes a virtual meal together very enjoyable," says Erin. Though her and Tyler's go-to food is pizza, you can order or cook something special and even light a few candles for Valentine's Day.
Want more of Bustle's Sex and Relationships coverage? Check out our new podcast, I Want It That Way, which delves into the difficult and downright dirty parts of a relationship, and find more on our Soundcloud page.
Images: Fotolia; Giphy(6)