12 Hilarious Football Memes To Make You LOL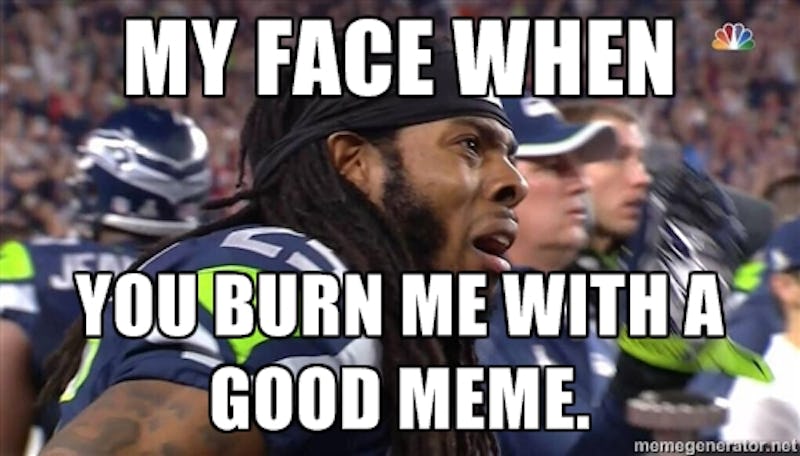 Even if you are not a fan and you don't watch the game every Sunday (and Monday, Thursday, and sometimes Saturday), there is no escaping football in America. Around this time of year, the playoffs dominate the news cycle, the coaches and players are the stars of TV commercials and print ads, and the Internet is full of Fantasy Football leagues, fan forums, and funny football memes. Even if you don't know who is in this year's Super Bowl 50, you've probably seen some of these laugh-out-loud worthy memes.
As a New England fan, I have to admit: the Patriots are an extremely meme-worthy team to watch. From Bill Belichick's resting angry face to Rob Gronkowski's general goofiness, not a game goes by without a meme-worthy moment. Tom Brady alone is half of the Internet's NFL-based memes. He just makes it so easy. To Brady's credit, though, football is an emotional game, and it's hard to hide some your emotions whether you're on or off the field. Just ask Richard Sherman. Once the Internet gets a hold of your image, there's no telling where it will go from there.
Get ready, because Super Bowl Sunday is right around the corner, and there's no telling how many more hilarious images will be added to these football memes. Trust me, even if you're not a super fan, these will still make you laugh.
They may only play once a week, but when they do, it's no joke.
The ultimate burn.
Everyone always says they want to be like Oprah, but maybe not in this case. It's better to be in the audience.
Let's be honest, people. They really are the best part.
The ultimate #TBT football meme.
As a Patriots fan, this one hits close to home. Painful — accurate, but painful.
Just try and come at me, bro.
You have to admit, they have the dance moves down pat.
I'm sorry, but it had to be done.
P.S. I wasn't kidding about Tom Brady:
Ouch.
Looking for more football? Check out Bustle on YouTube.
Images: NFL Memes/Facebook (2); Meme Generator (9); Meme Center; Giphy