NeNe + Shereè Make For A Surprising 'RHOA' Pair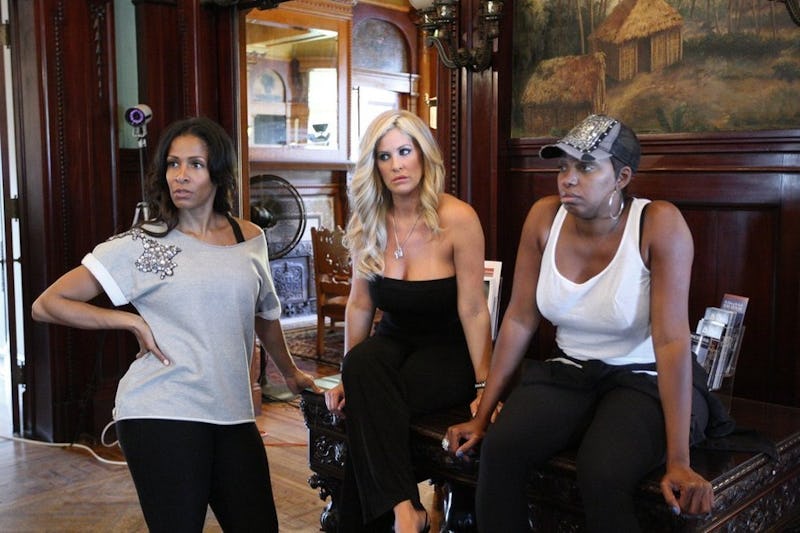 All the signs were there: Peter's Jamaican accent was spiking up all over the place, Porsha packed two full racks of bikinis into her suitcases, Kim brought her two kids along... it's time for a Real Housewives of Atlanta trip to Jamaica. And while there was plenty of drama between Cynthia's commercial, Kim's family, and Kenya & Cynthia's friendship, the tropical trip really kicked into high gear when Shereè met NeNe for the first time since they both returned to the series.
When they last were together on screen, their relationship wasn't exactly harmonious, so the show was teasing the possibility of fireworks. But instead, the two actually managed to get along. And as the editing reminded us, there's actually a precedent for them being pals. It was an episode full of flashbacks for Shereè, actually, since she also came to Jamaica with her ex-husband, Bob, who she's now "co-parenting" with.
It seems like they're finally on neutral terms after a very contentious divorce — during past seasons of RHOA, Shereè accused Bob of not paying her any child support, even dumping a bottle of water on him (handily reminded to the audience in a flashback). Anyhow, supposedly Shereè and Bob are "just friends" for now, but she was dropping some hints on Twitter that a bigger reunion might be store for a future episode.
Perhaps it's a good thing that Shereè had Bob there, because NeNe, of course, came with Greg, so both women had someone in their corner in time for the big surprise reunion. You could see it on Shereè's face when NeNe walked in: the ladies were all genuinely shocked to see NeNe. But Shereè got the jump on Ms. Leakes, who was even more surprised when she spotted that Bob was there!
And it sounds like NeNe will be sticking around for a few more episodes since she's going to help Cynthia with her 'mercial for Cynthia Bailey eyewear. And after their end of episode sitdown, it sounds like NeNe and Sheree might be on better terms than a few other pairs of BFFs, like Cynthia and Kenya, who are on the outs after the whole directorial kerfuffle. Even though the cast is in paradise, their friendships have seen better days. Let's see what adding NeNe to the mix does.
Image: Wilford Harewood/Syfy