You Might've Missed This TV Star In 'Grease Live!'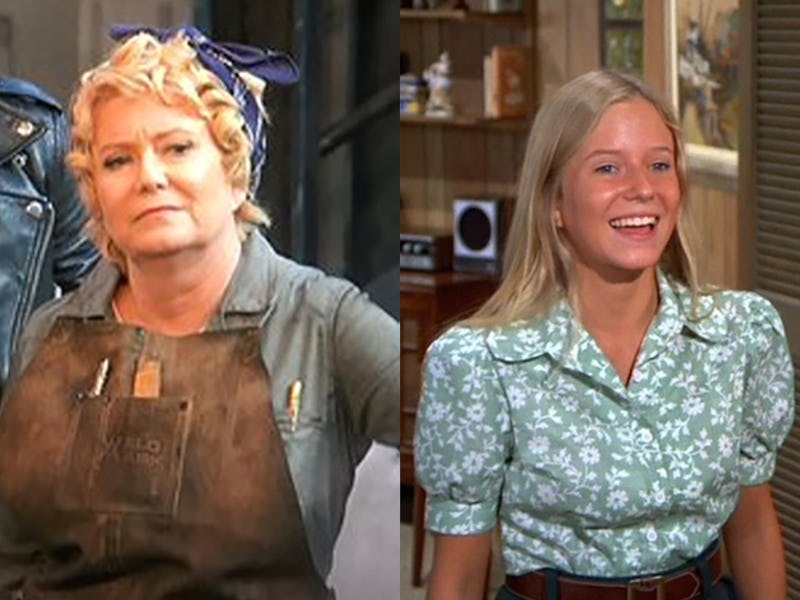 We all knew that Broadway actor Aaron Tveit and Dancing With The Stars champion Julianne Hough were going to be great as Danny Zuko and Sandy; but part of the fun of watching FOX's Grease Live! has been seeing all the well-known (and less well-known) celebrities popping up in cameos left and right. That includes Mario Lopez as Vince Fontaine, Mean Girls actress Ana Gasteyer as Principal McGee, The Wire actor Wendell Pierce as Coach Calhoun, R&B group Boyz II Men as the Teen Angels, Joe Jonas as Johnny Casino, and Grease's original Frenchie Didi Conn as Vi. But there's one cameo that even the most eagle-eyed viewer might not have caught in Grease Live! : The Brady Bunch actress Eve Plumb as Mrs. Murdock.
Plumb has appeared on a variety of TV shows throughout the last 50 years, but she will undoubtedly always be most famous for playing blonde middle child Jan on the classic 1970s ABC sitcom. Though she was only 11 when The Brady Bunch premiered, Plumb is now 57, which means even super fans likely wouldn't recognize her. Wondering where Jan Brady fits into Rydell High? Plumb's character Mrs. Murdock is the owner of the garage where Danny, Kenickie, and the rest of the T-Birds work on their iconic "Greased Lightning" car. The role was played in the original 1978 film by Alice Ghostley — ironically enough, herself a classic sitcom star famous for the likes of Bewitched and Designing Women.
When she's not acting, these days Eve Plumb works as a painter, and has her art showcased in galleries all over the country. Lucky for fans of classics, she took some time to make a scene-stealing turn in Grease Live!
Images: FOX; ABC; Paramount Pictures