The 12 Craziest Guest Appearances On 'WWHL'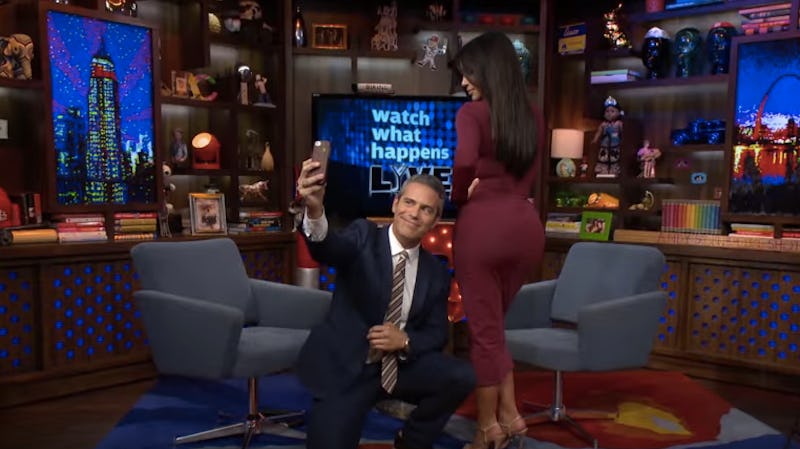 Watch What Happens Live is very different from all the other talk shows on the air, and over the years has featured a wide variety of guests — and no, I'm not just talked about the Real Housewives who make frequent appearances. The show has been on the air for a pretty long time at this point, so you might not remember every single thing that has happened, so let's take a moment to reminisce about the craziest guest appearances on Watch What Happens Live .
There are a few reasons why WWHL brings about some very memorable clips and quotes. First off, the guests are given drinks, encouraged to go for refills, and even take part in shotskis on Wednesday nights, which leaves everyone feeling good and more inclined to spill the tea. Second, there seems to be no limit on what can be asked. I would not be at all shocked if there wasn't a pre-interview process for the guests. Third, and most important, there's host Andy Cohen who serves as the x factor who really makes the difference. He has the kind of personality that allows him to build up a rapport with any guest and that's what allows him to cultivate some very talked about moments.
From the shocking admissions of information to wardrobe malfunctions to just plain awkwardness, WWHL has seen it all. There is never a dull moment so classifying anything as "the craziest" is a pretty tough task on a show this wild, but there are definitely some guest appearances that stand out from the rest.
1. When Andy Asked Shaq About The Size Of His Penis
During a round of WWHL's infamous game of Plead the Fifth, Cohen said "Your shoe size is 23. How big is your dick?" Then Shaq took off his shoe and placed it on his thigh and said "Let me show you" and the whole audience went crazy.
2. When Jennifer Lawrence Admitted To Smoking Pot Before The Oscars
Jennifer Lawrence is an admitted Bravo super fan, so I was not at all surprised by how great her WWHL interview was. J. Law really turned things up a notch when she admitted to smoking before attending the Academy Awards. Damn. She really can pull anything off.
3. When Andy Took A Selfie With Kim Kardashian's Booty
With Kim Kardashian on the show to promote her selfie book Selfish , it was only logical for the two of them to take a selfie. I just didn't think it would be of Cohen and Kardashian's butt, but then again, I guess that makes sense.
4. When Selena Gomez Asked Andy Cohen How Many People He's Slept With
I always feel like Selena Gomez seems so innocent, so I was pretty surprised when she asked Cohen this question. His reply? "Three..." And then someone in the background can be heard saying, "This week."
5. When Dennis Quaid Talked About Cocaine & Movies
I just was so thrown off seeing the dad from The Parent Trap talking about cocaine being "secretly in the budget" of many older movies. Cohen asked which of his films he would guess had the highest budget for this and Quaid replied, "Jaws 3D."
6. When Amber Rose Asked Cohen If He's Ever Had Sex With Anderson Cooper
I love when the guests turn the tables on Cohen. Amber Rose put things ever so eloquently when she asked the host, "Are you and Anderson f*cking?" Leave it to her to just cut right to the point. Cohen revealed that the close pals have never even kissed.
7. When Brandi Glanville Threw Wine At Jeff Lewis
This was one of the weirdest things I've ever seen. Everyone was having a good time and then Brandi Glanville started crying out of nowhere and turned her chair around. And, of course, she pulled her now-signature move of throwing wine, which was aimed at Jeff Lewis this time. She claimed that she and Lewis were playing a prank on Cohen, but Lewis later denied having any prior knowledge of her cryfest.
8. When Andy Crushed On Nick Jonas
There could be a whole article on just this subject. Much like myself, Cohen is either talking about Nick Jonas or waiting for someone else to bring him up. The Bravo king could not help swooning and looking for sexual innuendos whenever Jonas talked about his show Kingdom.
9. When Cloris Leachman Kissed Andy Cohen & Jeff Lewis
Out of all the guests on WWHL, I never expected Cloris Leachman to be the one to go wild, but she really went there. After being egged on by the audience, the actor went in for the kiss with fellow guest Lewis and then Cohen joined in on the action.
10. When Denise Richards Gave Cohen A Lap Dance
Even though Cohen is a proud gold star gay man, he definitely enjoyed the lap dance from guest Denise Richards. And in all honesty, I'm sure that every man and woman would be a little jealous of this moment.
11. When Timbaland Talked About Britney Spears' Influence On "Cry Me A River"
We all pretty much knew that Justin Timberlake's song "Cry Me a River" is about his breakup with Britney Spears, but it was never actually admitted — until an episode of WWHL. Cohen asked Timbaland if Timberlake talked about Spears in the studio while recording the song, and the producer said yes, but would not straight up admit that the song was about her. Well, it sounded like a confirmation to me.
12. When Daniel Radcliffe Asked Cohen About Patti Stanger
This moment was outrageous because I just couldn't fathom the man who played Harry Potter being a devoted Bravo viewer. So, it was pretty funny for Daniel Radcliffe to have the opportunity to ask Cohen any question imaginable and he just wanted to know how Millionaire Matchmaker host Patti Stanger was in real life.
Watch What Happens Live is honestly the best talk show of all time. These moments prove that there is always something interesting going on. Cohen and his guests are never afraid to push boundaries and create great television moments.
Image: Bravo