Amanda Is Bullied For Being A Mom On 'Bachelor'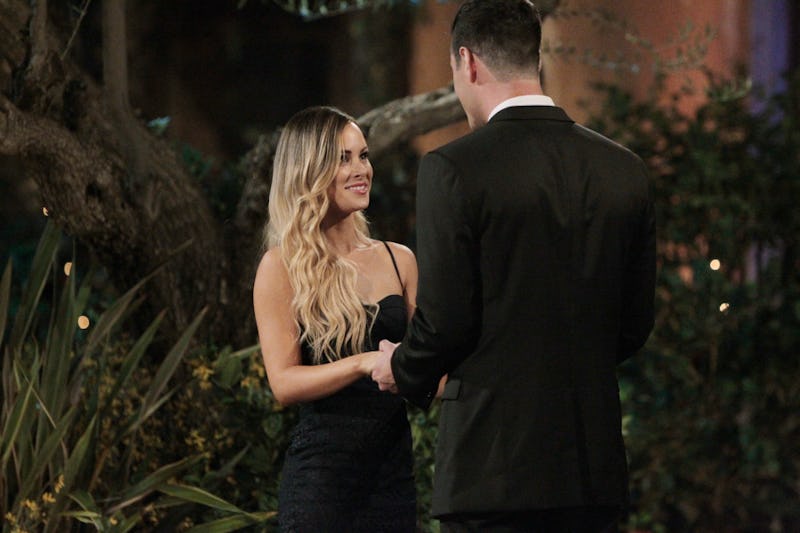 Fans of The Bachelor may have been too distracted by all of the drama kicked up by Olivia, Jubilee, and the elimination of a twin to notice all of the sweetness provided by Bachelor contestant Amanda Stanton. The esthetician from California has maintained a more subdued presence throughout the show, and in a series that thrives off of loud personalities and dramatic confrontations, that sort of strategy carries its own weight. However, I would like to know more about this particular contestant, beginning with how old Amanda was when she had her kids, since Olivia made a point to be totally rude saying Amanda being on the show was like "an episode of Teen Mom." That's not only a mean statement, it's an inaccurate one.
Amanda is 25 years old on The Bachelor, and her children are reportedly three and one years old, which would have made Amanda about 22 years old when older daughter Kinsley was born. Though that may sound like a young age to have children, Amanda seems to be a very mature and wonderful mother, with most of her social media activity dedicated to showing off photos of her two precious daughters. And, no one should judge any other woman's decision to have children, no matter which age she chooses to have them at.
Amanda may be the only single mother featured on this season of The Bachelor, but there have also been a fair share of parents who competed in the past — so she's in good company!
Jason Mesnick
When he first appeared on DeAnna Pappas' season of The Bachelorette, Mesnick was an instant fan favorite for admitting his love for his young son, Ty. The contestant was eventually rejected by DeAnna, but then went on to star in his own season of The Bachelor, where he made headlines for sending home and then getting back together with his runner-up, Molly Malaney. Molly and Jason have recently added to their family with daughter Riley, born in 2013, making 10-year-old Ty a big brother.
Emily Maynard
Emily was 25 years old when she starred on Brad Womack's season of The Bachelor, but she had already lived through a lot for her young age. Emily was engaged to her high school-sweetheart, professional NASCAR driver Ricky Hendrick, when he died in a plane crash in 2004. Days later, 18-year-old Emily found out that she was pregnant with daughter Ricki. By the time she was starring on her own season of The Bachelorette, following her break up with Brad Womack, Ricki was seven years old. The show even moved to Charlotte, North Carolina, so that Ricki could be closer to her daughter. Though Jef Holm won her heart that season, they eventually broke up. Emily ended up marrying Tyler Johnson, with whom she just celebrated the birth of her son, Jennings Tyler Johnson.
Juan Pablo Galavis
Though Juan Pablo is notorious for his poor behavior during his season of The Bachelor, the man did show a lot of love for his daughter, Camila Valentina. She was around five years old when the show was being filmed, and Juan Pablo always mentioned her as a big part of his life.
JJ Lane
When he was competing for Kaitlyn Bristowe's heart on last season of The Bachelorette, JJ Lane became noteworthy for his "bromance" with fellow contestant, Clint Arlis, but he also stood out for being such an adorable father. The 27-year-old dotes on his three-year-old daughter, Gemma. Aww.
Mackenzie Deonigi
Chris Soules may have thought that Mackenzie was too young to be his wife, but the then 21-year-old already had a toddler to take care of — more responsibility than a lot of her peers, for sure! But, ring or no ring, she seems to be doing just fine hanging out with cute little Kale.
Even if Amanda doesn't win Ben's heart or continues to be bullied by Olivia, at least she has her adorable family to return home to!
Image: Rick Rowell/ABC