Disney Heroes Reimagined As Tim Burton Characters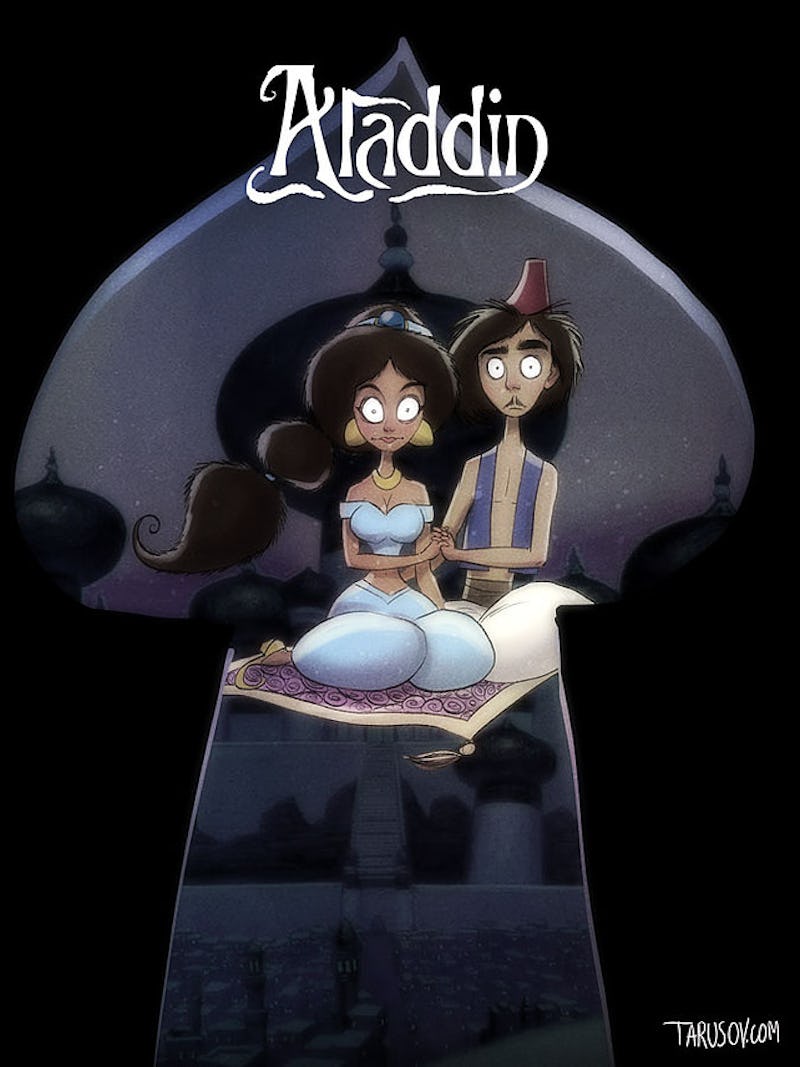 When you are a talented director with a unique vision and style, people take notice. That was the case with Andrew Tarusov who created Disney characters as Tim Burton characters. Tarusov, who clearly has a healthy respect for both of these fandoms, was able to remix iconic styles of two popular entities into one amazingly unique, yet familiar art piece.
Tim Burton has brought us a bittersweet gothic style that never shies away from topics that are painful in nature. His movies have dealt with death, greed, depression, and feelings of being an outsider. While a lot of these are common in our lives, we don't get to see them depicted on screen in quite as obvious of a way as Mr. Burton's work. His characters aren't overtly optimistic or sugary sweet — a lot of the time they are dark, undead, or gothic. His movies have often reminded me of the Brothers Grimm stories. They tend to deal with magic and fairytales, but often their endings don't end up exactly "happily-ever-after". For instance, the Brothers Grimms' The Little Mermaid had a very sad ending in which the mermaid turned herself into sea foam and tragically died of a broken heart. Unlike the Disney version, she never got her prince. In the same way, Andrew Tarusov's work takes the sugary-sweet Disney characters and makes them into a gothic creations inspired by Tim Burton, in some cases restoring them back to their original mindset.
I love these pieces. I am especially partial to Tarusov's 101 Dalmatians poster. I don't know what it is about that one in particular but it just calls to me. The eyes, the little puppies. It all works. I think I'm going to purchase a print and frame it in my room.
You see!? I am in love.
Below are some others that have stuck out to me.
1. The Beauty And The Beast
I love this minimalistic look of The Beast. While in the movies he looked kind of like a bull/wolf hybrid, I really didn't fear him much. In this version he's a mystery — lurking in the background. I asked Tarusov what inspired him to create his works, and he said. "I'm big fan of Tim Burton's style and Disney movies," and that after the idea popped into his head he "began to draw immediately!" He draws his inspiration from pop culture, so you can expect more cool artwork from him in the future.
2. Pinocchio
When I say gothic, the image of Pinocchio doesn't come up right away. Yet after seeing this rendition it's the only thing that makes any sense to me anymore. Those eyes alone are enough to creep you a bit out, and the little creature in his hand is just enough to make it cute. Basically a perfect recreation of Tim Burton's characters.
3. Bambi
Maybe Tim Burton's work just translates best to animals because this one is another winner. The elongated legs and curved ears give this poster some very unsettling feels. If you were wondering if his friends have commissioned him after seeing this work, the answer according to Tarusov is, "Not only friends! A lot of people!" Count me in with the "a lot" after seeing these awesome creations.
You can check out Andrew Tarusov's website and even order some of his pin-up calendars here.
Images: Courtesy of Andrew Tarusov