Easy Greasy Hair Hacks Everyone Can Use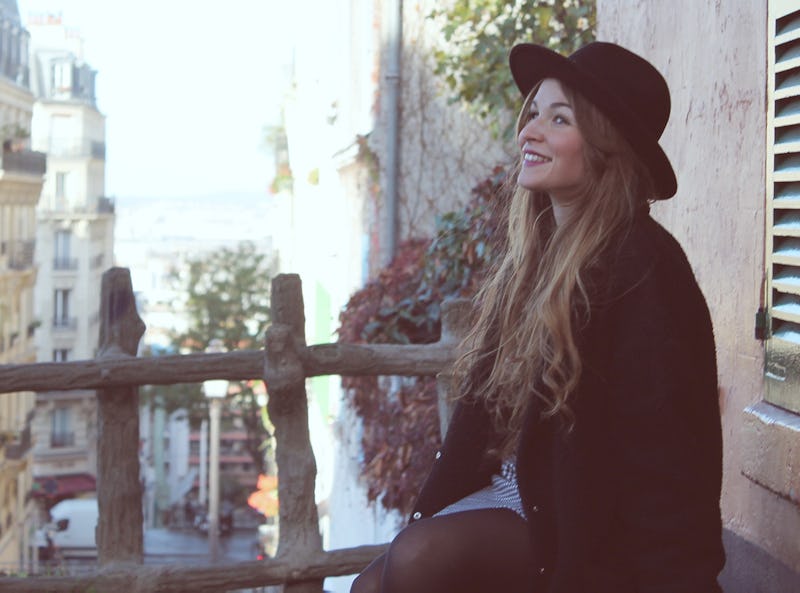 HARPERManaging greasy locks can be a frustrating challenge, especially since that icky and slimy feeling can make you want to shampoo more than you should. But if you think your oily hair is simply caused by dirty strangs, then perhaps you should guess again.
The real culprit behind oily hair is actually an oily scalp, which is usually caused by an overproduction of sebum. And though sebum usually is a substance that normally keeps the hair healthy, too much sebum can cause that greasy sensation that's hard to deal with.
"Oily hair is usually caused by an overproduction of sebum, an oil that is created from sweat that comes from the scalp," explains Herbal Essences Celebrity Stylist Charles Baker Strahan through email. "It can intensify over time, as it can adhere to hair follicles as well as dry dead skin cells, causing it to build up."
But before you start thinking you're stuck with greasy hair forever, know that there are ways to keep oiliness to a minimum. To finally keep your oily hair under control, trust these eight greasy hair hacks to help you manage your tresses with ease.
1. Find The Right Shampoo
To select your best oil-busting shampoo, it's important to first find a product that concentrates on keeping your scalp in good shape. Doing so can stop the overproduction of sebum, which usually causes oily hair to being with.
"When your scalp is healthy, your hair gets less greasy and your style lasts longer," says Head & Shoulders Celebrity Stylist Sunnie Brook Jones via email. "I love the new Nourishing Hair & Scalp Care Collection by Head & Shoulders because the guar bean, cotton seed and soft wood extract ingredients work together to nourish your hair and scalp.
Head and Shoulders Nourishing Hair & Scalp Shampoo, $6.55, Amazon
Finding a clarifying shampoo is also highly recommended, as products like these remove oily build up, without disrupting the natural moisture balance of your hair. You should swap your regular shampoo out for a clarifying version one to two times a week for best results.
"I recommend using a clarifying shampoo that doesn't strip or disturb the moisture balance of your hair like the new Herbal Essences Naked Clean & Refresh Shampoo," says Charles Baker Strahan. "You can shampoo twice with this shampoo to cleanse and clarify the hair, and it won't strip the moisture balance."
Herbal Essences Naked Clean & Refresh Shampoo, $11, Amazon
2. Rinse Thoroughly
No matter what shampoo you use, you'll want to make sure your shampoo is properly rinsed from your hair. Poorly products found in the hair will only contribute to residue and buildup, which in short, definitely causes more oiliness.
"It is very important to rinse hair and scalp thoroughly says Alina Novikov, Advanced Stylist at Julien Farel Restore Salon & Spa through email. "A good way to know if you are done rinsing is by the silky feeling of the hair. The hair shouldn't feel silky in the roots area."
3. Try To Shampoo Less Frequently
Although you'd think that shampooing more often would help keep greasiness and oiliness at bay, turns out that shampooing more will only make the condition even worse. Washing your hair frequently will strip the necessary oils from your scalp, making your hair even more of a grease trap.
"It's really important to shampoo less frequently," says Chris Brescia of Marie- Lou & D salon through email. "Washing your hair everyday can strip the necessary oils in your scalp, causing an overproduction of oil on the scalp."
4. But If You Can't, Placement Is Key
If you really can't stand the idea of skipping a shampoo, where and how you place your products is incredibly important. Instead of shampooing and conditioning from root to ends, Lorean Cairns, Fox & Jane Salon Co-Founder and Creative Director, recommends simply shampooing your roots, and only conditioning your ends once to twice a week.
"With shampoo and conditioner it can be an easy (but bad) habit to load up product in our palms, then slathering it all over our heads without much thought," she says through email. "In truth, the ends of our hair rarely need shampoo, and our scalp, rarely needs conditioner. This is especially true for those of us that are inclined to produce high concentration of our own natural oils."
5. Skip The Silicone
While some products work wonders, there are others that can help add to unwanted oil production. Silicone-based products for example, can create buildup that's tough to remove when combined with natural oils.
"Silicone is one of the most common ingredients used in hair care, and unfortunately many silicones and oils are heavy and greasy," explains Ouidad Head of Education, Melanie Fahey through email. "These silicones and oils will attract particles in the air, making hair feel dirty or greasier much faster than on average."
Try Ouidad Hair Refreshing Spray, $16, Ouidad
In addition to silicone products, it's also wise to try to avoid any other heavy products that will only weigh down your strands. Products that enhance shine, for example, usually prove to be a bad match for greasy hair types.
"Avoid heavy, goopy, shine products with greasy hair," explains LaCee Mogren, Owner of The Chair Salon (An ABBA Pure Performance Salon) via email. "They weigh down hair or add oil." If you do need a little extra luster, stick to applying a very small amount of shine product to just the tips of your strands.
Try Pura D'Or Argan Oil, $19.99, Amazon
6. Change Up Your Brush Habits
Even changing the way you brush your hair is worth considering, as certain brush habits can contribute to more oil you'd rather not deal with. Switching your brush is often a good place to start, as natural bristle brushes can help keep roots from getting unbearably oily.
"Brush your hair from roots to ends and try boar bristle brushes," says Fox & Jane Co-Founder Lorean Cairns. "Share the healthy oils on your scalp with the ends of the hair that need the most conditioning and eliminate buildup. Using a boar bristle brush is great, because the natural fibers help distribute the natural oils throughout your hair."
Try GranNaturals Boar Bristle Paddle Brush, $12.49, Amazon
Brush aside, the way you actually brush your hair is also important, as it's best to comb your hair in a way that distributes oils evenly throughout your scalp. Backcombing can be a really helpful technique, as Pierre Michel Salon stylist Mia Moore finds that it helps your scalp from getting out of control.
"Use backcombing at the roots to add volume to your hair and preventing it from laying on the scalp and appearing greasy," Moore says through email.
7. Avoid Touching Your Hair
Listen, I know the temptation to run your fingers through your hair for a Cher Horowitz-approved flip is real. But it's always wise to never touch your hair, especially if you already have an extremely oily scalp. Steven DeCarlo, senior stylist at Mizu new york salon, states that oily fingers will only make greasy hair worse.
"Always refrain from putting your hands in your hair," DeCarlo says through email. "The natural oils from your fingers will cause hair to become greasy."
8. Add A Dry Shampoo To Your Routine
And while there seems to be mixed feelings about using dry shampoo, it can be very useful to someone who suffers from frustrating oiliness. Not only does it keep greasiness down, but it also keeps your hair lasting longer between shampoos.
"A great dry shampoo can be life changing for someone who struggles with greasy hair," says Lorean Cairns. "Dry shampoo helps by not only drying out the natural oils, but it can also help you go longer between shampoos."
To use dry shampoo like a pro, expert hairstylist Christine Symonds recommends using a great formula like Batiste, being that brand's rice powder formula easily absorb oils, without any leaving any extra product residue.
Batiste Clean & Classic Dry Shampoo, $8.55, Amazon
"Spray batiste on your roots in the desired area, and then massage in with your fingers to activate product and to make sure it soaks up the oil," says Symonds through email. "You can even grab a boar bristle brush, and brush through roots to ensure even distribution and absorption and you'll be left with voluminous fresh strands for days."
9. Try Some DIY Remedies
Like healthy skin and nails, great hair comes with balanced nutrition. To properly keep help sebum levels from getting out of control, try adding some Vitamin B rich foods into your diet.
"To help control sebum production, eat foods that are rich in Vitamin B like seafood, bananas, and leafy greens," states Celebrity Stylist and HARPER Co-Founder Nicole Hartmann through email.
And if you are seeking alternatives to store bought shampoos, creating your own clarifying hair treatments can work wonders. Apple cider vinegar, for example, can help restore your hair's natural pH balance, and work to control oiliness in no time.
Try Bragg Organic Apple Cider Vinegar, $4.99, Amazon
"While in the shower wet your hair, pour some apple cider vinegar onto your hair, massage your scalp and rinse," explains Lauren E. Hack of LAUREN + VANESSA over email. "This will restore your hair's pH balance and control oiliness.
10. Find Your Go-To Greasy 'Do
Once you've adjusted to giving your hair a break in between shampoos, mastering some greasy-hair approved styles is a skill you'll definitely want under your belt. And yes, it may seem a bit weird to put extra braiding effort into dirty hair, but Master Stylist Ettore Mastroddi at The Rittenhouse Spa & Club — Hair by Paul Labrecque finds that dirtier hair actually holds better.
"You can achieve some amazing results though in styling hair a bit dirty," says Mastroddi through email. "Yes, dirty hair or oily hair can hold up well when styling, and most stylists would back me up on this."
Among the many hairstyles you can try with greasy hair include braids, buns and ponytails which can be equally sexy and easy to achieve.
"Some hairstyles like the ponytail are very easy and quick to do with greasy hair," Mastroddi adds. "Braiding can be fast and fashionable, same with buns — all great things to consider with dirty hair."
Are your greasiest hair days about to become your best?! You bet.
Want even more beauty tips? Check out the video below and subscribe to Bustle on YouTube!
Images: Léa Dubedout, Verne Ho, Ryann Flippo, Christopher Campbell (2), Paula Borowska, Abigail Keenan/Unsplash; Andrew Zaeh, Kenny Suleimanagich, Bianca Consunji/Bustle